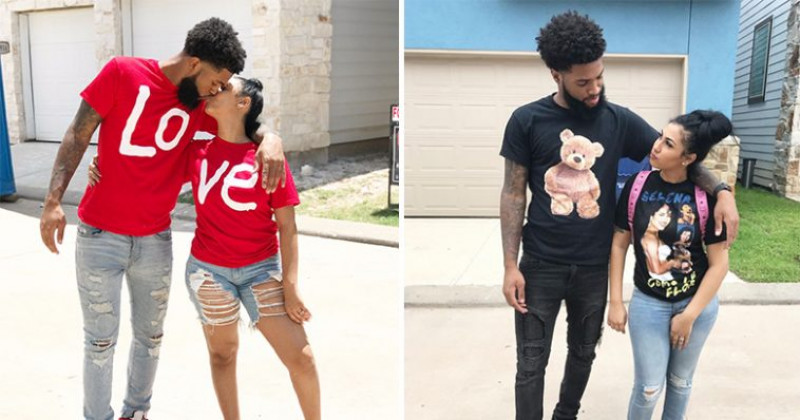 Couples love to explore everything they do together, so when they choose their outfits, they want to wear something that complements each other. Matching outfits for couples is a trend that lets couples wear clothes in similar colors and texture. Whether it is a prom night, a wedding or private dinner date, wearing matching outfits is the perfect choice for couples to exhibit their love for each other. There are plenty of choices for couples to pick up matching outfits in forms of t-shirts, jackets, shirts or even formals like tuxedo suits for men and matching dresses for women. All you need to do is to select outfits that fit your mood, season and style. Depending upon what occasion you dressing up for, you can choose different shades, prints, and patterns.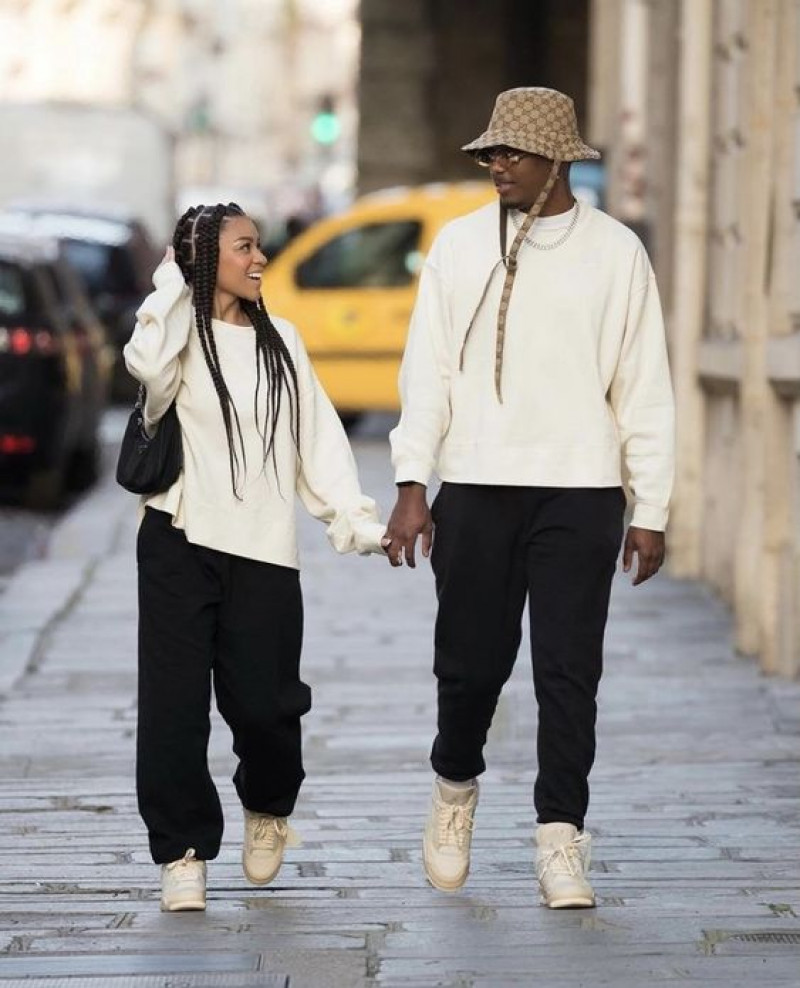 Show some love to your partner by wearing matching outfits at night clubs, beach, workplace, business meetings, casual dates, dinner parties and so on. There are plenty of options for couples to choose the outfits that will give a monochrome look with similar color outfits. Couples can style their wardrobe to complement each other's style. From neutral shades to bright shades or even classic black and white or reds and from casual to formal wear, there are many variations of clothing that couples can opt for. So what are you waiting for, take a look some of the best ideas and create your look for matching outfits to wear when you and your partner are together :
1. Together At The Gym In Sporty Matching Outfit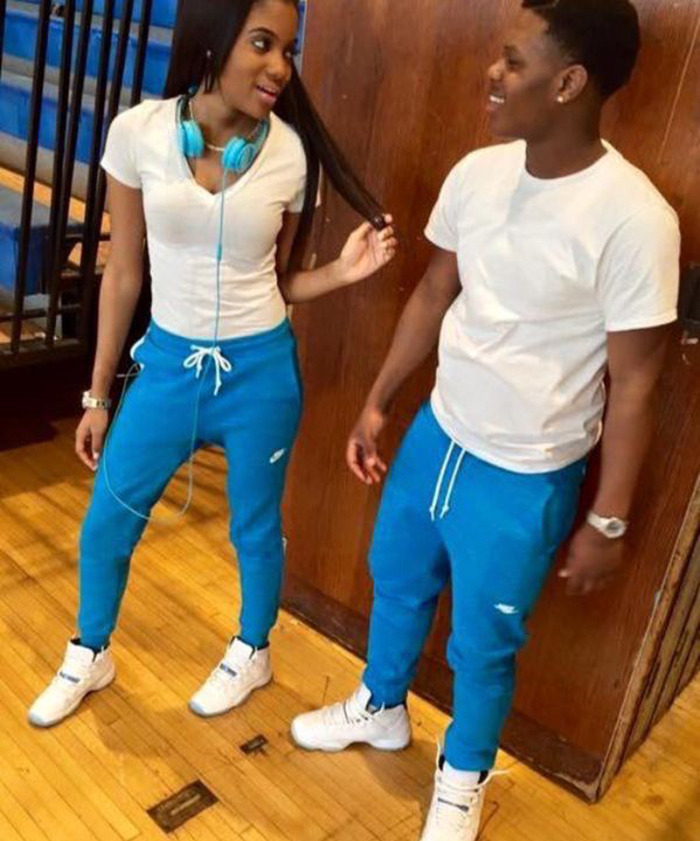 Via: stylevore.com
So you are all set achieve your fitness goals together with your partner, then go for monochrome gym clothing. A cool white t-shirt with blue track pants will give you a stylish gym look. To complete the look, get white sneakers to get your body moving.
2. Casual Matching Date Outfit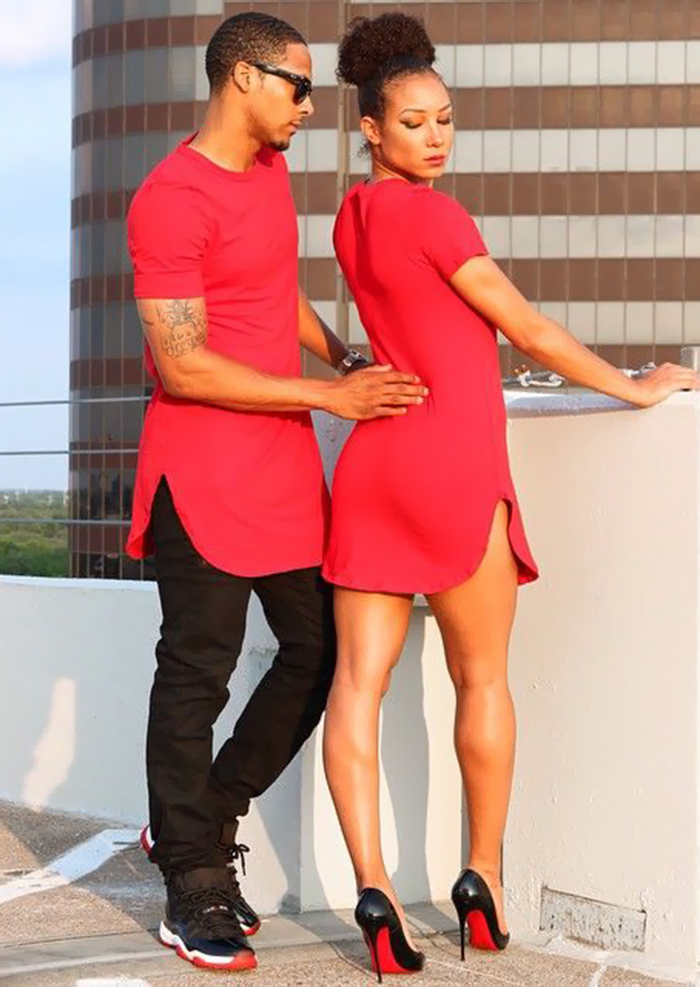 Via: stylevore.com
Planning a casual date for the day with your boyfriend, get inspired by this casual red outfit. With your partner in a long t-shirt and black trousers, your love is sure going to bloom. Team up the outfits with matching footwear in semiformal for an all-day romantic look.
3. Stylish Summer Look For Couples In Matching Pattern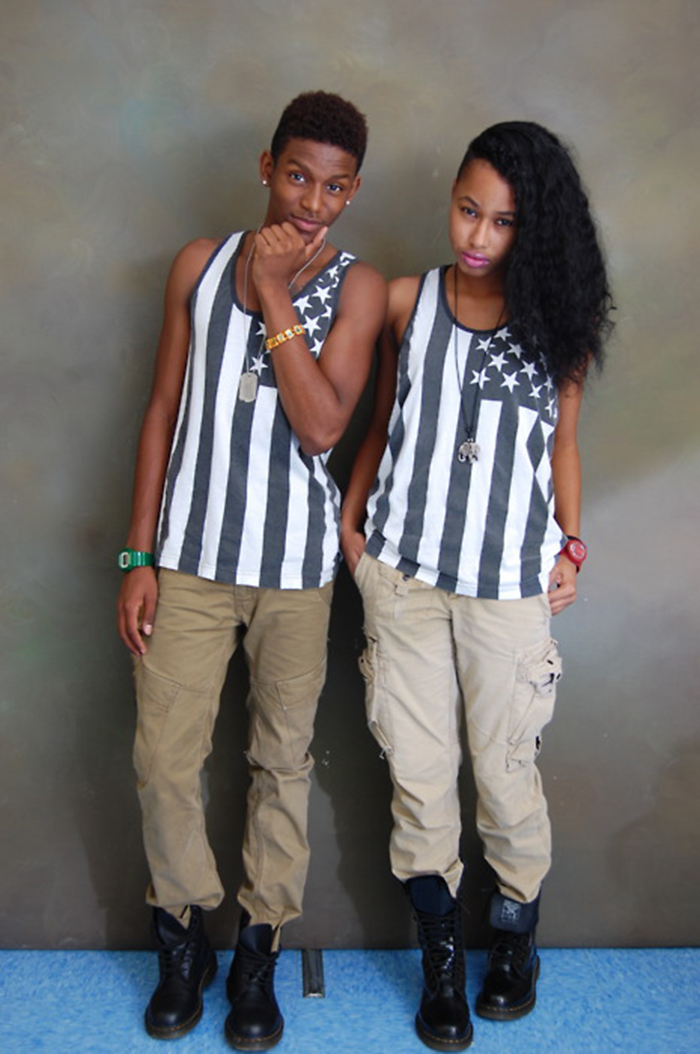 Via: stylevore.com
Create a stylish summer look with a cool summer top and casual trousers. This easy flow outfit is perfect for day wear. Combine the outfit with summer boots and accessories to complement your partner's style.
4. Black And Blue Matching Outfit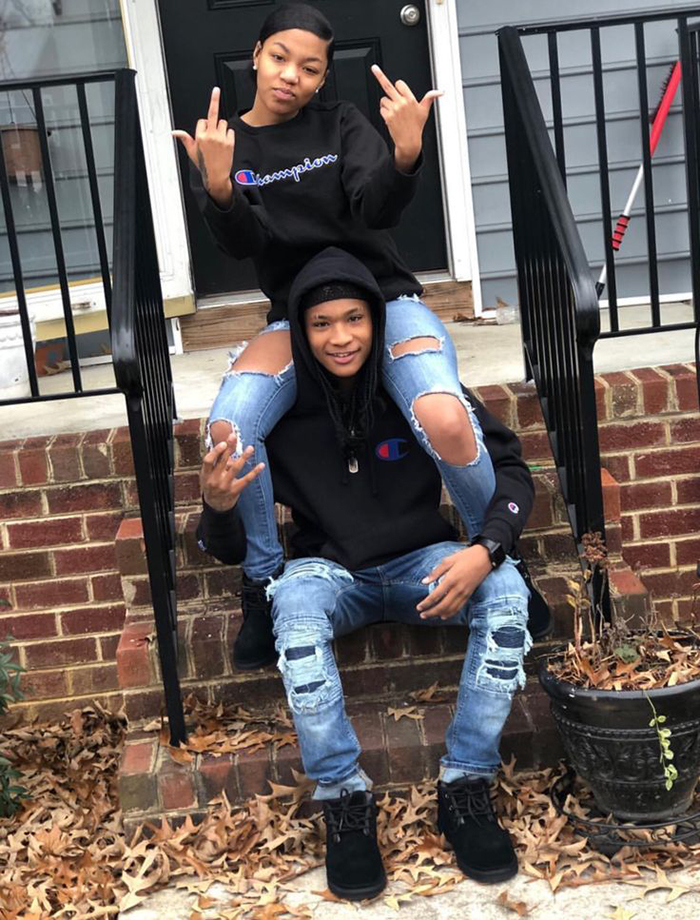 Via: stylevore.com
Get in style with your boyfriend with matching outfits in casual daywear outfits. A distressed jean is a trend that everyone loves to follow. Team it up with your favorite black t-shirt, certainly your partner too will love to follow your style.
5. Go Yellow In Matching T-Shirts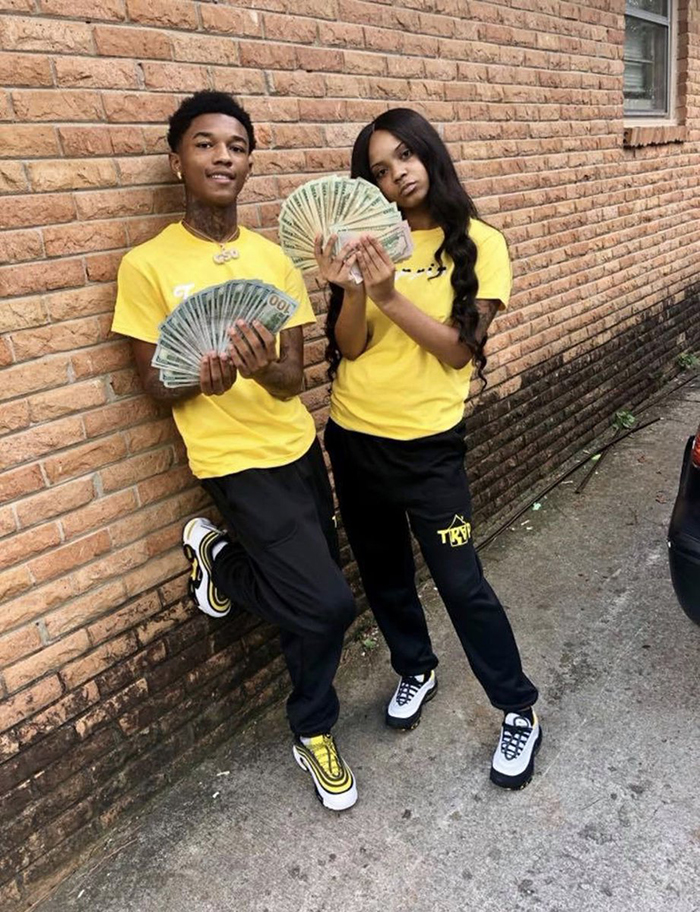 Via: stylevore.com
Notch up the level of your love with bright yellow t-shirts with black track pants. This cool set is quite nice to wear on a sunny day. You can go for a run or jog with your partner in this comfy outfit.
6. Read This LOVE, Couple Matching T-Shirts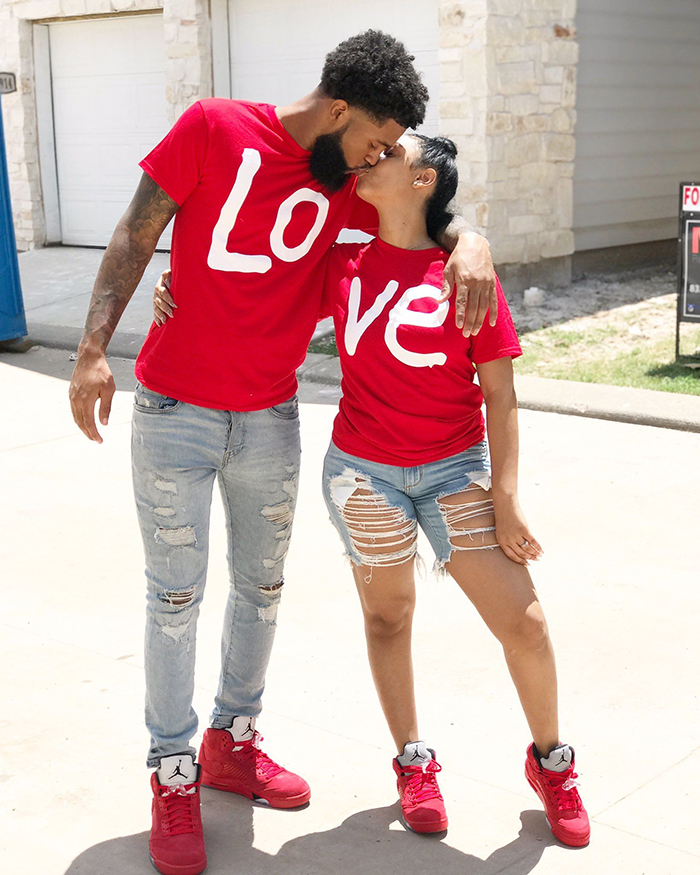 Via: stylevore.com
A fun creative way to express love is by wearing cute t-shirts with texts written over them. Custom printed t-shirts like this one is a pure form of showing the love you share with your partner.
7. Classic Royal Blue Matching Jacket For Winters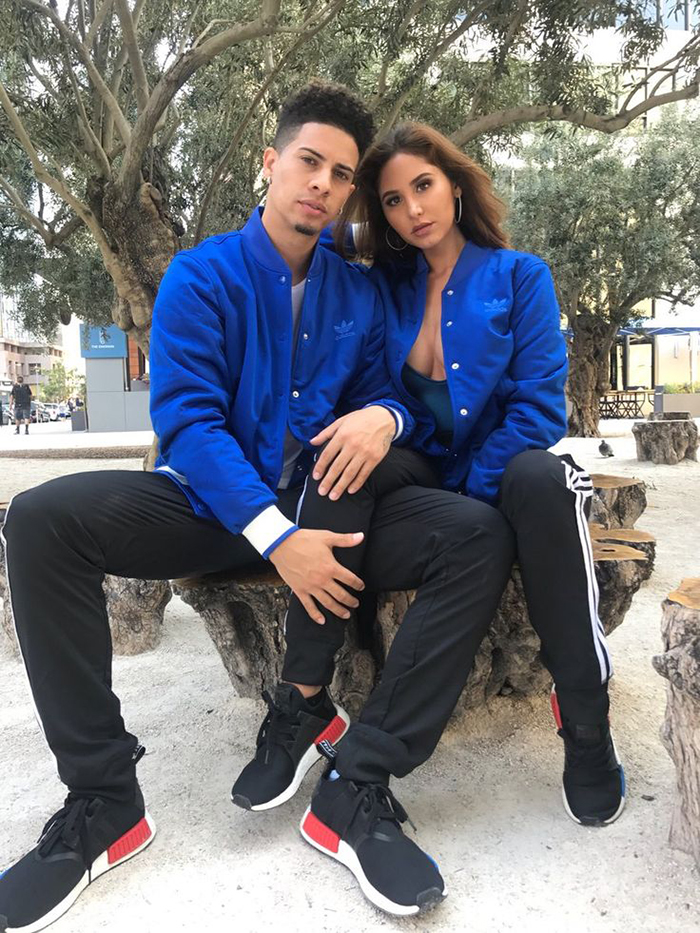 Via: stylevore.com
An outfit in classic royal blue color in combination with black is something that many couples adorn these days. Get this look by teaming your black track pants with a royal blue jacket. This look will add some steamy romance into your love life.
8. Time For Some Cute Romance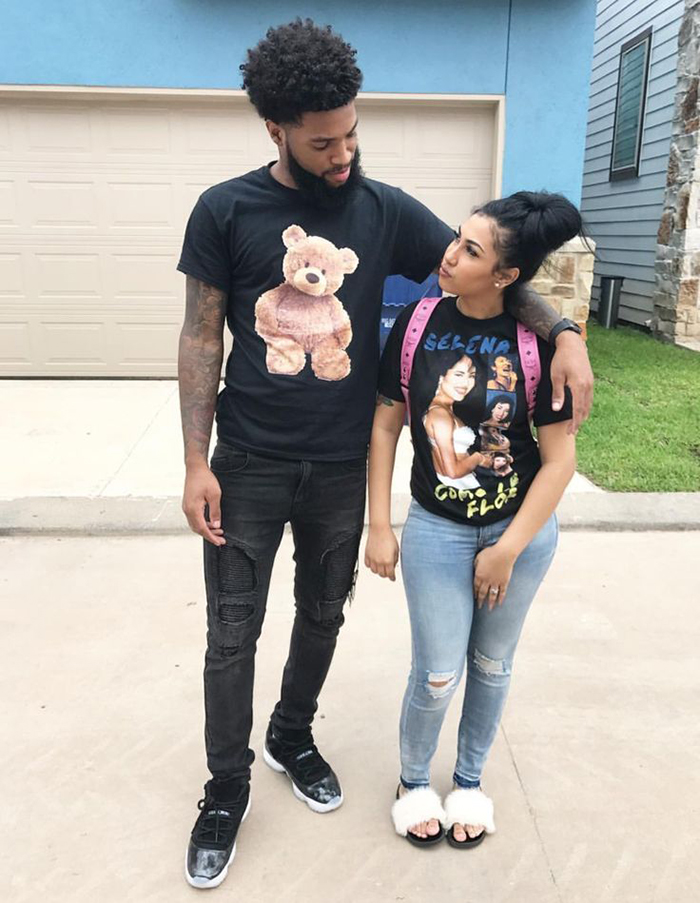 Via: stylevore.com
Share the feeling of romance with your partner with t-shirts embossed with cute teddy bear and images. A cool outfit with ripped denims for romantic lunch date with your partner.
9. Semi-Formal with Wine Colour Outfits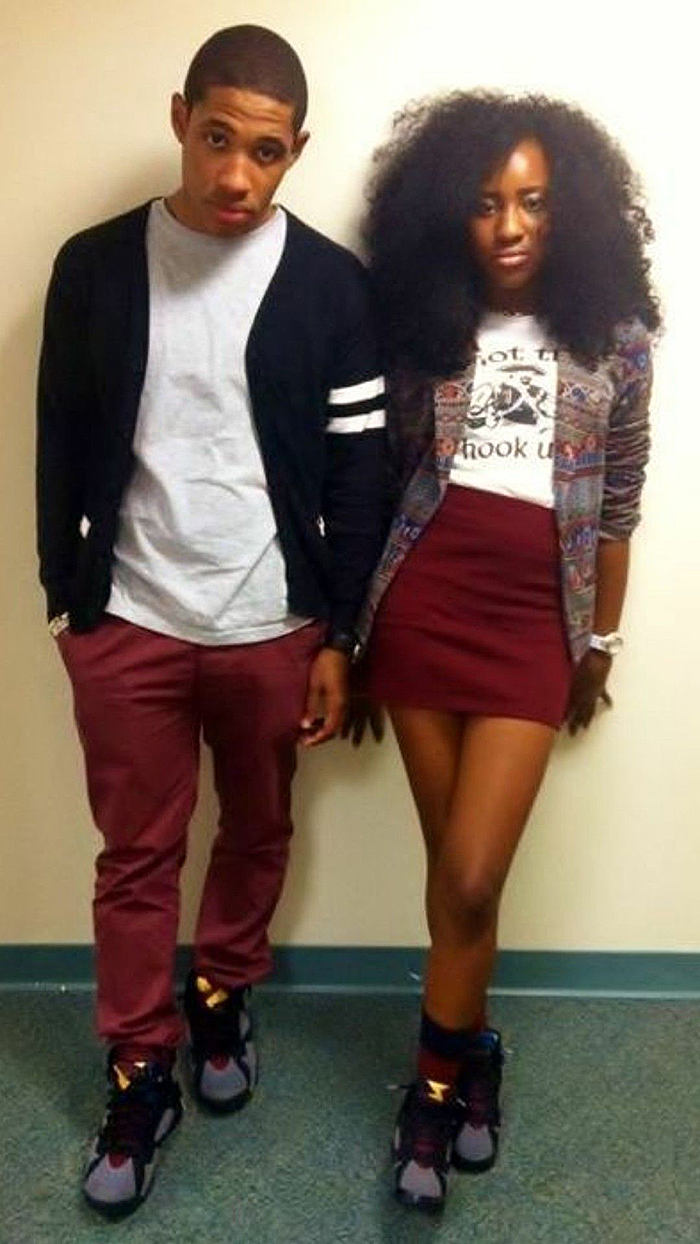 Via: stylevore.com
Combine wine shade with a light color t-shirt for a semi-formal look for him and her. Team up your favorite t-shirt with wine color skirt and your partner in matching color trousers. This semi-formal look will look great for an evening dinner with friends.
10. Printed Matching Outfit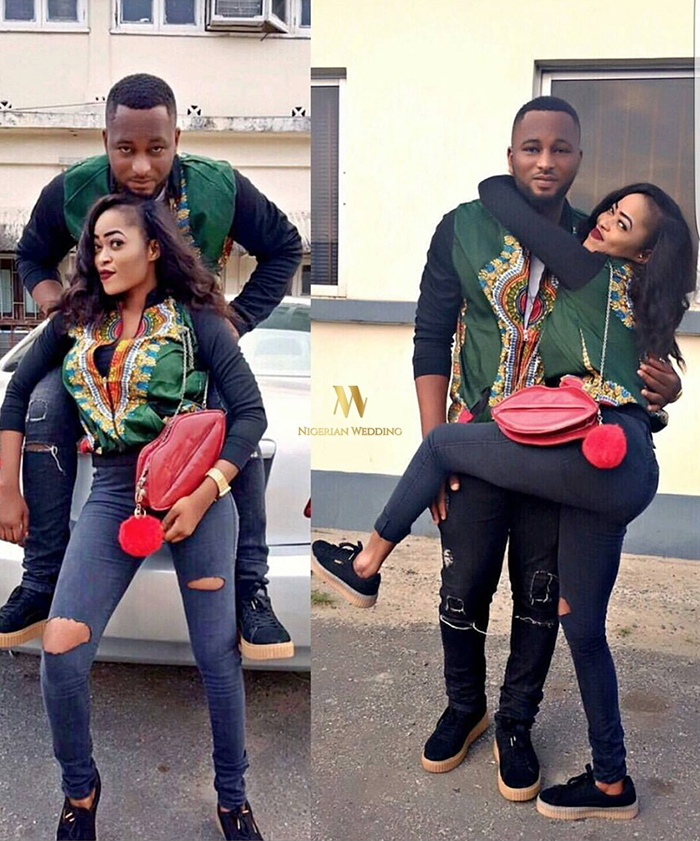 Via: stylevore.com
Get a flirty look with printed jackets, pair it up with skinny jeans and black t-shirts. Take a cue from this chic look and get set explore an all new level of love with your partner.