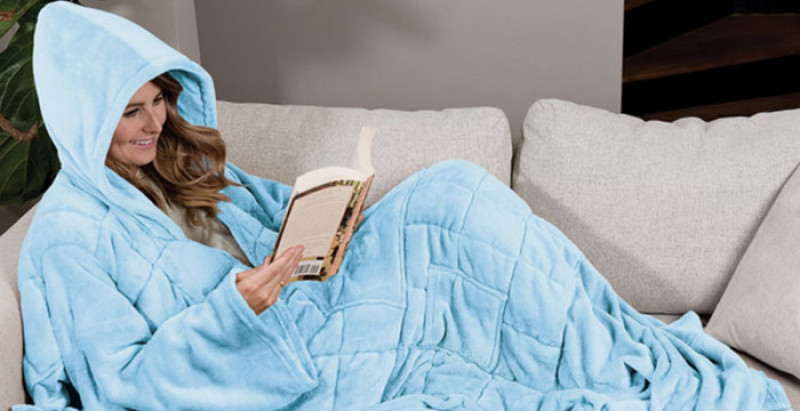 Are you someone who is on the lookout for gifts that can greatly help your loved ones to keep them warm and cozy even in the extremely cold season? Or you may have a friend, family, or partner who can't resist shivering in mild weather. Whatever the case I am going to share 10 gifts for people who are always cold.
Well, winter can even be scary for people who are aging with time. According to a study, it is found that there is always a risk of hypothermia, which is a severe problem. Another study says that cold weather usually hits children and aged people directly. Giving your loved ones a gift they really need is the loveliest way to express your love and care for them.
10 Best Gifts for People Who Are Always Cold
Well, if we discuss the gifts for people who feel cold always we usually run out of options, but I have some great options. You can select any of them according to what they will like. From luxurious heat accessories to snug layers, here are some thoughtful, stylish, and functional options.
1. Women's Heated Vest
Women's heated vest is a practical and cozy gift, for sure, to give your friend. It is a versatile option, as it provides warmth in both ways, i.e., stylish and convenient.
It typically comes with adjustable settings and allows you to choose a level of warmth according to your preference. Therefore, it can be the best fit to present as a gift to your dearest friend or any female family member.
2. Unisex Beanie Hat
Next on our list is this brilliant gift: a unisex beanie hat for both males and females who stay cold in your circle. On frigid days in winter, the beam light on that will provide you with a hand-free lighting option.
It is stylish, warm, and functional because of its LED light. This reliable accessory is a go-to item to keep your head and ears warm, protecting you from the cold winds. It is also available in various colors and styles, thus, you can select according to your friend's choice.
3. Thick Flannel Blanket with Sleeves
Looking for a unique present for your friend? This thick flannel blanket with sleeves is just the perfect option. Its soft and plush fabric gives you comfort and provides you with coziness.
This convenient blanket with sleeves or, you can say, a cape can wrap you in warmth from head to toe and give you a soothing touch.
4. Microwavable Slippers
These microwavable slippers are a gift that has both functionality and warmth. These slippers get ready using premium-quality material and have a luxurious and plush surface inside to keep your feet warm.
It is the best way to get your feet warm with the sensation of coziness. The warmth from these slippers will provide comfort and relaxation with their coziness and softest material inside.
5. Hand Warmers
If you do not want to gift your friend any warm clothes as they are way too typical options for gift, then you can go for hand warmers. Hand warmers are reusable and portable; you can just put them in your bag and carry them anywhere.
They provide instant warmth within just 3 seconds, thus can be a fantastic gift to give. The heat they provide lasts up to 30 minutes, and they are really affordable to buy.
6. Oversized Wearable Blanket
Next on this list we have is this first-class oversized wearable blanket. It is a shirt-shape blanket thus, the person you are going to gift can wear it anytime and anywhere. It is stylish, cozy, soft, and warm at the same time.
This oversized blanket is manufactured with two layers. One is a microfiber outer layer, and one is a fleece inner lining which provides you with perfect comfort.
7. Warm, Cozy Thermal Socks
These warm, cozy thermal socks are an excellent gift to choose for your friends who are feeling cold. These socks are actually made to retain heat and thus are perfect for chilly weather. Your friend can wear these socks anywhere as they are quite fashionable.
You can have these socks in any color and design and thus can choose according to your friend's preference. They are machine washable and can last for years, providing warmth and coziness.
8. Women's Fleece Cape
A women's fleece cape is a suitable gift that effortlessly blends style and warmth. This is a stylish layering piece that your female friend can drape over her shoulder and enjoy the coziness.
Your friend can wear it to any office meeting, friend brunch, family dinner, parties, and other casual or formal events. This fleece cape is soft to the touch and gives you an elegant appearance. Its warm material will give you the feel of a warm hug and provide resistance against cold and chilly winds.
9. Men's Windproof Winter Hat
If you are tired of searching for a unique and easy-to-go gift for a man in the winter season, here is an option for a windproof winter hat. It is a perfect fit that delivers both practicality and comfort. This windproof winter hat is designed to shield against chilly winds that can make one feel really cold through regular hats.
It offers you complete insulation and is available in many colors, designs, and patterns. This thing makes them an ideal choice for men doing outdoor activities during winter months.
10. Electric Car Blanket
Lastly, an electric car blanket is another best gift that offers you convenience and comfort. No matter where your friend is going, if s/he feels cold, it is a wonderful gift to give. These car blankets come with heating settings through which you can customize the warmth level.
These user-friendly blankets have plugs that you can connect to the car's power source, and they will start providing you with warmth. It is actually the best option to carry with you when you are off to long road trips in the winter season.
To Sum Up!
Finding the right gift for someone who always stays cold must be a daunting task. For those who you care about, always want to give them a special present. But now, with the help of this gift list, you will surely pick up the right gift that will show your affection towards your family or friends. We hope, the piece of information that we provided here will really be helpful and will make your loved ones happy.