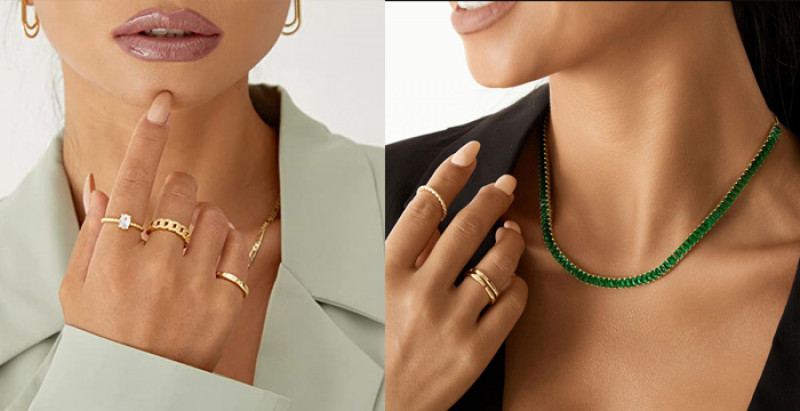 Introduction:
Is your jewellery box lacking a little sparkle? Fear not, for we have curated a list of six enchanting trends that will make you shine like the star you are in 2023. Whether you prefer understated elegance or eye-catching statement pieces, these captivating jewellery trends are here to breathe life into your collection and elevate your style game.
Waterdrop Earrings:
Bold Waterdrop Hoop Earrings: A Symphony of Grace and Style Drench your ears in the enchanting beauty of Bold Waterdrop Hoop Earrings, a captivating fusion of elegance and modern flair. These exquisite hoops feature a striking waterdrop silhouette that dances gracefully with every move, making them the perfect addition to any outfit, from a casual brunch to a sophisticated soiree. Choose from a range of stunning finishes, including gold, silver, or adorned with glittering crystals, and prepare to be swept away by their irresistible charm.

Boho Beaded Choker Necklace:
A Whimsical Touch of Charm Unleash your inner bohemian goddess with a Boho beaded choker necklace that captures the essence of free-spirited elegance. As fashion expert Caroline Maguire suggests, "Shoppers are loving bright and festive charmed jewellery right now!" So, don't hesitate to adorn your neck with a vibrant, eclectic piece featuring an array of beads, tassels, or charms that dance with every movement.
Tennis Bracelet for Women:
Classic Beauty with a Modern Twist A timeless treasure, the tennis bracelet never goes out of style. This sophisticated accessory features a row of sparkling stones encased in a slender band, exuding a refined elegance that complements any outfit. Whether you choose a traditional diamond tennis bracelet or explore affordable alternatives like lab-grown diamonds or cubic zirconia, you'll be basking in the glow of eternal glamour.

Gold Initial Necklace:
Your Personal Style Statement Celebrate your individuality with a gold initial necklace that tells the world who you are. As Caroline Maguire puts it, "Personalized jewellery is the perfect way to put the fun in functional." Choose a minimalist design with a single letter or a more elaborate piece that captures your unique essence. Layer it with other necklaces or let it shine on its own - either way, you'll be making a statement that's uniquely you.

Gold Layered Ankle Bracelets:
A Golden Symphony at Your Feet Why should your wrists and neck have all the fun? Gold layered ankle bracelets are here to ensure your feet don't feel left out. These dainty ankle bracelets feature delicate gold chains that gracefully adorn your ankles, capturing the essence of minimalist elegance. Perfect for adding a refined charm to any outfit, from casual summer dresses to cool beachwear, these ankle bracelets are a versatile addition to your jewellery collection. Embrace the beauty of simplicity and let your ankles revel in the elegance of minimalist gold layered ankle bracelets.

14K Gold Plated Cubic Zirconia Tennis Chain: Everyday Sparkle with a Touch of Elegance Infuse your daily wardrobe with a hint of refined sparkle by donning a 14K Gold Plated Cubic Zirconia Tennis Chain. This versatile accessory features a row of shimmering cubic zirconia stones set against a radiant gold backdrop, creating the perfect balance between elegance and wearability. Ideal for elevating your everyday outfits or adding a subtle touch of glamour to a casual ensemble, this tennis chain is a stylish companion for any occasion. Embrace the allure of understated sophistication with this charming piece that effortlessly elevates your daily wear.

Conclusion:
These six enchanting jewellery trends promise to illuminate your 2023 with a sparkle that's impossible to resist. From waterdrop earrings and boho beaded chokers to tennis bracelets and necklaces, there's a treasure trove of dazzling pieces to discover. So, dive in and let your unique, fashionable flair shine like never before. Happy accessorizing!