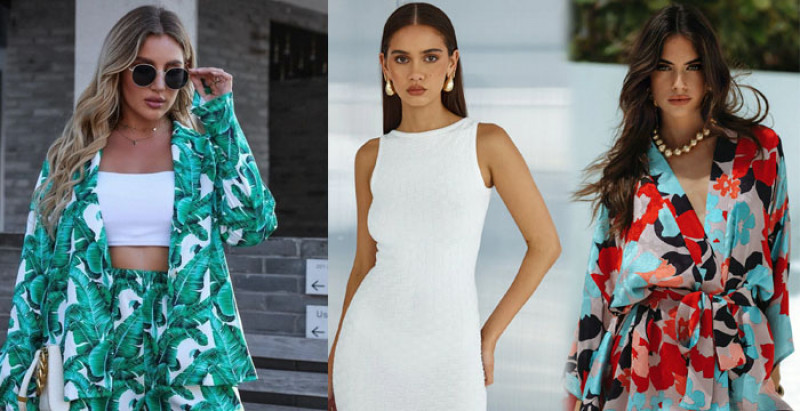 Dubai, the jewel of the United Arab Emirates, is known for its stunning architecture, luxurious lifestyle, and scorching summer heat. As temperatures rise, dressing stylishly can become challenging, but fear not! In this article, we will explore seven chic outfit ideas that will keep you cool, comfortable, and effortlessly fashionable during a summer in Dubai.
7 Outfits To Add To Your Wardrobe
When it comes to fashion, Dubai is a city that has never held back. Whether you're grabbing coffee in a nearby cafe or heading to Jumeirah Beach, there are so many fun and exciting outfits that will have you looking chic and sophisticated. Here are 7 outfits you should check out.
Breezy Maxi Dresses
Culottes and Crop Tops
Jumpsuits
Kimono and Shorts
Linen Shirts and Wide-Leg Pants
Off-Shoulder Tops and Midi Skirts
Sheer Fabrics and Swimsuit Cover-Ups
Breezy Maxi Dresses
Maxi dresses are a summer staple, and they are perfect for the Dubai heat. Opt for lightweight, flowy fabrics like cotton or linen that allow air to circulate and keep you cool. Choose vibrant colors or playful patterns to embrace the lively atmosphere of the city. You can find Maxi dresses in Dubai boutiques and clothing stores. Pair your maxi dress with strappy sandals or espadrilles, a wide-brimmed hat, and oversized sunglasses for a chic and sophisticated look.
Culottes and Crop Tops
For a trendy and fashion-forward ensemble, try pairing culottes with a crop top. Culottes offer a relaxed fit and are incredibly comfortable for the summer months. Look for culottes in breathable fabrics like silk or cotton. Pair them with a cropped blouse or a fitted T-shirt to create a balanced silhouette. Complete the look with sandals or mules and a crossbody bag for a stylish and practical outfit that will take you from day to night.
Jumpsuits
Jumpsuits are versatile and effortless, making them an ideal choice for a summer in Dubai. Look out for fabrics like linen or chambray to stay cool in the heat. Choose a jumpsuit with a loose, relaxed fit that allows air to circulate. Accessorize with a statement belt to define your waist and add a touch of glamor. Finish the look with wedges or block heels and a straw tote bag for a chic and sophisticated ensemble.
Kimono and Shorts
Kimono-style jackets are a trendy and stylish addition to any summer wardrobe. Pair a lightweight, flowy kimono with high-waisted shorts for a relaxed yet polished look. Opt for a colorful or patterned kimono to add a pop of color to your outfit. Complete the look with a simple tank top, slide sandals, and a straw hat. This outfit is perfect for exploring Dubai's cultural landmarks or strolling along the beautiful beaches.
Linen Shirts and Wide-Leg Pants
Linen is a natural and breathable fabric that is perfect for hot weather. A linen shirt paired with wide-leg pants creates an effortlessly chic and sophisticated look. Opt for light colors like white or pastels to reflect the sun's rays and keep you cool. Roll up the sleeves of the shirt for a more relaxed vibe. Finish the look with comfortable sandals or loafers and a straw bag for a touch of summer flair.
Off-Shoulder Tops and Midi Skirts
Show off your shoulders and embrace the summer vibes with an off-shoulder top paired with a midi skirt. Choose a lightweight, flowy fabric for both the top and the skirt to allow air to circulate and keep you comfortable. Bold prints or vibrant colors are the way to go if you're looking to make a statement. Complete the look with strappy sandals, delicate jewelry, and a crossbody bag for a romantic and feminine outfit.
Sheer Fabrics and Swimsuit Cover-Ups
Dubai is known for its luxurious pool and beach clubs, so having stylish swimwear and cover-ups is a must. Sheer fabrics like chiffon or lace will do the job for a glamorous and sophisticated look. Layer a sheer kimono or a maxi dress over your swimsuit for a chic cover-up option. Accessorize with oversized sunglasses from ray-ban.com, a floppy hat, and metallic sandals to elevate your poolside style.
A Stylish Summer in Dubai
Dressing chic and stylishly in the scorching heat of Dubai is all about choosing lightweight fabrics, loose silhouettes, and vibrant colors. Maxi dresses, culottes with crop tops, jumpsuits, kimono jackets with shorts, linen shirts with wide-leg pants, off-shoulder tops with midi skirts, and sheer cover-ups are all great outfit ideas for a summer in Dubai. Remember to accessorize with hats, sunglasses, and comfortable footwear to complete your stylish ensembles. Embrace the vibrant energy and cosmopolitan atmosphere of Dubai with these chic outfits and enjoy a fashionable summer in the city of dreams.