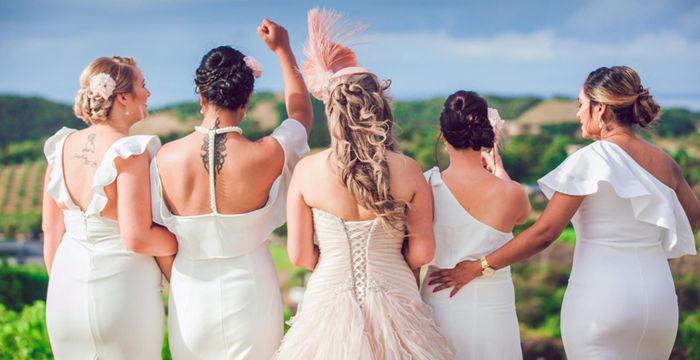 The bride's entourage won't be complete without her beautiful bridesmaids on the big day. They are the support system in the couple's journey to their wedding. They helped lessen the stress during the planning and to make the dream union of the couple come true. Like true best friends, they are there for the bride (and even the groom) no matter how challenging the situation is. And so these gorgeous girls deserve all the beautiful and chic looks on your special day too! Looking for the most sought-after trends for your bridesmaids? The bridesmaids' dresses, hairstyles, makeup, and nails will bring out a glamorous feel and chic vibes on every item. Pore over the ideas below for your pretty bridesmaids.
Chic 2023 Bridesmaid Dress
A Mod Bridesmaid Dress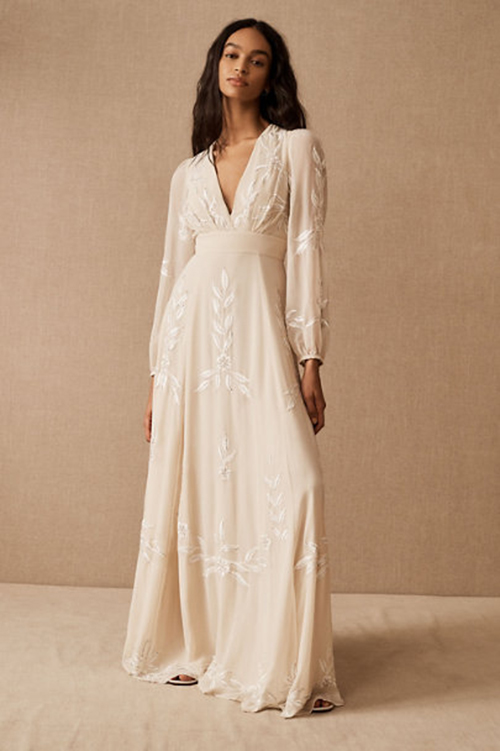 How to say, "You love to see them beautiful but not as beautiful as the bride"? Well, this boho bridesmaid dress embodies just that.The plunging neckline, modest beadings, and superb embroidery is enough to turn heads but won't overshadow the bride.
Cute Chiffon Dress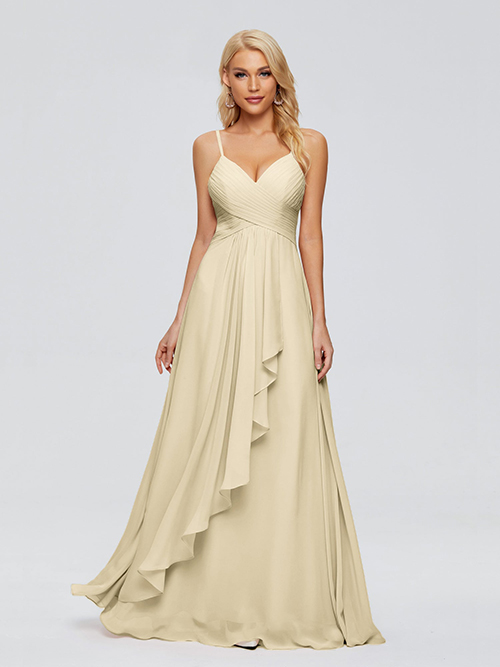 A-line spaghetti strap dresses are the in 2023. Take a look at this cute chiffon number with pleated embellishment, floor-length cut, padding, and boning. It's an excellent colour for bridesmaids, regardless of size and height.
Cold-Shoulder Bridesmaid Dress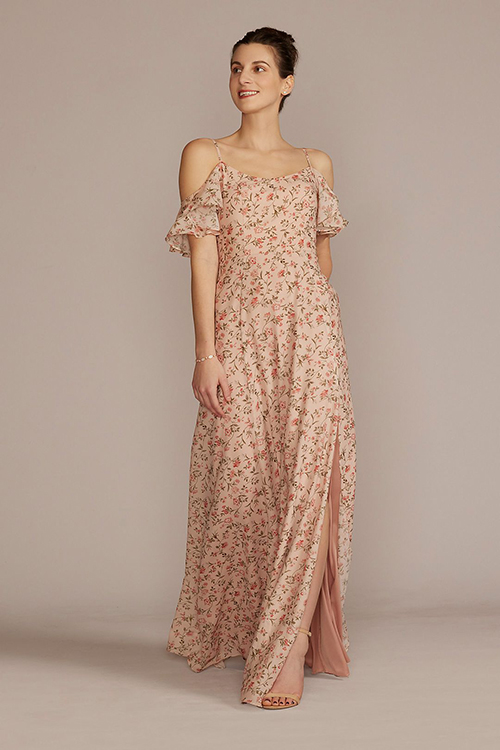 Stick to a simple floral bridesmaid dress that fits the occasion. The dresses don't have to be extravagant but should look flowy so the bridesmaids can do their tasks easily during the big day. some thrill with the cold shoulder.
Floor length Viscose Dress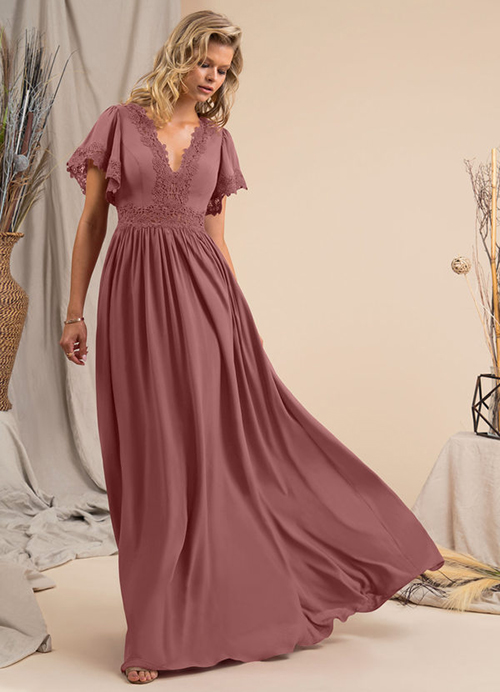 Make your bridesmaids feel luxurious with an ensemble inspired by the romantic beaches of Mexico. A Tulum viscose dress that's floor-length helps achieve the boho look that'sso popular among wedding themes today. It has natural and breathable cotton, making it an excellent choice for the bride's support system.

Stunning 2023 Bridesmaid Hairstyle
Simple Messy Bun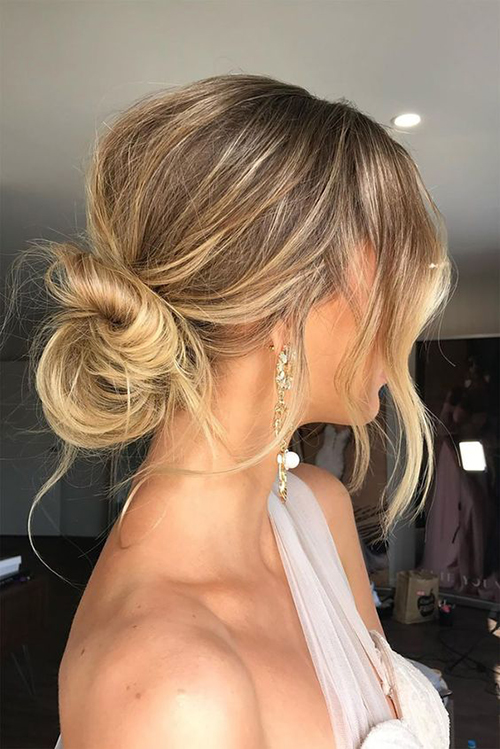 They say the ladies who look gorgeous in a messy bun are the most beautiful ones. This messy chignon is a lovely and classic 2023 bridesmaid hairstyle. Of course, although it seems simple, it still needs an expert to achieve an elegant look that's not trying hard. This fits all shoulder and long hairs.
Mermaid Hair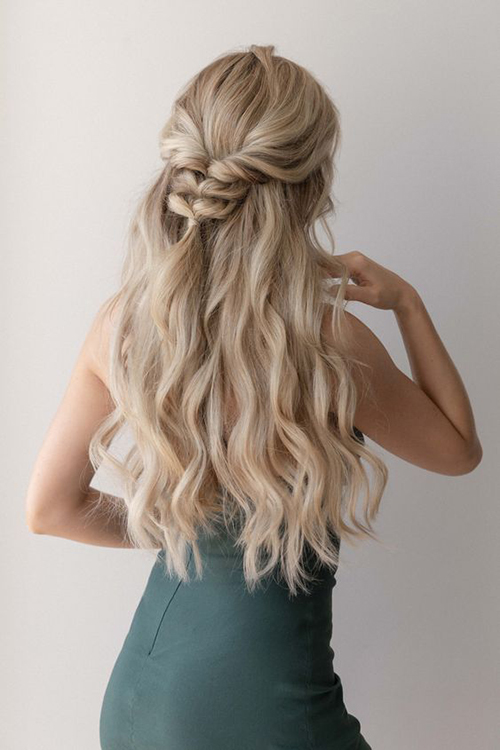 The soft curls and beautiful mermaid braid give a princess vibe. If the bride is the queen, the bridesmaids will be her princesses with a hairstyle like this. Use small elastics when doing the braid to stay in place all day long.
Goddess Braids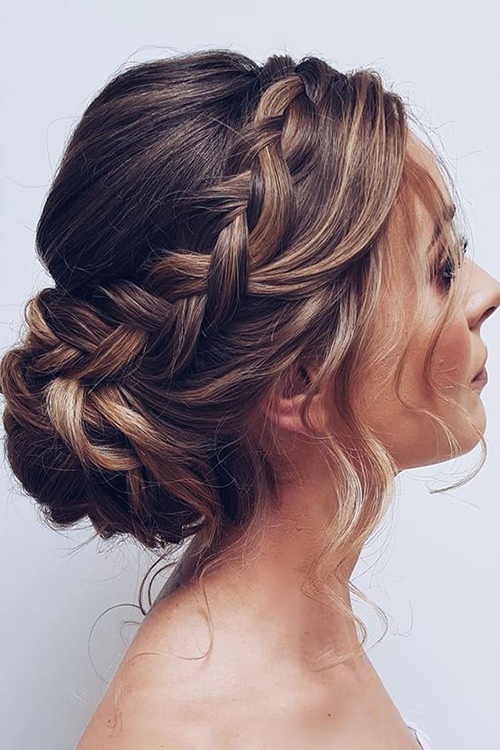 Weave some thick side braids on the bridesmaid's hair that'll indeed look amazing. a volume starting from the braid's crown while it ends in a wrap of a textured bun. You can choose how tight-neat or loose-stranded the bridesmaids' hairs should be.
Mini Flower Crown
Do you want something unique to do with your bridesmaids' hair? You can put flowers on their braids to a touch of femininity plus sophistication. Yes, it's a gentle way to give your girlfriends their identities as bridesmaids during your nuptial.
Attractive Bridesmaid Makeups
Peachy Glow
Create stunning makeup when your bridesmaids are in a peachy glow. It's a timeless look in pictures that accentuates the features of their faces. What's more, is how peachy glow is great for almost all skin tones, so you don't have to worry about your girls not liking this makeup.
Nude Lippies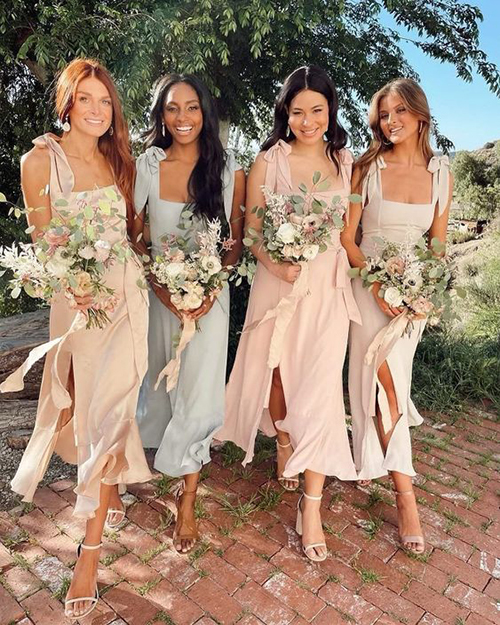 Highlight the bridesmaids' eyes using nude lipsticks. Wearing nude lipsticks give your bridesmaids a healthy-looking brightness to their faces. It'll make them stand out yet have the bride take the spotlight for the night.
Long Lash Girls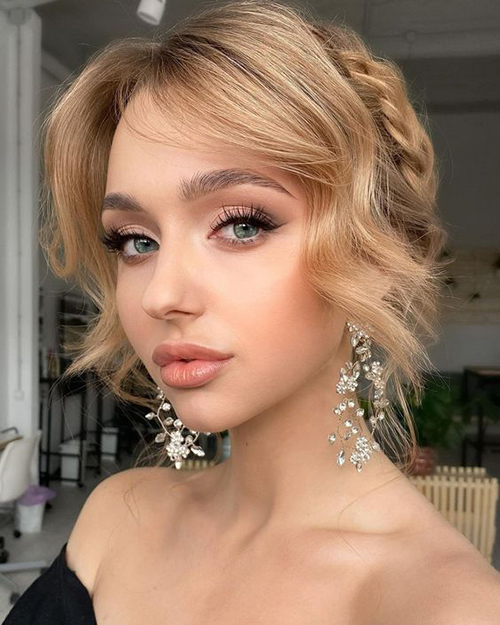 If you really want to thank the ladies who've helped you achieve your dream wedding, you may treat them to a lash extension treatment. Everyone looks gorgeous with long lashes, so why not pamper your girlfriends with a lash extension treatment? Nonetheless, if you're on a tight budget, falsies will do.
Almost Smokey Eyes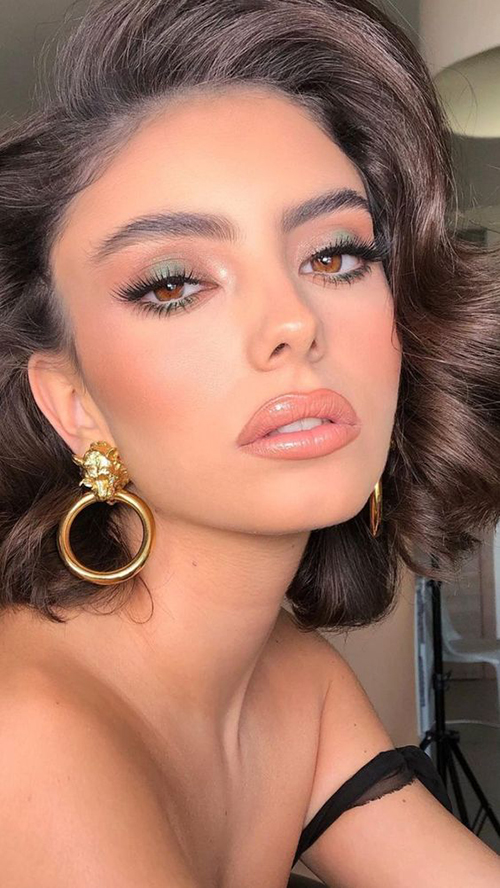 It depends on your wedding theme if you want the bridesmaids to have smokey eyes. You need to check first if it goes well with the dresses. Smokey eyes are on trend in 2023 because everyone is highlighting their eyes more during this period due to the pandemic. This means even with a mask on, they'll still look alluring.
Trendy Bridesmaid Nails
Autumn Acrylic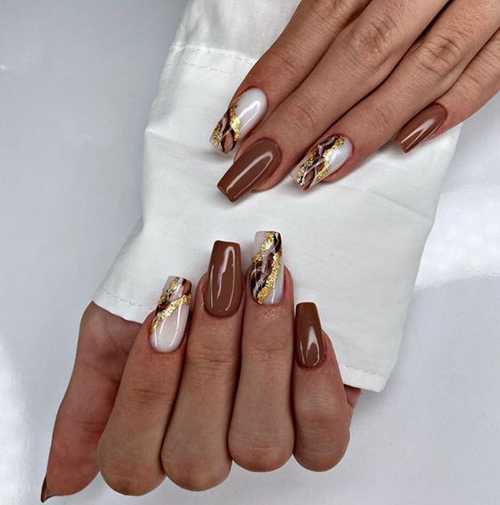 Having to say "I Do's" in the fall deserves autumn acrylic nails for the bridesmaids. The beautiful nail art of white, gold and brown shows how exquisite the wedding will be. They'll love the expensive feeling on their nails!
Shades of Green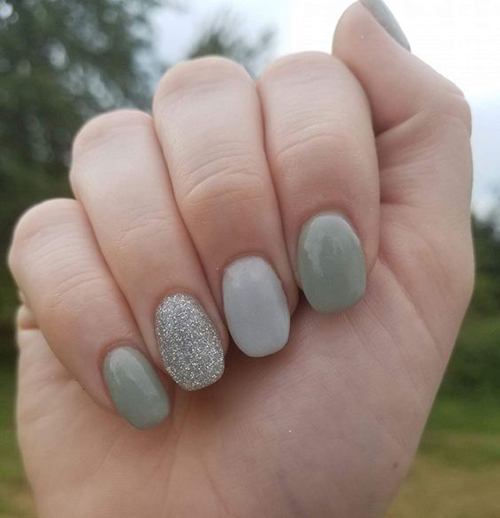 Do you have a rustic wedding that highlights the green hue? The bridesmaids can have their nails done in different shades of green. This way, their nails won't look dull, and they'll have uniformity as the bride's posse.
Winter Wonderland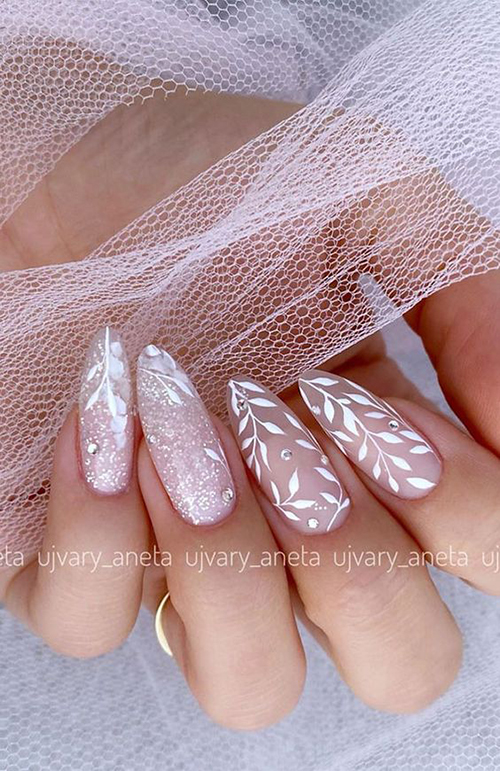 Feeling the romantic excitement in a cold winter breeze is what this nail art represents. The subtle white strokes with the glitters are enough for any onlookers to be in awe. It's the perfect nail for a fairytale-themed wedding.
Black is the New White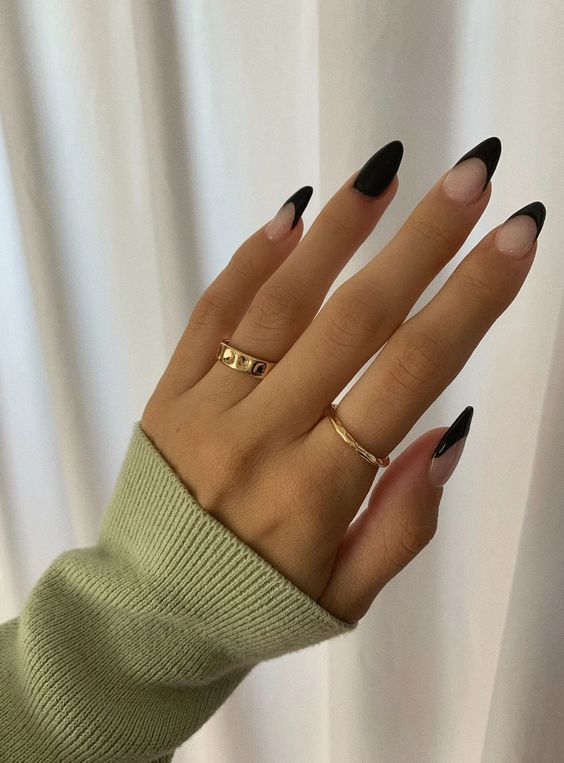 This nail art is perfect for an adventurous theme like Halloween or goth. It's rare to find nails like these at weddings, but why not if it fits the theme? Still, it looks absolutely brilliant.
Final Thoughts
You can have a lot of options for bridesmaids' trends on dresses, hairstyles, makeups and nails which can get overwhelming. The trick is finding the best choice for the bridesmaids is constantly checking the wedding theme and venue because having the wrong trend can ruin the big day.
Happy choosing!