So, it's sunny outside and you want to hit the beach with family and friends? Soaking in the sun's warmth is always fun. But too much of it can be bad! You need a protective shade on the beach to keep you safe from harmful UV radiations. And what better than customizable canopies to serve that purpose! Our team of testers went ahead and tested some of the best available commercial canopy tents to help you decide what's best for you. Here's the results.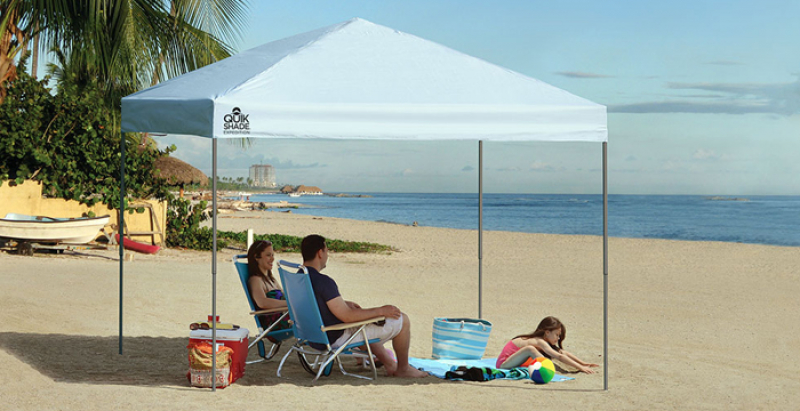 1. The X5 Recreational Range from Extreme Canopy, Australia
This has to be the best of all the custom canopies we tested for use on the beach.
Why we like it?
Canopy - The canopy of this tent is made from heavy duty PVC or PU coated polyester and is good enough to block UV radiations and untimely showers. You can have your canopy tailored according to your taste, which includes custom colors and printed graphics. What's more? There's a 1-year warranty on the canopy!
Frame - The frame is made of steel, with 1 ¾ inch thick hexagonal profile legs and solid steel footplates for extra stability. If you want to further secure your canopy tent on the beach, you can use steel weight plates and sand bags to weight down your tent against strong drafts. The frame comes with a very useful 5-year warranty to safeguard you from untoward events.
Miscellaneous accessories - Molded synthetic connectors, and steel truss bars lend rigidity to the framework.
Size options - Standard size options are 10x10, 10x15, and 10x20 feet.
2. The X6 Velocity Range from Extreme Canopy, Australia
If you want something more robust than the X5 Recreational Range, the X6 is what you are looking for. In fact, the X6 proves to be purposeful not just on the beach, but also in outdoor events like tradeshows and corporate parties. You can use your branded canopy as a pavilion to display your products and services to potential clients.
Why we like it?
Canopy - Like the X5, the X6 too employs PVC/PU coated polyester to make the canopy UV-resistant and waterproof. And you can order your tent canopy in your favorite colors, with your chosen graphics printed on it. There's the usual 1-year warranty as well.
Frame - The X6's frame is made of aluminium. This means it is super lightweight and sturdy at the same time. Aluminium is known for being corrosion resistant. This means you can expect your tent frame to last for years on end. No wonder, it comes with a 5-year warranty.
Miscellaneous accessories - The X6 employs extruded aluminium connectors, reinforced truss bars and metal footplates to lend the tent increased structural strength and stability. The footplates come in handy, when you have to use sandbags and steel weight pates to weigh down your custom canopy tent in windy conditions.
Size options - Standard size options are 10x10, 10x15, and 10x20 feet.
3. The Qipi Beach Cabana
This is a cool, minimalist product our testers found to be useful on the beach.
Why we love it?
A no-frills sunshade, the Qipi Beach Cabana is lightweight, roomy and easy to install. There's a center-pole that you can use to unfurl the tent like an umbrella. Next, you need to weigh down the four corner posts using sandbags or weight-plates on the beach sand. There are these neat mesh storage pockets in the corners of the canopy to help you keep small stuff like cellphones.
Color options - Classic beach stripes in blue, pineapples and shells.
Size options - 7.5x6x6 feet.
4. Oileus XL Beach Tent
This is a dome-shaped, versatile product you can take to the beach or camping.
Why we love it?
Other than having all the standard attributes of a beach tent, it also comes with an extra wide ground sheet as part of the package.
Color options - This product comes in as many as six color options, which includes a jungle-ready khaki one too.
Size options - 7.6x3.7x3.7 feet
5. Sun Ninja Pop-Up Beach Tent
The Sun Ninja's bare-bones design is something to behold!
Why we love it?
This canopy tent is roomy!
It has a simple construction to give you all the shade you need from the beach sun. The stretchy canopy is easily secured with the help of tent poles and guy ropes, that come as part of the package. The poles snap into place easily, giving the tent canopy all the strength it needs to withstand the sea-breeze. There's a handy shovel to dig up the beach sand too! You can use it to fill sandbags in case you need extra weight to anchor down your canopy.
But remember - When it comes to showers, the canopy of the Sun Ninja is meant for little drizzles only. Heavy downpours are an absolute no-no for this product.
Conclusion
Customizable canopies are one of the most versatile accessories available in the market. They serve the dual purpose of being a temporary shelter solution and brand pavilion, simultaneously. Make sure you purchase your accessory from a reputable manufacturer, willing to listen and respond to client requirements.