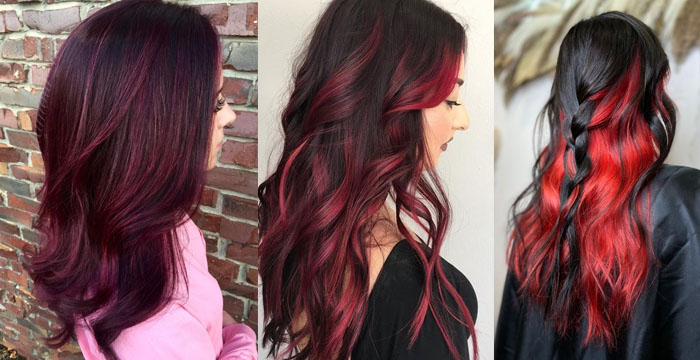 Black hair with red(cherry red, vermilion) highlights can be a beautiful and trendy looks in this era, comes with its own set of challenges. From color-treated hair to sun damage, here we are giving five tips for black hair with red highlights.
Black Hair with Red Highlights for Eye-Catching Contrast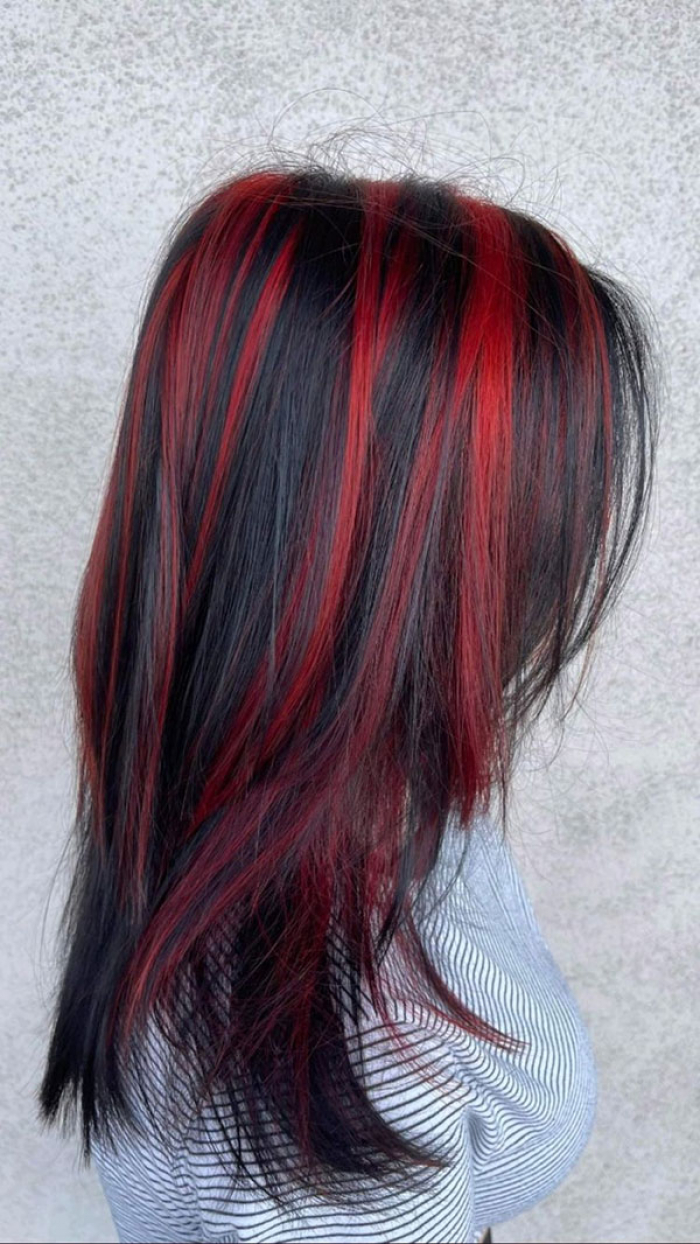 Individuals with black hair often opt to enhance their locks with red tones to achieve a more captivating contrast. There are several methods to accomplish this look, with the most popular ones being the utilization of a red dye kit or a permanent color service. Mixing both black and red hair dye allows for the creation of diverse shades, resulting in an exceptionally distinctive appearance.
A product like this will impart a reddish tint to your hair without altering its base color. Semi-permanent dyes are an ideal choice if you wish to experiment with different colors but hesitate to commit until you observe how they complement your hair. Adding red highlights to black hair is an immensely popular style that truly elevates your overall look, making you stand out from the crowd.
1. Dark Red Velvet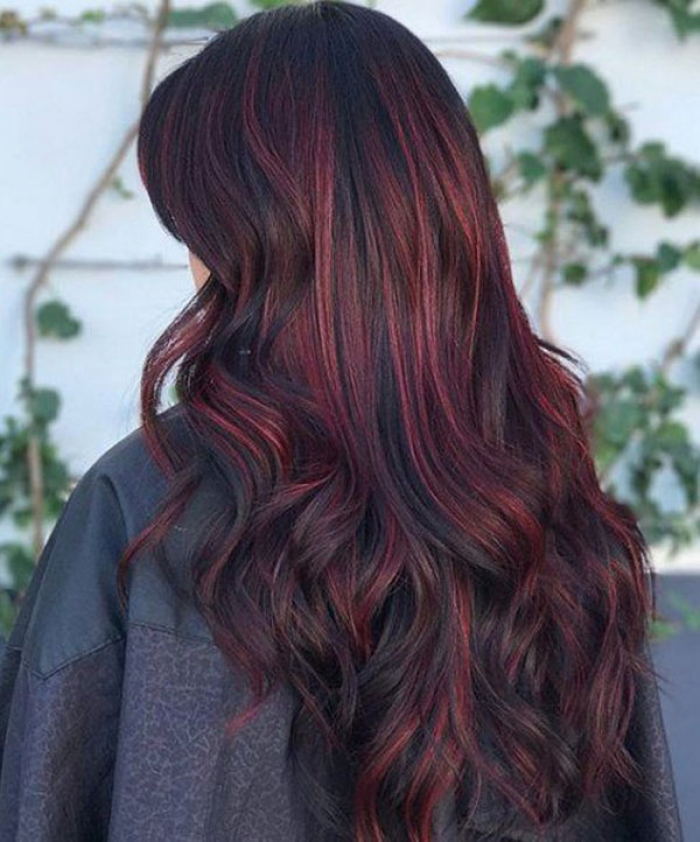 For a striking and unique look, highlight your black hair with Dark Red Velvet highlights. This captivating combination is sure to turn heads and leave others in awe of your stylish choice. The highlights will add brightness and vibrancy, while the deep red tones create an enchanting focal point. For a bolder approach, consider adding all the highlights in one color, or opt for a more natural appearance by blending different shades. To maintain their brilliance and protect your highlights, use a good conditioner to keep them in place and shielded from the elements.
2. Bob With Bold Red Color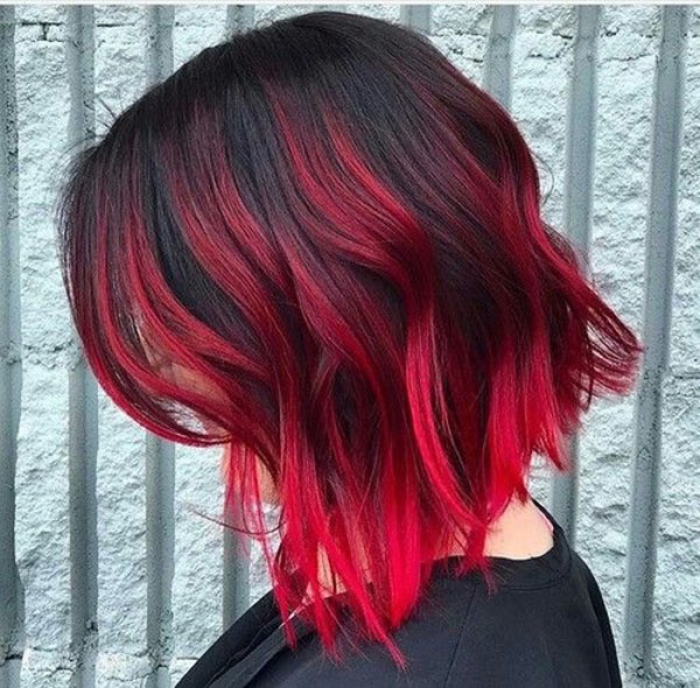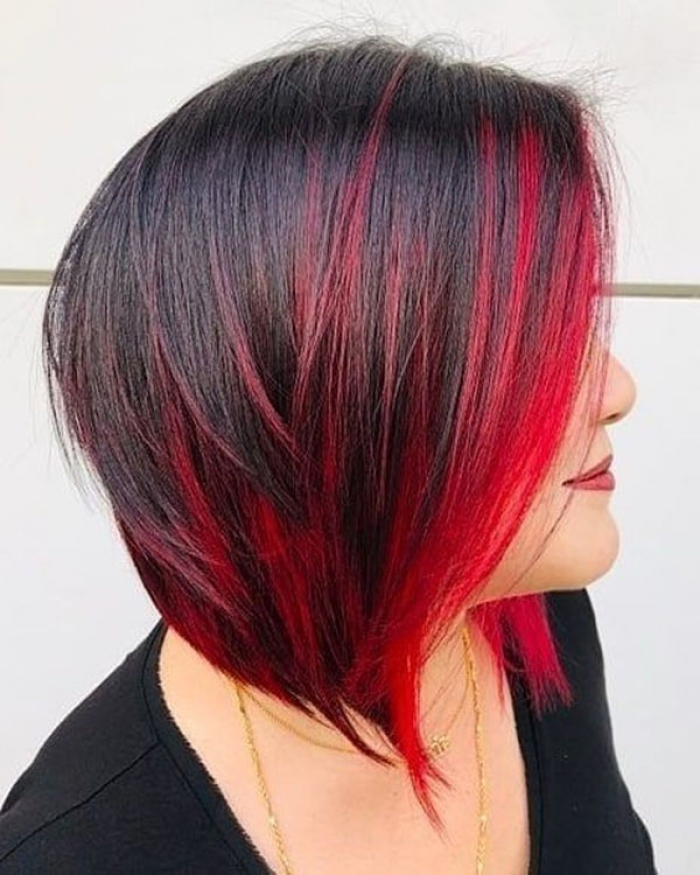 The latest hair-care trend is the combination of a bob haircut with a striking bold red color. This modern and edgy look is ideal for women who crave to make a statement and stand out from the rest. It's a perfect choice for those who love experimenting with their appearance and wish to create a distinctive style. Achieving this captivating look involves using a bold and eye-catching red hair dye that complements your individuality.
3. Black To Red Ombre Hair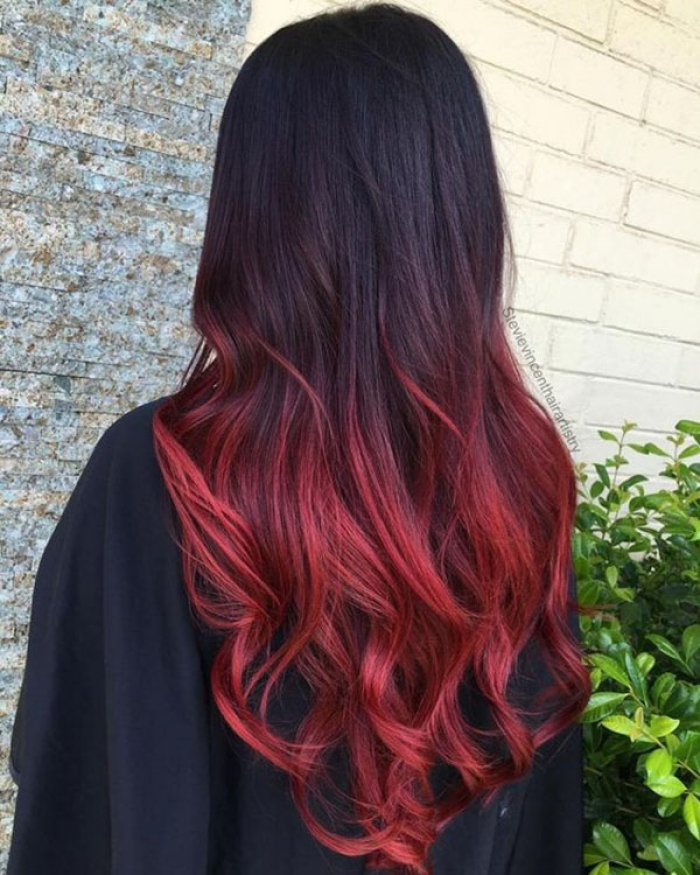 If you're seeking a bold and adventurous hair color, consider trying the black to red ombre style. This increasingly popular trend is ideal for those with a keen sense of fashion. You can achieve this look by gradually blending red tones into your black hair over time. Another option is to start with a black base color and add vibrant red highlights throughout your hair. Whichever method you choose, this striking transformation is sure to catch everyone's attention and give you a head-turning new look.
4. Black Hair With Red Highlights At The Front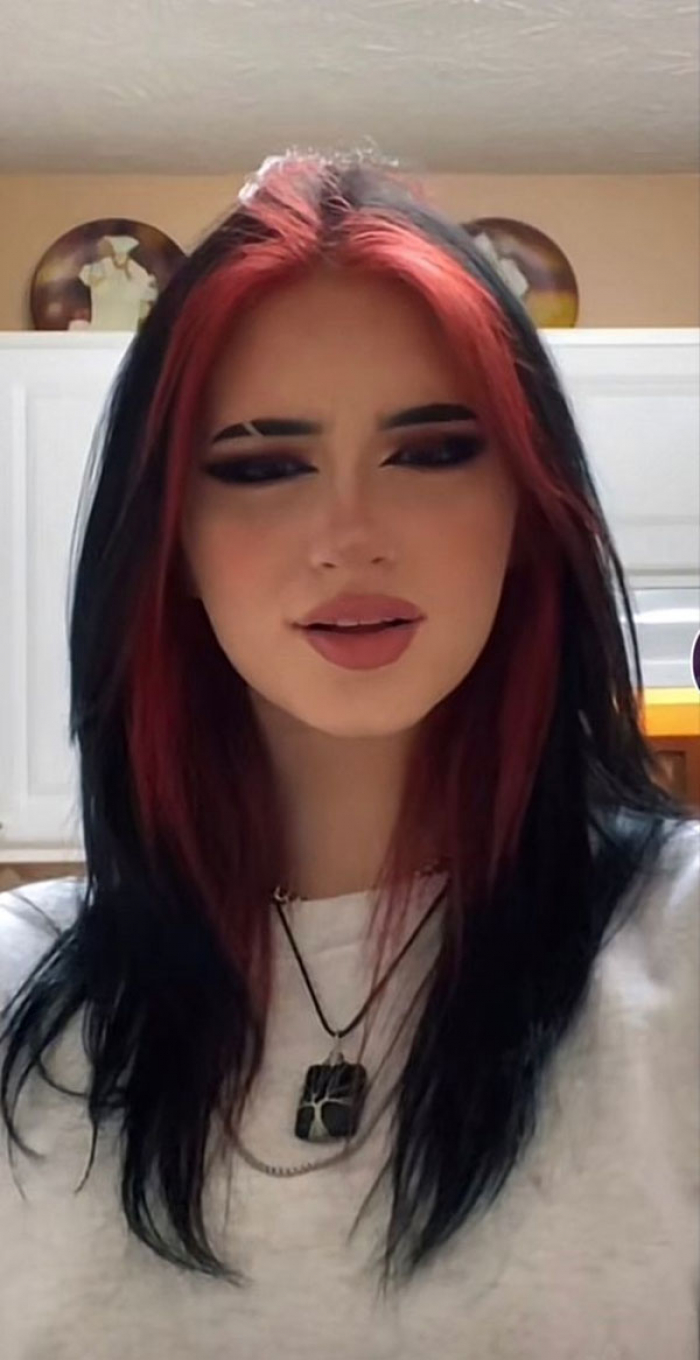 Discover a fresh and unconventional method to flaunt your black hair adorned with red highlights. This striking option is tailor-made for those who relish standing out and boldly embracing risks. The red highlights infuse your hair with a vibrant burst of color, artfully harmonizing with the black roots. Additionally, this eye-catching style is remarkably low-maintenance, ensuring you effortlessly maintain its allure throughout the day.
5. Cute Bob With Red Highlights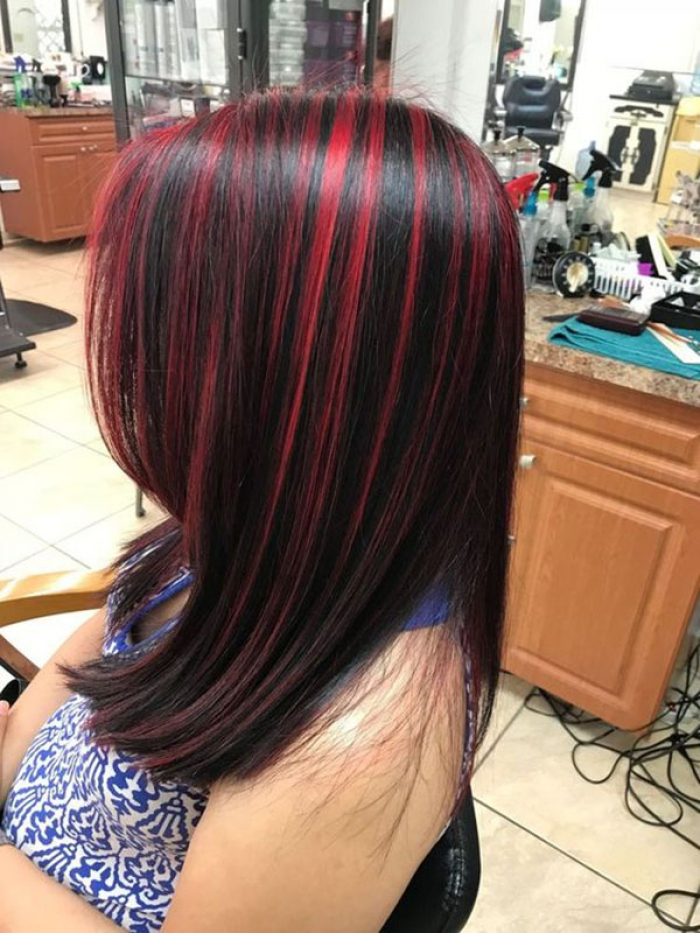 Bob's stunning black hair, complemented by lively red highlights, exudes an enchanting and endearing aura. Her bob haircut gracefully envelops her tresses, accentuated by a gentle flow of loose waves. The unique and captivating hue of her hair sets her apart, effortlessly drawing attention amidst any gathering. Beyond the striking appearance, the bob cut artfully frames her features, enhancing her natural attractiveness. This short bob-style is a favorite among women, and it undeniably radiates a sense of beauty and charm.
6. Dark Red And Burgundy Hair Color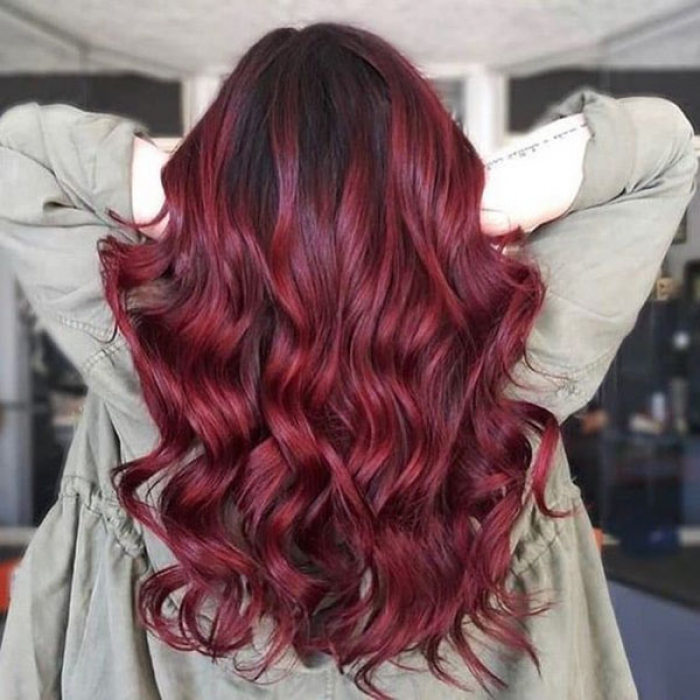 If you're seeking a bold transformation for your hair, contemplate opting for a dark red or burgundy dye. These stunning shades will infuse your appearance with richness and complexity. Dark red hair offers an excellent choice to inject excitement into your color palette, ideal for those wishing to make a statement and stand out from the rest. Additionally, it's perfect for cultivating a sultry and alluring allure.
Do red highlights look good on black hair?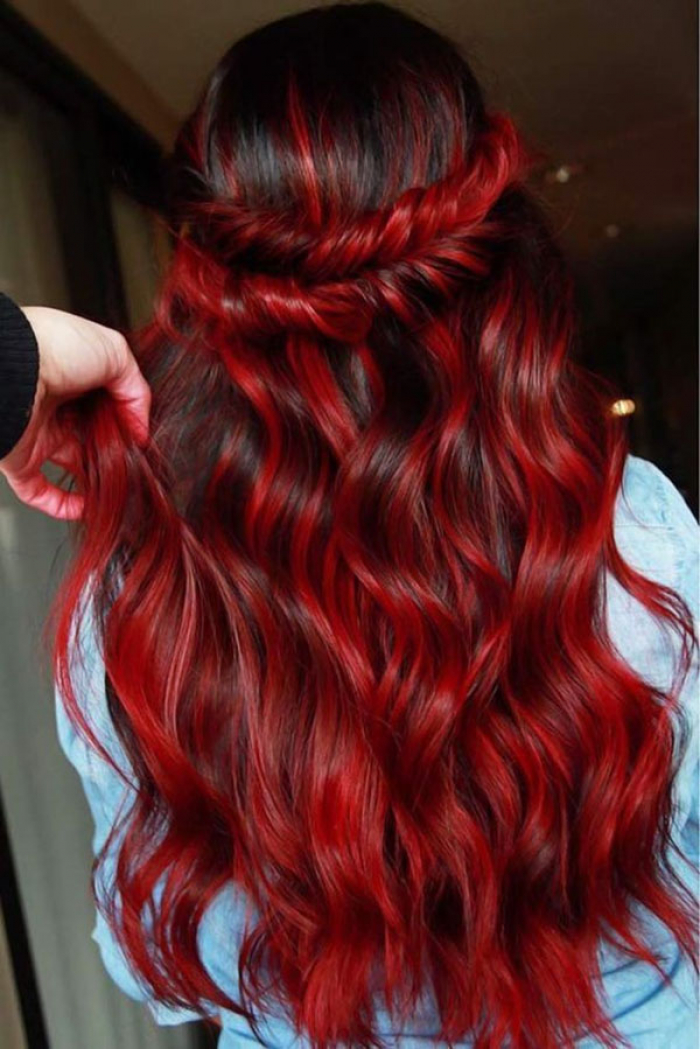 If you possess black hair with vibrant red highlights, you might be contemplating whether this combination truly complements your look. In general, the answer is a resounding yes! While some individuals may lean towards a more natural appearance, others embrace the liveliness and excitement that the bold color infusion brings to their hair. If you find yourself indecisive, don't hesitate to experiment with a variety of red shades to discover the one that suits you best. Embrace the journey of exploration and find the perfect harmony that enhances your unique style.
Are red highlights high maintenance?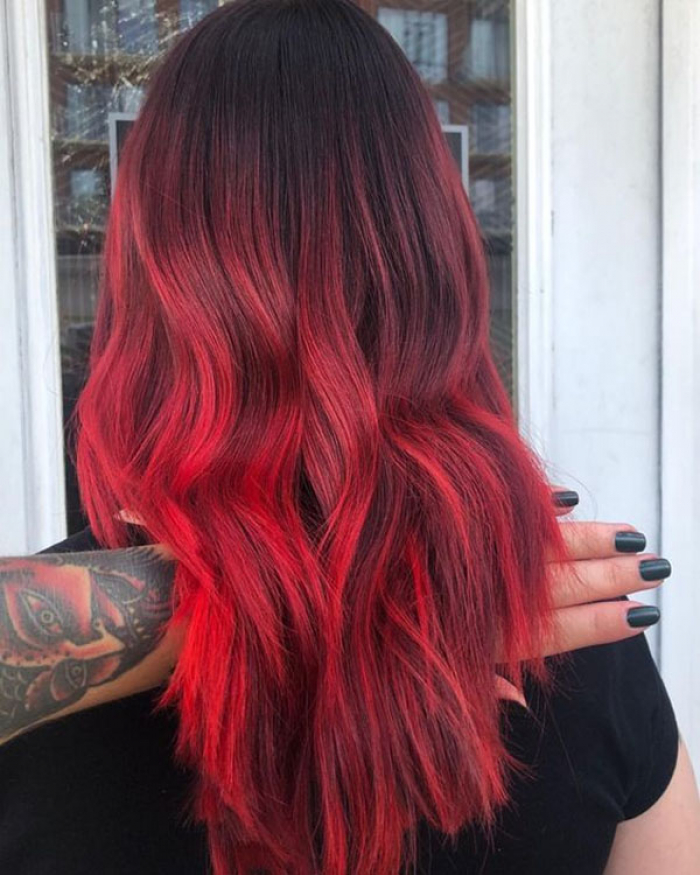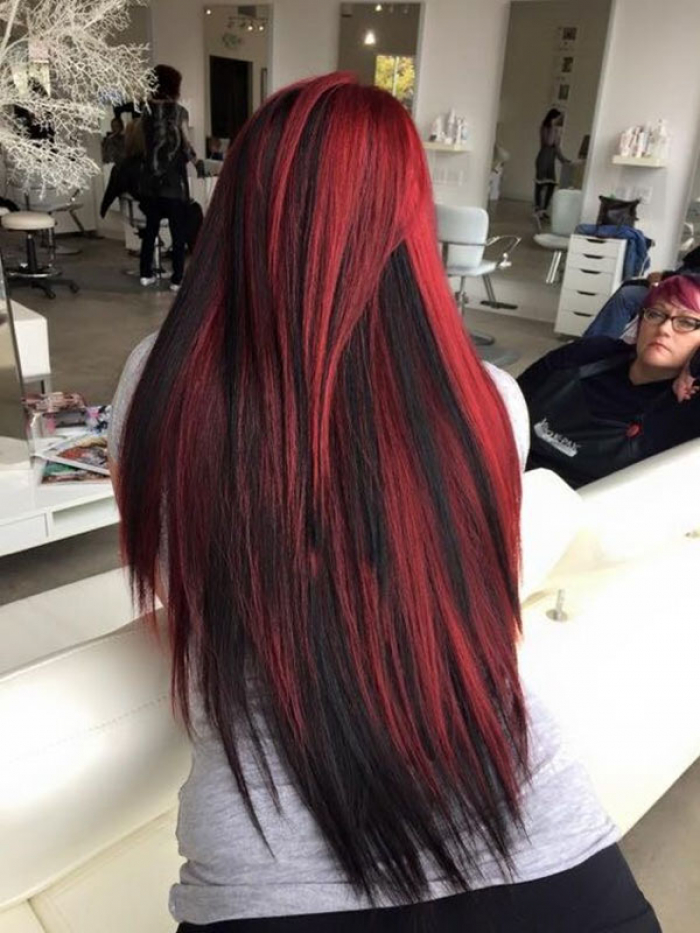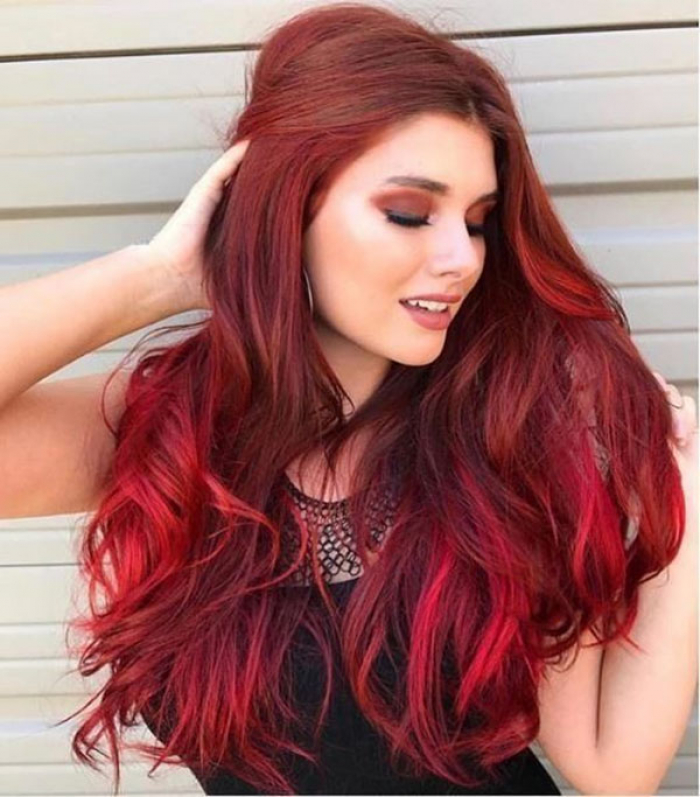 Elevating your hair with red highlights can bring a delightful burst of color and radiance, yet it demands some extra care. To ensure your red highlights stay at their best, follow these four unique tips:
Keep your hair clean and conditioned with regular conditioning treatments to maintain the health and vibrancy of your red highlights.
Use a quality redhead dye product specifically designed for red hair to ensure effective and long-lasting results. Look for natural ingredients like keratin and fruit extracts to preserve the color and protect your hair from damage.
Avoid over-washing your hair to prevent stripping away essential oils that could lead to dryness and frizziness in your red highlights. Aim to wash your locks no more than twice a week, especially for medium-length or shorter hair.
Protect your color with a temporary heat protectant spray every time you style your hair with heat tools. Heat can break down color molecules, so using a heat protection product helps maintain the vibrancy of your red highlights.