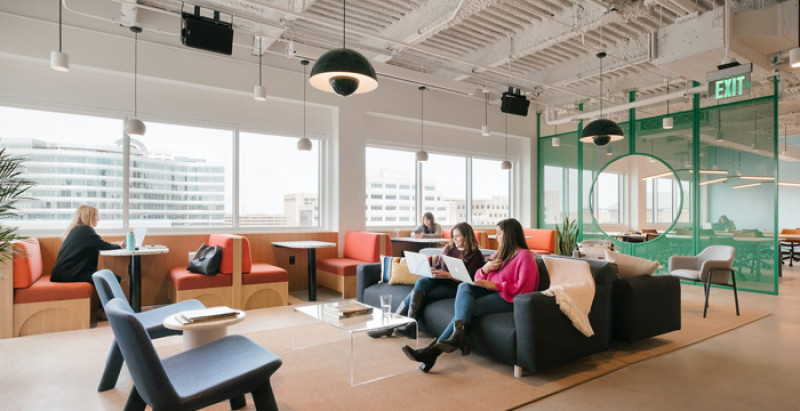 With the herald of Level 2 restrictions in New Zealand, work life is slowly returning to normal. A rising trend before the pandemic was Coworking. And as more and more businesses have found that traditional offices are no longer necessary, Coworking spaces are once again an attractive option.
Many Kiwi businesses are finding that they can seamlessly transfer their operations to a more flexible model, with employees working from home and from Coworking spaces, coming into an office occasionally if ever.
Cleaner And Clearer Thinking
Before COVID-19 swept the world, the US expected its coworking sector to grow 6%, with coworking to rise internationally by 14%. While this has understandably slowed over the last few months, experts are predicting a rapid rise in the popularity of Coworking spaces in NZ for the rest of the year.
If anything, the pressures of COVID-19have seen some spaces fall by the wayside. However,the more progressive space owners and managers are using COVID to create an even better-shared space ecosystem and a 'best-in-class' experience for tenants. Space owners with sound business plans and financial buffers have also been able to weather the storm.
Since May 2020, the emphasis has been more on creating a safe return to work through proper social distancing and sanitation practices, contactless check-ins for staff, employee tracing and visitor management.
Coworking To Cut Operational Costs
"If you're lucky enough to have your lease up in the next 6 months or so, my best advice would be to consider a coworking space to eliminate significant risk and wasted costs. These can now be things of the past,' explains Simon Rogers, Operations Executive at The Icehouse.
Another great way to cut operational costs is to reevaluate your Business Insurance. Many Kiwi entrepreneurs are paying more than they need to for this essential business expense. Just as coworking spaces are redefining the concept of an office, BizCover is redefining Business Insurance by providing quotes suited for your business from multiple insurers. Simply head to https://www.bizcover.co.nz/business-insurance/ to compare quotes. Quotes are generated instantly and are sent to your inbox within minutes.
Operational costs are any expenses necessary for the normal function of your business. They include fixed costs such as rent, utilities, business insurance, wages, and subscriptions. They also include incidental expenses such as external consultants and contractors, stationary, catering and travel. The COVID-19 lockdown has forced all small business owners to question the necessity of many of these expenses.
Perhaps you can cut catering down from a full snack bar to fresh fruit only. You may be able to switch to an up-and-coming electricity and gas provider that can offer you a lower rate. You've probably realised that your executives no longer need to travel regionally and internationally. Meetings can be conducted easily via Zoom, Skype, Microsoft Teams and similar apps.
World-Class Facilities
Small business owners searching for the ideal office space are incredibly choosy and do not want to settle for less than the best. With rent for office spaces in the City Centre often being prohibitively high, many are turning to coworking spaces. Many coworking spaces boast state-of-the-art facilities as well as the community feel that the best workplaces manage to foster. They offer the best of the office and working from home.
Any decent coworking facility should provide offices, open-plan desks, bathrooms, rec rooms and a kitchen. Some go above and beyond and also lease out boardrooms, meeting rooms and private studios.
Coworking spaces offer many hidden benefits to small business owners who feel the sting of every bill and expense. When you use a coworking space WiFi, security and cleaning are already organised and paid for. Further benefits can include acoustic focus pods, informal breakout areas, free bar space and state of the art communal kitchens.
See Your growth And Revenue Skyrocket
There's a bigger story to tell here according to industry experts. 'Local and independent coworking spaces are integral to rebuilding economies in a post COVID-19 society,' explains Jean-Yves Huwart, founder of Coworking Europe and Social Workplaces.
New Zealand's economy relies heavily on SMEs which generate 28% of New Zealand's GDP and comprise 98% of all registered businesses. Coworking spaces host these economic powerhouses, providing a haven for the best Kiwi business brains and the most innovative companies and start-ups.
Unlike office spaces, which are only updated every few years, coworking environments lead the way in terms of interior design, ergonomics, employee wellbeing, entrepreneurship, digital and mobile technology development and human resource management. Far from being four walls and a desk, their unique and thoughtful design fosters creativity, provides fast-track networking opportunities with potential partners and potential customers, and supports collaboration.
Whether you're upsizing your business and are looking for the perfect base and physical address for some of your team, or need a quality space to call your new home, coworking spaces are ready to meet your needs.