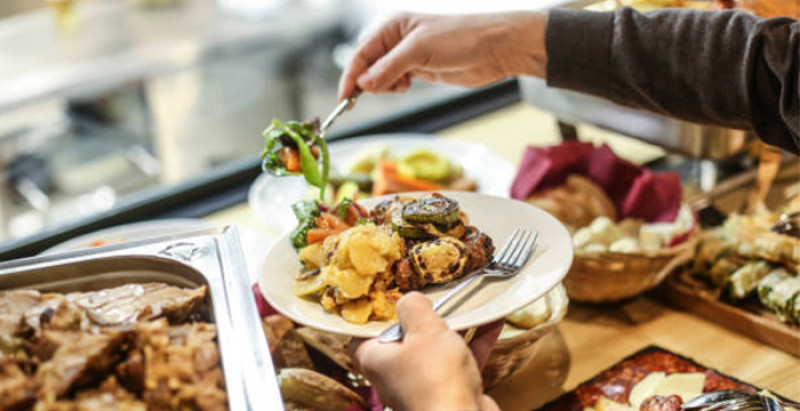 A lot of people seem to associate terrific buffets just only with Las Vegas. That's not surprising, especially once you've tried out the Bacchanal Buffet there.
The Bacchanal Buffet from bestbuffetprices.com is an incredible dining experience that has become a must-try for locals and tourists alike. Located in Las Vegas, Nevada, this buffet offers a unique combination of international cuisine and exceptional service. From the moment you step through the doors, you are welcomed with an atmosphere of luxury and elegance that will make your meal truly unforgettable.
But if you live in San Francisco, then there's no need to travel to Las Vegas for some great all-you-can-eat experiences. Here are some places you should try out, if you live here (or even just visiting).
Susi Delight, 1946 Market St., Duboce Triangle
How does the idea of unlimited all-you-can-eat appetizers and sushi sound to you? This is available for a 90-minute time window, so you better have a full appetite ready. It costs $35 on Friday and Saturday, and $32 on Sunday.
With an hour and a half to play with, surely you can have your fill of tempura rolls, tiger rolls, and gyoza. But you have to eat what you order—any leftovers get an extra charge!
ScopoDivino, 2800 California St #101, Pacific Heights
This place isn't exactly famous as an all-you-can-eat place. For most of the week, it's more known as an excellent wine bar that mostly serves small plates.
But on weekends, they do offer bottomless brunch. It only costs $50, and you can have all the bellinis, eggs benedicts, and beignets you want.
Chubby Noodle, 570 Green St., North Beach
Eat here a bit too frequently, and it shouldn't surprise you if you do get a bit on the chubby side. The buffet costs $49, and you then get 90 minutes to enjoy your choice of 7 dishes and 3 drinks. With lots of sangria to choose from along with firecracker chicken and spicy garlic noodle, this is one fantastic brunch option to start your day right.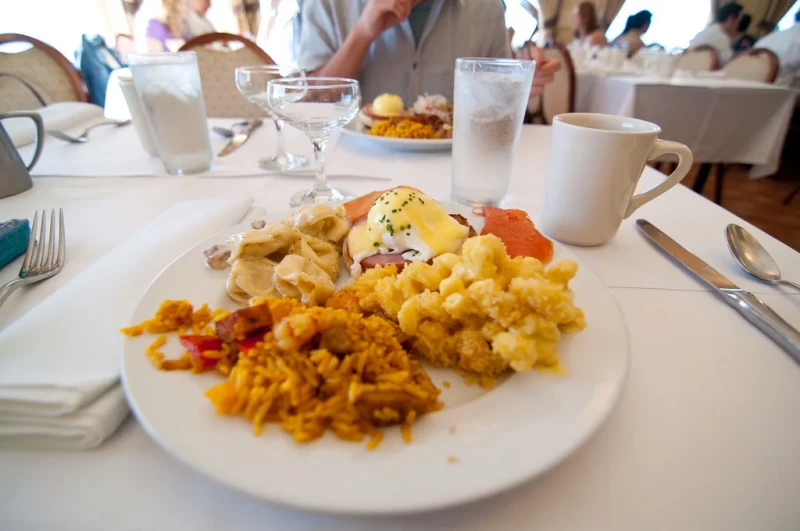 The Garden Court,2 New Montgomery St., Financial District
You can find this place at the Palace Hotel, and here the breakfast buffet option is another way to greet a good morning. Just come here and fill up your breakfast plate with plenty of options available. You have bacon and sausage, eggs, fruits, and potatoes, and many more. And that's just for $39.
On some holidays, they also offer specialty buffets, but those cost a bit more.
Espetus Brazilian Steak House, 1686 Market St., Hayes Valley and 710 S B St., San Mateo
The prices here for the buffet differ depending on the meal (lunch or dinner) and the day of the week, and the same goes for the specific buffet menu offerings. But the lunch buffet starts at about $42.
What really makes the price worthwhile is that the buffet features 14 cuts of charcoal-grilled steak, along with chicken, pork, lamb, and shrimp options. It's obviously not a vegetarian's mecca, but it's heaven for meat lovers.
Amber India, 25 Yerba Buena Ln, Yerba Buena
Now if you're a fan of Indian food and you want to eat as much of it as you can, this is the place to visit in San Francisco. The lunch buffet costs $28, but it's $40 for the weekend brunch (which also gets you bottomless mimosa and champagne.
Either way, you're getting your fill of curry pots, tawa dishes, chaat, salads, and desserts!
Do you know the best buffet in the US?
If you are looking for a great buffet in the United States, look no further than Golden Corral. With over 500 restaurants nationwide, Golden Corral offers some of the best food around at affordable prices. From classic American meals to Mexican and Asian-inspired dishes, there is something for everyone on the menu. Not only can you enjoy a delicious meal but also take advantage of their unbeatable golden corral prices from bestbuffetprices.com.
Golden Corral features an endless buffet with all your favorite foods including rotisserie chicken, mashed potatoes and gravy, macaroni and cheese, omelets and pancakes made to order in their breakfast bar and much more! Their popular "Build Your Own Burger" section allows customers to customize their burgers with up to 7 toppings as well as choose from traditional or veggie burger patties.