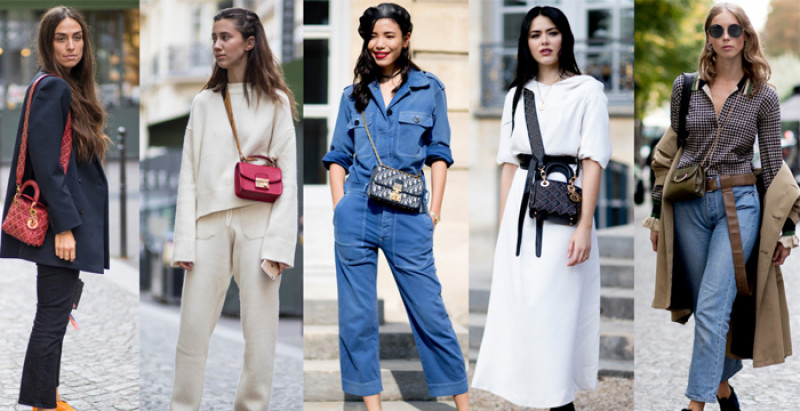 A crossbody bag has become an essential and non-negotiable part of every woman's life due to many reasons. The list of the reasons can be long as there are enough to love in crossbody bags for women. The women of today are dealing with various things in a single day so they need something that takes care of their femininity but also has practical utility to it. The crossbody style of bags is the perfect crossover between these two essential requirements- it's practical, convenient as well as super stylish and chic. The designers have also understood the assignment very well and have agreed to make these designs in every color, style and design possible, giving us women the freedom to pair them with any outfit, any occasion and any time of the day!
Crossbody bags are basically the bags that have a long strap, draping diagonally from the shoulder to the opposite hip. This design allows the weight of the belongings to be shifted entirely to the body, the strap finds its hold from the shoulders making the hands go completely free and the best part is that it won't slip off or obstruct anything you're doing.
These bags come in all kinds of sizes starting from as small as a mobile phone and as big as a laptop bag. These bags allow you to run errands, drink coffee, do groceries and even ring someone on call while juggling to balance a ton of things. Styling this bag with outfits is also another plus point to this bag as it effortlessly pairs up with jeans, tees shirts and blouses as well as mini, midi or maxi dresses.
Wear them with dresses, add chain anklets to create a perfect boho-chic style or go plain and minimalistic and wear a simple white tee- your favorite pair of jeans and a crossbody bag to call it a day. Down below are some of the most amazing crossbody bags curated especially for women of today so do check them out!
Crossbody Bags that Are Stylish and Convenient
1.Luxe Collective
This bag top my list of crossbody bags due to several reasons but the first one is the space it provides. Every woman practically carries her house with her in the bag which inherently means she needs space! This crossbody bag provides enough space to keep a mobile, keys, a few essential makeup items, tampons and other things a women only knows (wink wink).
Apart from that it has a separate removable zipper pouch that allows to keep credit cards, discount cards and other vouchers and coupon cards. This pouch makes the retrieving to money from the bag a breeze as there is no need to fumbling around it and panicking when on the cash counter. The gold chain makes it suitable for both daytime and nighttime occasions and it comes in the most amazing and impressive color range!
2.Island Girl
This super chic, stylish and adorable bag is the practical version of a perfect vacay bag! But you can also take it with you on margarita happy hours with friends, on sunny brunches or even at luncheons. This beautifully woven wicker bag is made by the artisans of Bali in Indonesia that uses natural grasses and genuine leather.
An ideal crossbody bag that is spacious, comfortable, stylish and timelessly elegant! The inside of the bag is fully lined which makes the bag long-lasting and comfortable. The silver toned hardware offsets the brown color beautifully, the trapezium style shape give a newness and chicness to the bag and lastly the flap-over magnetic closure makes the opening and closing of the bag a breeze.
3.Stacie
This style of bag is all the rage among celebrities and regular people due to its versatility. A perfect bag that can be used easily to dress down or up. The convertible, removable straps can make the bag a crossbody bag to shoulder bag or vice-versa in a jiffy. It comes with 2 straps, one for full crossbody and one for shoulder bag, you can choose which one to go with according to your need and mood. This bag is also spacious and comfortable as every crossbody should be but it also has a back slide pocket which makes it super easy to put your phone or cards in there so that you can retrieve them quickly without having to fumble around with things. The color range in this style of bag is also super cool and just what every girl wants.
4.Sidney
Another dual style bag on the list but for all new reasons! This Jacquemus inspired bag is for all those girls who like to keep things simple, sorted, fuss-free and quick but with comfort and style in mind. Although this bag doesn't tick off the space box it surely does tick off the boxes of style, comfort and versatility and chicness. You can easily put your keys, cards and mobile phone, make up and other small things in the bag without any trouble. It also comes with a detachable shoulder strap and crossbody strap to give you dual wearing options. The best part about this style is that it comes in an array of color options, which makes it super cheerful and upbeat with any outfit you adorn.
5.Milan Fashion
With this last crossbody bag in the list let's say bye to summers and greet fall/winter. The classic black color with brown detailing makes it ideal to pair up with trench coats, hoodies, faux-fur blazers and other layering options in fall/winter seasons. The top part of the strap comes with padded shoulder detailing which keeps it firm on the shoulder without slipping off while the lower part of the strap is a thin beautiful and exquisite gold chain that makes this bag perfect for evenings as well. Pair it with gold chain anklets and look regal. The top zip compartment makes it also very spacious to keep
your belongings.
A Word from Miss Lola
The versatile and creatively curated list of crossbody bags is ideal to build up your crossbody bag collection. Each piece is amazing and does the job well. You will get these bags at the best prices from us, so treat yourself well!