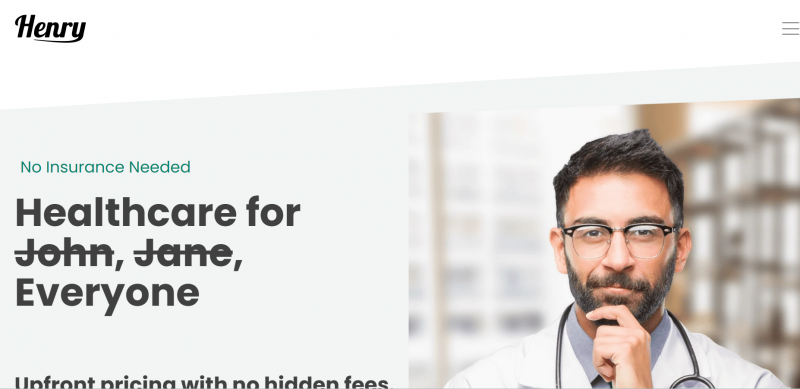 Stylevore Rating 4.5 Out of 5
Hey Health Caution Folks, When it comes to health each and everyone should be cautious about where they are seeking help from, Is it trustworthy or not, it's not about something like clothing or decorating the home, it's about your life, you should check everything before you trust anyone.
Henry Meds came into the highlight when they offered services that many websites still think of as a stigma to treat. But Henry Meds took a step forward and helped everyone out there. Let's Know in deep what exactly Henry Meds is doing.
Henry Meds is your accessible healthcare companion, simplifying the path to better well-being. With a straightforward approach and a commitment to transparency, we offer a range of services for weight management, insomnia therapy, and testosterone therapy. No insurance is needed, and our upfront pricing ensures no hidden fees. Our goal is to make healthcare easy, affordable, and tailored to your unique needs. Whether you're John, Jane, or anyone in between, Henry Meds is here for you.
Henry Med's Features and Benefits
Henry Meds stands tall with a comprehensive suite of features tailored to meet the diverse needs of its users. From a seamless onboarding process to expert consultations, the platform ensures a user-friendly experience. The benefits extend beyond convenience, with personalized care, quick delivery, and a commitment to individual health goals.
What Services does Henry Med Offer?
Customer's Reviews On Henry Meds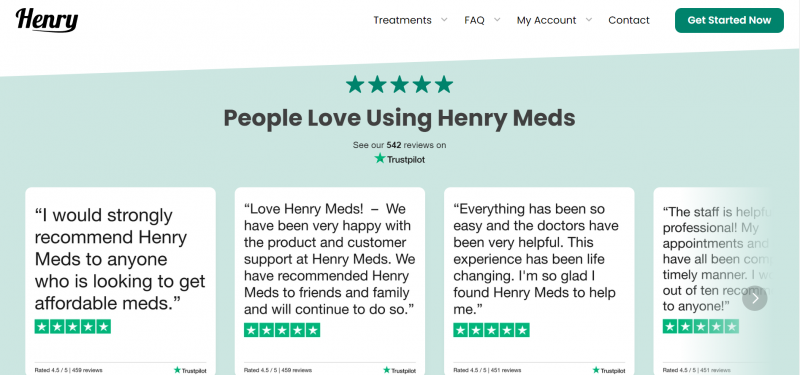 One thing I liked a lot about Henry Meds is that they have highlighted customer reviews some a world-famous website "TrustPilot" Which writes the most genuine reviews about the websites.
Positive Comments
"Best online service experience! Hope more companies learn from Henry Meds."
"Happy with Tracey Owens. Critical shipping info was clear."
"Henry Meds beyond reasonable. Liked every employee, physicians, and billing."
"Austin with Customer Service is awesome. The doctor explained everything, a joy to talk to."
"Helpful, educational, and supportive. Love the convenience and price!"
"I love this service!!! Everyone is helpful and professional. Results phenomenal. Down 40 lbs!"
Negative Comments:
"Concerns about shipping notifications. No email received."
"Pills taking forever to arrive. Displeased with service."
Henry Meds Pros and Cons
From the customer reviews above I have made this list of Pros and Cons:-
Pros:
Personalized Care: Users consistently praise the personalized attention received from doctors and customer service.
Convenience: The platform's commitment to providing convenient, at-home healthcare solutions is a standout feature.
Responsive Support: Quick and effective responses to user concerns demonstrate a customer-centric approach.
Educational Support: The emphasis on providing helpful and educational experiences garners positive feedback.
Cons:
Logistical Challenges: Some users, like D.B., express concerns about delays in certain processes.
Supply Chain Issues: Acknowledged by the platform, external supply chain issues impacting delivery timelines.
Speed and Performance:
Server Optimization and CDN Integration:
Henry Meds prioritizes speed by employing advanced server optimization techniques and integrating a Content Delivery Network (CDN). This strategic combination ensures rapid loading times, enhancing the overall user experience.
Efficient Client-Side Scripting:
The website utilizes efficient client-side scripts to enhance interactivity without compromising performance. This approach contributes to a responsive and dynamic user interface while maintaining optimal loading speeds.
Backend Architecture and Lazy Loading:
Henry Meds has fine-tuned its backend architecture for responsiveness, incorporating techniques like lazy loading. This not only accelerates page rendering but also conserves bandwidth, optimizing the efficiency of the website.
Robust Server Infrastructure and Load Balancing:
Investing in a robust server infrastructure, Henry Meds ensures scalability to accommodate varying user loads. Load balancing algorithms distribute incoming traffic, preventing bottlenecks and guaranteeing consistently smooth performance.
Mobile-First Design and Responsive Principles:
Henry Meds adopts a mobile-first design strategy, prioritizing mobile responsiveness. Responsive design principles ensure the website dynamically adapts to different screen sizes, delivering a high-speed experience across diverse devices.
Visits Over Time On Henry Meds
| | |
| --- | --- |
| Bounce Rate | 55.26% |
| Pages per Visit | 3.29 |
| Monthly Visits | 340.8K |
| Avg. Visit Duration | 00:03:22 |
As per the data of Visits on Henry Meds, I can surely say they are a good brand as you can see, the Bounce rate is 55.26% only which means due to some minor issue of the website customers got bounced out of the website. People are visiting 3.29 pages per visit, which is also a good sign that shows, the landing page is smooth and the problem is arising after 3rd page. The monthly visit is also absolutely great, with no chance of being fake. Avg. Visit duration shows people visit to read, acknowledge, and get all the information.
To keep in mind this is purely my observation and not got from any other sources or not a paid sponsorship.
Target Audience of Henry Meds
Henry Meds Covers 96 % of its market in the United States But also covers a few percentage of other countries.
| | |
| --- | --- |
| United States | 95.07% |
| Poland | 1.2% |
| Canada | 0.81% |
| Mexico | 0.76% |
| United Kingdom | 0.45% |
Who can use Henry?
Henry Meds is designed to cater to individuals seeking healthcare solutions without the need for insurance. The platform emphasizes accessibility, making healthcare available to everyone. Whether you're dealing with weight management, or insomnia, or require testosterone therapy, Henry Meds aims to serve a broad user base with diverse healthcare needs.
How does it work?
Henry Meds simplifies the healthcare journey through a three-step process:
Step-1: Medical History Form: Users begin by completing a straightforward medical history form. This step is essential for the provider to develop a personalized treatment plan. The process is quick, easy, and free.
Step-2: Online Visit: The second step involves an online visit with a licensed physician or nurse practitioner. Through a simple online conversation, users can discuss their condition and receive guidance on the best treatment approach.
Step-3: Medication Delivery: Once the treatment plan is established, users receive their prescribed medication through monthly mail deliveries. All programs include free shipping directly to the user's door. Users can also follow up with their provider as needed for ongoing assistance.
How do I see a provider?
Accessing a licensed provider through Henry Meds is facilitated via telehealth appointments. Users can engage in online conversations with physicians or nurse practitioners who are licensed to treat their specific conditions. This virtual interaction ensures convenient and accessible healthcare services from the comfort of one's home.
Does Henry require a long-term contract?
Henry Meds operates on a subscription-based model with monthly plans starting at $99. While it involves a monthly commitment, there is no indication of a long-term contract requirement. The subscription covers telehealth appointments with providers, medication management, and free shipping, offering flexibility for users to reassess their needs on a month-to-month basis.