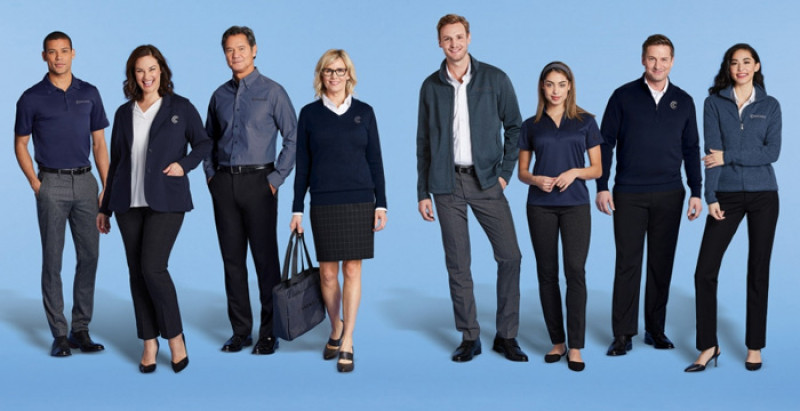 Embroidery has been used to decorate clothing and enhance the appearance of garments since Ancient China. Evidence of embroidery dating back to the 9th century has been discovered in Sweden. And fossilized remains of decorated clothing have been found that date back to 30,000 BC.
Over the centuries, embroidery has been used to elevate fashion and enhance furniture. Embroidered summer dresses and hats are popular with children and adults alike.
But, embroidery is a useful addition to corporate workwear too. Today, the commercial embroidery services revenue is $1.2 billion in the US alone.
Embroidery is both practical and decorative. It can add a touch of class to garments, and also provide a method of identification.
What Are The Benefits Of Embroidery For Business Uniforms?
Employers often like staff to wear some form of uniform. In a retail environment, a uniform helps customers identify workers easily. And workwear provides staff with a professional, uniform appearance. Custom patches can further enhance the visual appeal and functionality of uniforms. By adding custom patches to uniforms, employers can incorporate branding elements, such as logos or company names, which promote brand recognition and reinforce a sense of unity among employees. Custom patches can also serve as a form of identification, displaying an employee's name or designation. Additionally, custom patches can be designed to showcase achievements or special roles within the organization, creating a sense of pride and recognition. With their versatility and customization options, custom patches offer a practical and stylish way to personalize uniforms and enhance the overall professional image of a workforce."
Many local businesses use Shop Strange custom embroidery In Boise Idaho to enhance their uniforms. The reason being? Because custom embroidery brings many gains.
Embroidery Is Durable
Brands are identified on uniforms in two ways; printing or embroidery. If a business wants to display its logo on staff uniforms then it will need to print it or have it embroidered.
Garment printing is a popular way to decorate t-shirts and polo shirts. But, over time, washing, detergents, and general wear and tear will cause the print to fade and peel.
As long as garments are cared for, the embroidery will last as long as the item they are sewn on. Workwear can be turned inside out and washed on a delicate setting if there are any concerns about embroidery. But by and large, embroidery outlasts screen printing.
Embroidery Looks Professional
Providing your staff with smart polo shirts and baseball caps will give them a good look. But, adding embroidery will make a uniform out of plain clothes. Embroidery adds class and immediately makes staff look so much more professional.
When staff is sent out to meet clients, they will be doing so with your company logo clearly displayed. The benefits are increased company visibility and a strong professional image.
Custom Embroidery Gives Freedom For Design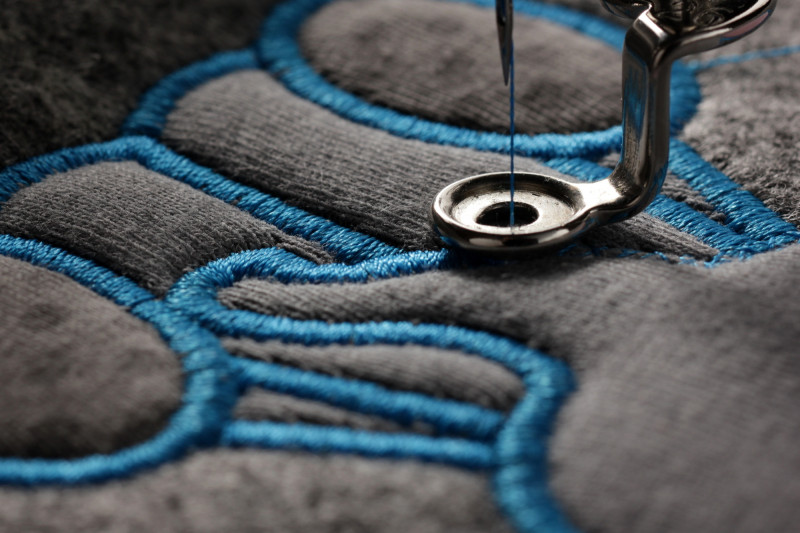 Embroidery isn't rigid. While printing suits bigger areas better than embroidery, any custom design can be embroidered. Modern-day embroidery businesses use digitization to take the artwork and create embroidered designs.
Modern embroidery machines operate fast and can switch colors through the use of color-matching software. The result is an embroidered logo or design that elevates a previously plain garment.
Embroidered Uniforms Help First Impressions
Perhaps you run a small restaurant, an office space, or even a depot of some sort. When you have customers and visitors to your site, your staff will make a great first impression through their uniforms.
By branding uniforms with embroidery, you're helping to give your staff more pride in where they work. Effectively, anyone wearing your uniform with an embroidered logo will become the face of the company.
Embroidery Adds Personalization
Names can be added to uniforms easily through embroidery. Embroidered uniforms add personalization and identity to workers. Embroidered names can increase personal responsibility and improve customer service.
Embroidery serves the same purpose as a name tag and helps create a connection between employees and consumers. Unlike name tags though, embroidery won't peel, or become tatty.
Embroidery isn't limited to certain garments
Different businesses require different workwear. Employees who are largely outdoors might need warm clothing such as fleeces, and baseball caps to avoid sunburn. Baristas might want smocks, aprons, or polo shirts.
Embroidery is suitable for numerous garments that can be used in corporate environments or retail settings. For instance, there are some ways to style blazers and enhance them. Blazers with embroidered logos look smart and professional. And they are a great way to raise brand awareness.
Even denim can be embroidered. If your interests lie more in fashion than workwear, custom embroidery can be used to make one-off pieces that impress.
Create Merchandise And Boost Profits
Embroidered uniforms are a form of advertising. When your employees are seen in their uniforms, your brand becomes that bit more visible. And in some circumstances, branded merchandise can be sold.
Consumers are happy to buy branded merchandise, namely garments when they consider it cool. It is increasingly common to see people wearing t-shirts with brand names such as Coca-Cola, Starbucks, and even Valvoline, printed on them.
Bars and restaurants can boost awareness by selling embroidered baseball caps to patrons. And if it takes off, you'll be getting free advertising from customers and hopefully boosting profits.
Embroidery Makes Great Promotional Pieces
Alternatively, embroidered baseball caps and polo shirts can be given away as promotional prizes. Once again, your business will benefit from free advertising. But, you will also help to create customer loyalty and improve relations by giving away freebies and prizes.
Customization And Creativity
Embroidery can be creative. Depending on the nature of your business, you could have fun by producing merchandise that plays on your logo or product.
Introduce color, and add a little flair. Embroidered uniforms don't need to be strictly corporate. In some customer-facing businesses, uniforms help to add color and bring a relaxing vibe rather than add rigidity.
Embroidery Identifies Staff
Adding employees' names lets customers know who they are talking to. But, embroidery can be used to identify job roles too. Embroidered wording on the back of jackets or polo shirts for instance can signify a worker's role.
Embroidery Produces High-Quality Results
In the past, embroidery would be time-consuming and complicated. Now, industrial embroidery machines are used to simplify the process. This allows more complex designs involving multiple colors to be created.
Extra color can sometimes be added to embroidery designs at no extra cost due to modern technology. The result is professional, high-quality design work that enhances any uniform.
The threads used in embroidery are delicate and certain laundry practices must be considered. But, despite the fine threads that make up embroidery, workwear can be kept clean easily and machine-washed.
Unlike print that fades and cracks, embroidery can maintain bright-colored threads for a long time.
Isn't Embroidery Expensive?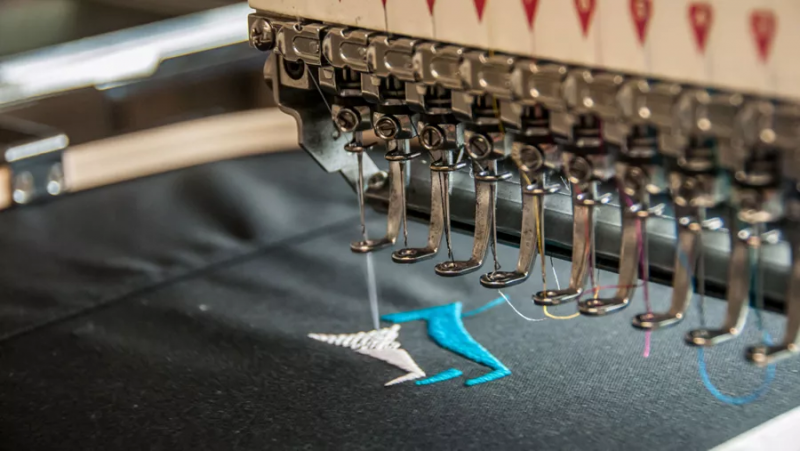 Some custom embroiderers may charge a set-up cost which normally doesn't come with printing. However, this is a minimal charge. Modern industrial embroidery machines are efficient and fast. Therefore, embroidery costs today are far more affordable than in the past.
Examples of embroidery from the past show intricate designs, but these would have been arduous to create compared to modern techniques. Now, modern embroidery machines can knock out 700 stitches every minute.
Embroidery charges are usually on request. And they are calculated by adding up the number of threads used, changes in colors, and size of the logo. Yet, embroidery is long-lasting.
In workwear, embroidery will outlast printing work. If you want your staff to present a good impression, then custom embroidery outshines faded print any day.
Summary
Custom embroidery transforms simple plain garments into professional workwear. Embroidery can be used on anything from baseball caps to blazers. Therefore, embroidery may be used to add branding to security detail, retail workers, warehouse staff, or bartenders.
Stylish embroidery will enhance any uniform. But, if fashion is more your thing, then custom embroidery designs can be used to repurpose old jeans and shirts too.