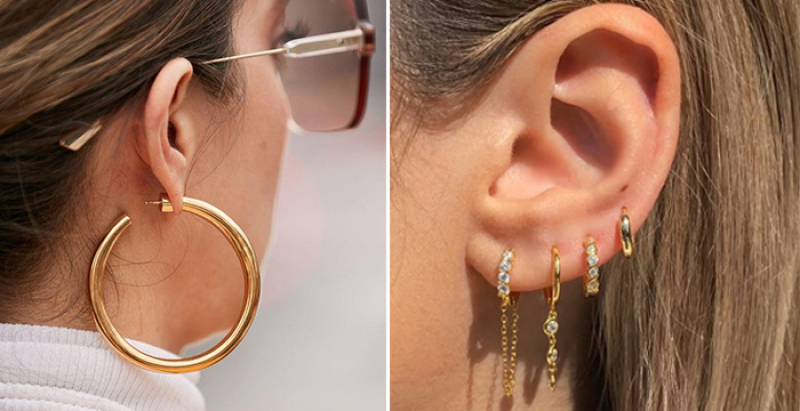 Your choice of earrings says a lot about your personality. A pretty earring can make you look pretty, and a glam earring can make you look chic.
The best part about the earrings is; they can be customized according to your choice. There is a wide variety to choose from - 14k Gold Earrings, 18K gold earrings, or silver earrings.
The earring should complement and highlight your look. Hoop-style earrings look great, but you can also choose the traditional stud style.
Whatever you choose, it is essential to choose the best one. So here is a list of earring trends you can impress your friends with.
Spike dangle gold earrings
If you like offbeat earring styles, you can choose the pretty version of a spike. It can compliment your diamond studs and look great. The spike earrings look good with maxi-style dresses and denim.
There are three metal colors available in the earring style. The stunning look of the earring is aesthetic, and you will surely receive compliments for it.
As it is made from gold, you can be sure of its durability. It's one earring style that can be worn daily. The earrings will shine and give you a great look anywhere you choose to wear them.
Solid huggy hoop style
Another great pick is the solid huggy hoop style. It looks great, and you can wear it with other piercings. The gold hoop style goes well with a diamond stud. You can also create a wonderful look by choosing a plain design.
There are different metals available in the design, which makes a difference in the design. Apart from gold, the rose gold color is popular.
It's a handcrafted design, and you will feel comfortable even if you wear it daily. If you wish, you can customize the design with a diamond in the hoop style. It is a must-buy earring for your collection.
Crescent moon diamond earrings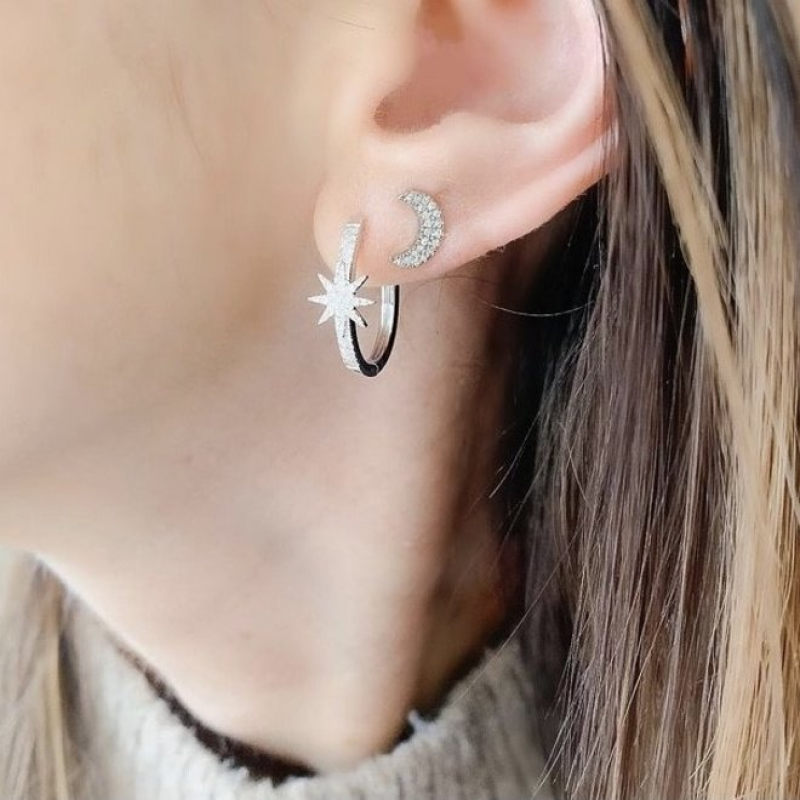 Do you admire the beauty of the moon? Then you must own his pretty crescent moon diamond earrings. It is set in 14k gold and looks elegant.
You can wear this style with your pretty gowns or casual-style dresses. It is truly handcrafted, and it features a wonderful diamond stud. Diamonds and gold are an ideal combination.
It blends with your look and makes you look super chic. The standard earring looks great, and you can customize it as per your choice. It also features a gauge, but you can adjust the length accordingly. It is a great one to add to your collection.
Diamond pave bolt style earrings
If you like offbeat styles in earrings, then you must own this design. It looks wonderful with your jackets and other accessories. Plus, it also looks wonderful with any dress choice.
You can choose three metal colors, and it features real diamond studs. It features a gauge style that looks great. The style looks vibrant and can make you look glam.
Choose a design and add it to your earring collection. The more you have, the better choice you have.
Earrings in gold can elevate any ensemble. It not only elevates your fashion statement but also adds a subtle touch of style. Earrings are a great way to show off your style and personality. Assuming we discuss the variety and material of hoops, gold is generally in pattern. It's important to match your accessories to your winter outfits as winter approaches and you prepare your wardrobe.
You can experiment with new styles by investing in versatile pieces like 14K gold earrings during the season. We've covered some of the best advice for improving your winter look and updating your jewelry collection in this article.
Hoops with Gold and Silver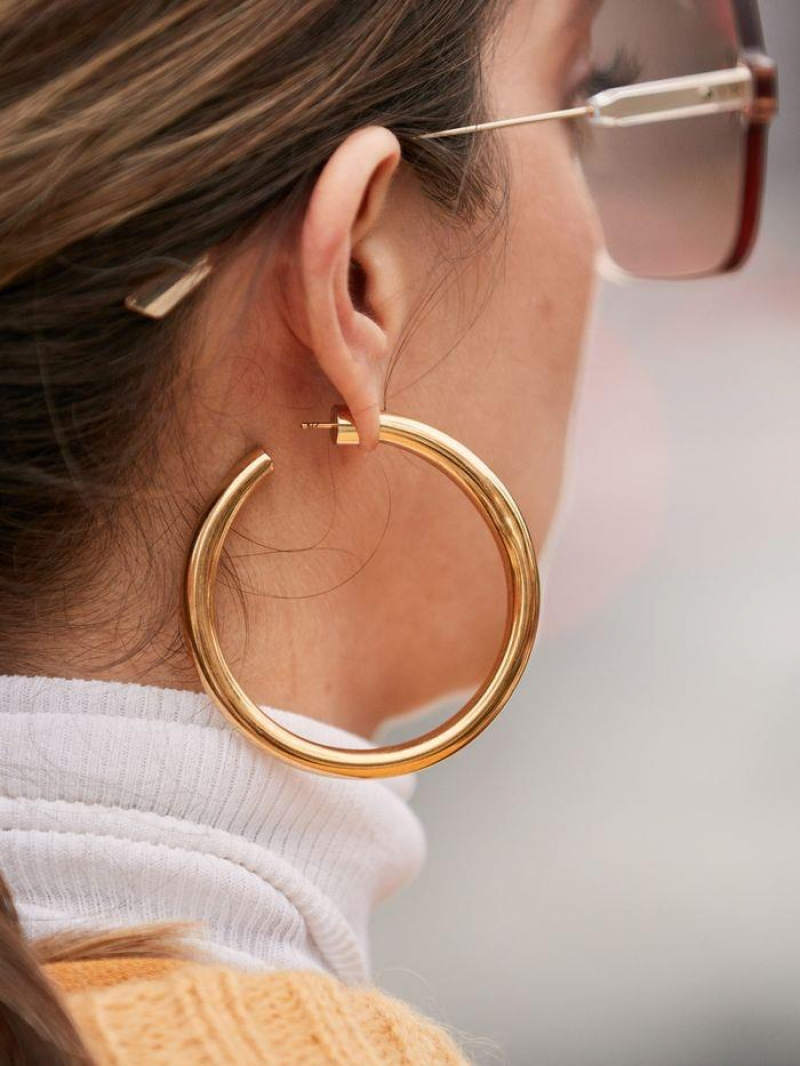 The cool-toned metal looks great with gold, and the look is great in the winter. Earrings made of gold and silver and gemstones like sapphire or emerald can instantly dress up an outfit and make it look very elegant. You can also go with plain gold and silver hoops or buy studded ones. Earrings made of 14k gold will look great with your winter tops, sweatshirts, and sweaters.
Yellow Gold with Warm Tones
Yellow gold supplements warm tones. Your outfit becomes more vibrant when you wear yellow gold earrings with warm colors like red, yellow, or orange. So, if you're going to a winter party and want to wear bright colors, yellow gold earrings can go with your outfit. With other winter hues like forest green, beige, brown, and so on, yellow gold never fails.
Rose Gold Earrings
The pink hue of rose gold can take your outfit to the next level and make it appear more expensive. Due to its pinkish undertone, rose gold pairs well with both cool and warm tones. Earrings made of rose gold go well with any winter ensemble. This winter, you must include it in your jewelry collection. These 14k gold earrings can be worn as barbels, studs, danglers, or hoops. It all depends on how you like to dress!
Gold Earrings with Layers
Layering your jewelry is always in style. Moreover, it's a great way to spice up your otherwise drab winter ensembles. Your jewelry's metal details will help you balance the extra layers of clothing you wear. If you have more than one piercing, you can stack gold hoops. The largest hoop can be inserted into the earlobe, followed by smaller ones for the nose in the cartilage. You can also add a fun pop of color to the cartilage piercings by using cuffs!
Chandelier Earrings
Chandelier earrings instantly draw attention and go with any outfit, whether formal or casual. They can also elevate your winter ensemble and are simple to wear. Especially during the holidays and other celebrations, knitted outfits will look great with these long pieces. In this way, presently you understand what sets of hoops you will wear to the impending party!
Earrings with a Drop Earrings with a drop design are very elegant and go well with both ethnic and western attire. Gold-encrusted dangling pearls or tiny diamonds can elevate any winter ensemble.
Gold Circle Studs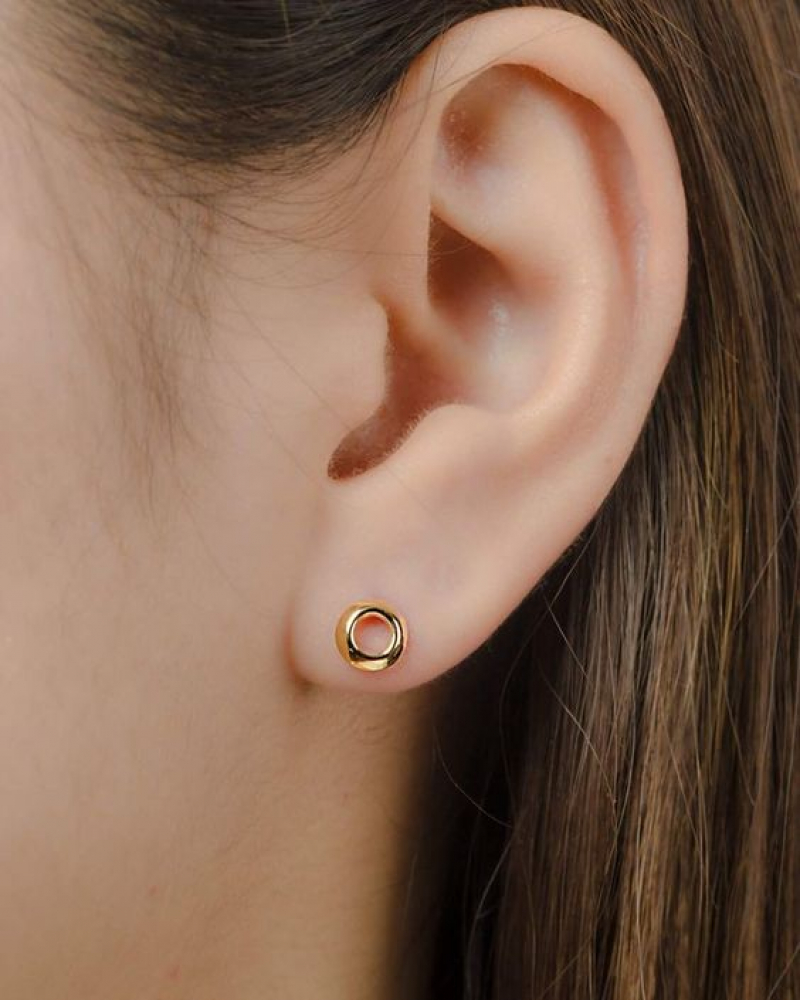 You can continuously go for moderate pieces like straightforward cylinder bands. These 14k gold earrings are not only stylish but also quite comfortable. They go well with any outfit. They come in a variety of designs, thicknesses, and sizes.
Combining different metals, such as rose gold and gold, can also look great. You can experiment with various looks and play with colors. Gold can be combined with white gold, silver, or platinum for the best color blocking and design options. Along these lines, this was a collection of 14k Gold Earrings trends and how you can wear them to add charms to your outfits! We hope this was of use!