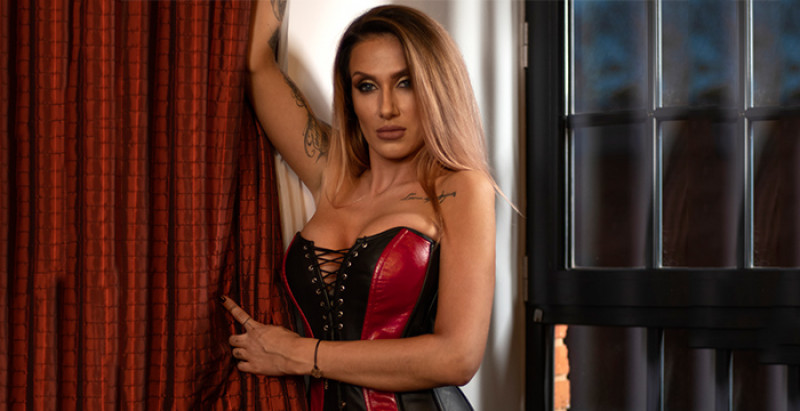 Leather never goes out of fashion. It is a timeless material. Every season we see celebrities bringing back one of our favourite and most versatile materials. Today we're focusing on the leather skirt outfits.
What to wear to work, a night out with friends, a date or just a stroll around town? What to wear with a leather mini skirt?
Leather mini skirt (or more likely faux leather skirts) can be seen on every street in the world. Even in the summer season, these garments go hand in hand with wide-legged leather trousers for men and women. There's something about leather that brings a rock 'n' roll, wild energy and makes you feel more confident. So the first thing you need to wear leather is your personality. This is not a material for the timid or shy.
Casual summer look – make it short
For resilient fashionistas, long leather trousers are no big deal. They are usually born to suffer for fashion. If you're not one of them, don't force yourself into outfits you don't feel comfortable in. As soon as summer hits, get yourself a nice leather mini skirt. Go for a classic black version or go wild with a bloody red, deep dark green or sweet pink. We're loyal to black and brown, so our recommendations will be based around those two options.
The black leather mini skirt is versatile enough to be worn with any kind of crop top. It doesn't matter if it's a mesh top (which actually goes best with this goth leather style), a white cotton sleeveless turtleneck, a fun t-shirt or just a seductive and sexy latex bra. In this case, it's all about the shoes you're going to wear. And jewellery, of course.
Monochromatic classic: white cotton top + black leather mini skirt + strappy sandals. For the shoes you can either wear flats or high-heels. With this look, fetch a leather backpack or a leather handbag in any colour. Your colourful accessories will break up the monotony of the monochromatic outfit and add a little bit of fun. You may also liven up your attire by choosing a golden necklace set, earrings and rings.
Go rainbow: simple t-shirt + black leather mini skirt + trainers. If comfort is your priority, this look will definitely suit you. You can make it as colourful as you like. Add long socks or wear a pink fishnet and a fun t-shirt. Keep the bottom all black and go crazy with the top. Not bright enough? Find a pink leather skirt to create your pink summer outfit. This option is not for people who stay in the shadows!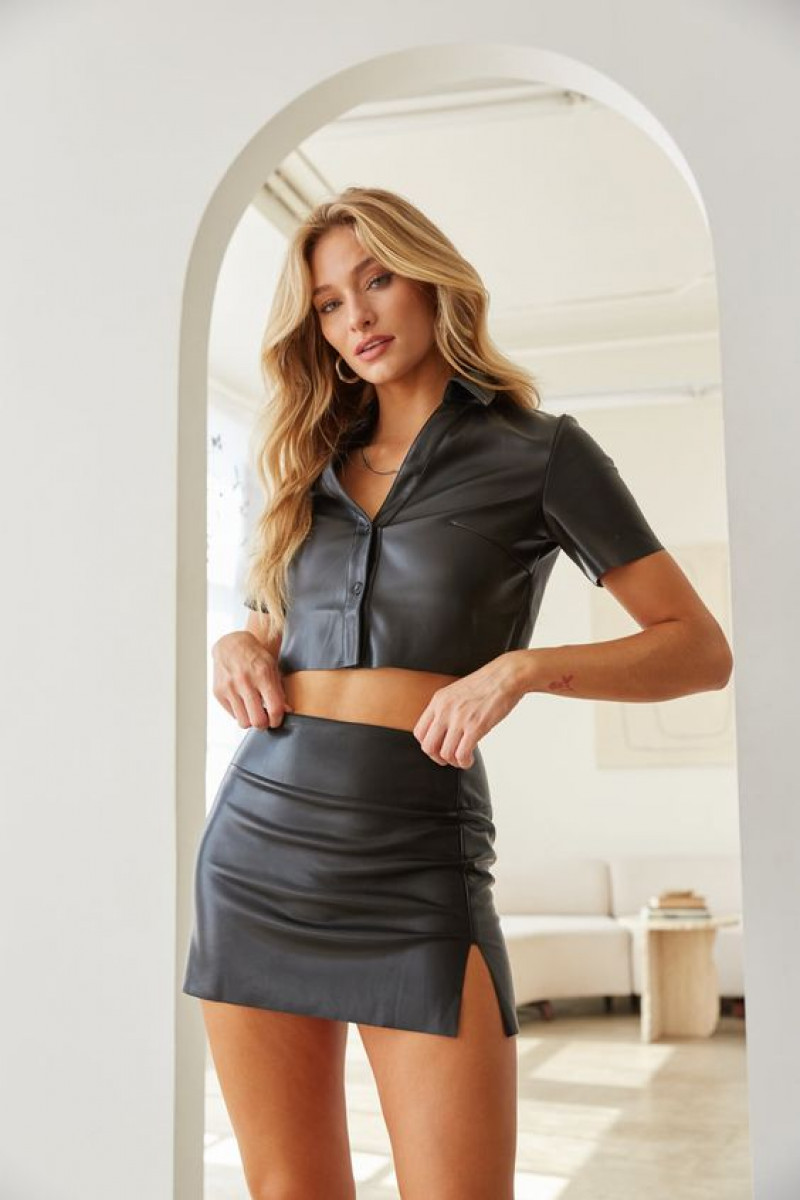 Sexy shine: latex bra + black leather mini skirt + high heels. This outfit is for bold individuals who are confident and fierce in their fashion choices. Wear a sheer long sleeve to complete your date look, add body jewellery, sleek hair and a red lipstick and there's nothing sexier on the streets tonight than you.
Casual winter look – sexy yet elegant
Autumn and winter call for more layers to cover your body. But that doesn't mean you have to look less sexy. While the temperature goes down, leather garments seem to be the perfect choice to keep you warm.
Street look: blazer + black or brown leather skirt + flat boots + warm socks. Sounds comfortable, warm and trendy, doesn't it? Pick your favourite blazer, wear it over any leather mini skirt and pull up nice white socks that stick out from comfortable flat boots. All you need over this outfit is a casual jacket and a warm hat. You're ready to run errands now!
Formal charm: cashmere turtleneck sweater + brown leather skirt + high heel boots. Swap sandals for leather knee boots, pull up sheer stockings with an interesting pattern and throw on a white turtleneck for a bit of charm. This outfit is more formal which means you can wear it to work, meetings or business lunches. Throw over a smart long coat and grab a handbag to look confident and professional.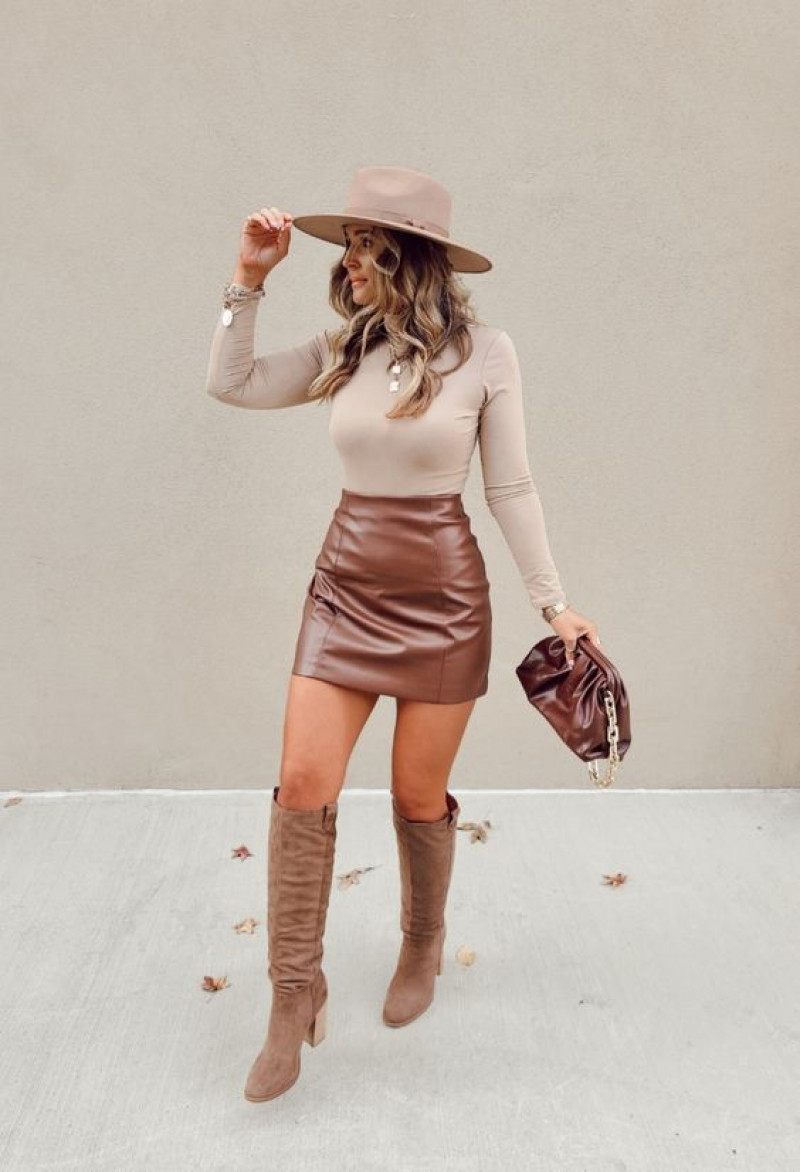 Romantic black: square neck blouse + black leather mini skirt + black stockings + high heels. Black is always a smart choice, it never fails, it always looks good on everyone. But to make this outfit look romantic for a date, a few details are needed. For example, the neckline should be more revealing. Choose a blouse with a plunging neckline, such as a boat neckline. Depending on the length of your skirt, wear either black thigh highs for a mini or stockings for a knee-length leather mini skirt. Always choose black leather pumps over boots, even in winter. Nothing goes better with black than gold.
Leather is forever
You might think that every other material can make you look confident, elegant, sexy and casual at the same time, but nothing compares to leather dresses. And why is that? First of all, when you buy a good leather skirt or a leather jacket, you are investing in a piece of clothing that will last. You're paying a lot of money for clothes that will last for years, and you don't mind because you appreciate good quality and want to pay for good craftsmanship. It says a lot about you and your fashion choices. You're not a seasonal customer, you're a loyal customer and you know your style. If you choose to wear leather skirts that give you confidence, it means they suit your personality and that's something that lasts a lifetime and cannot be changed by any fashion trend.
If you're a woman wearing a black leather mini skirt, you're a classic gal. If you're a woman wearing a brown leather skirt, you're an elegant lady. If you're wearing a red leather mini skirt, you're bold and fierce, sister!