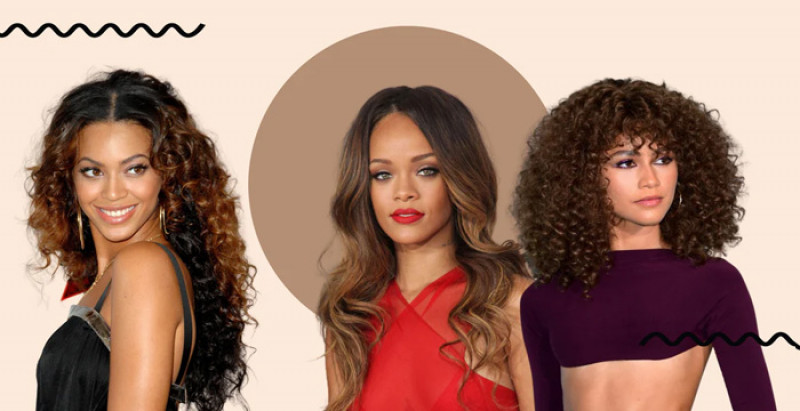 If you haven't tried wearing a wig yet, it's high time you join the trend. It's simply the easiest and most versatile way to experiment with different hair colors, cuts, and styles. Just take a look at Cardi B or Kylie Jenner, who probably have wig collections that could fill a walk-in closet. Apart from the obvious advantage of being able to switch up your look effortlessly, wigs are also a fantastic option for those seeking a time-efficient protective hairstyle. However, knowing how to properly put on a wig is a common concern for wig wearers, whether they're beginners or simply aiming to avoid any embarrassing mishaps.
The great news is that wigs have come a long way from the old-fashioned and often comical versions you might still see around Halloween or on Grandma's head at a family gathering. Nowadays, even affordable options can provide a remarkably realistic appearance. However, if you're looking to take it to the next level, a few simple adjustments can make a noticeable difference. Keep reading for a step-by-step guide on how to flawlessly apply a wig that will have you feeling like a red-carpet star.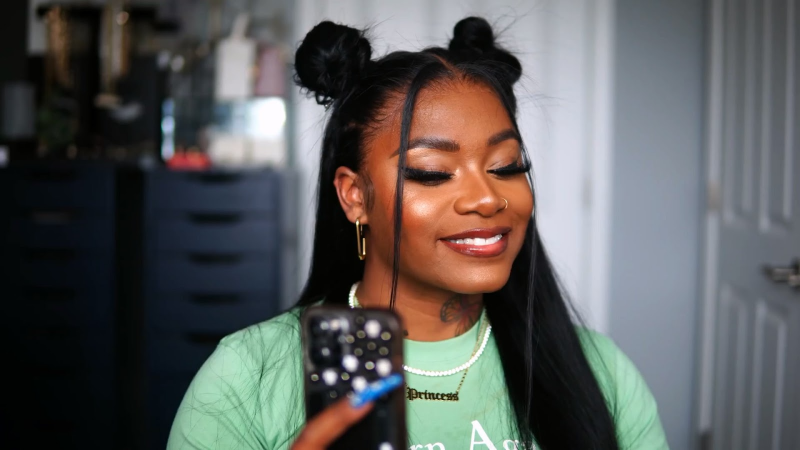 Begin With A Solid Foundation: Preparing Your Hair And Applying A Wig Cap
Wig caps play a crucial role in safeguarding your natural hair from potential damage while wearing a wig, such as a breakage caused by friction. To ensure a seamless and natural-looking result, it's essential to start with flat hair. Personally, I opt for flat twists (similar to cornrows but with twists instead of braids) as they are easy to create and remove. However, you can also choose to braid your hair or slick it back using gel or mousse if you have short hair. Remember, the smoother and flatter your hair is, the better the wig will sit on your head without appearing bulky or awkward.
When it comes to selecting a wig cap, it's entirely up to your preference. I recommend using a nude cap or one that closely matches your skin tone to enhance the natural appearance of the wig's parting. It's a good idea to have a few different colors on hand to try out and determine which one blends best with your skin tone. Experimentation will help you find the most suitable option for achieving a flawless look.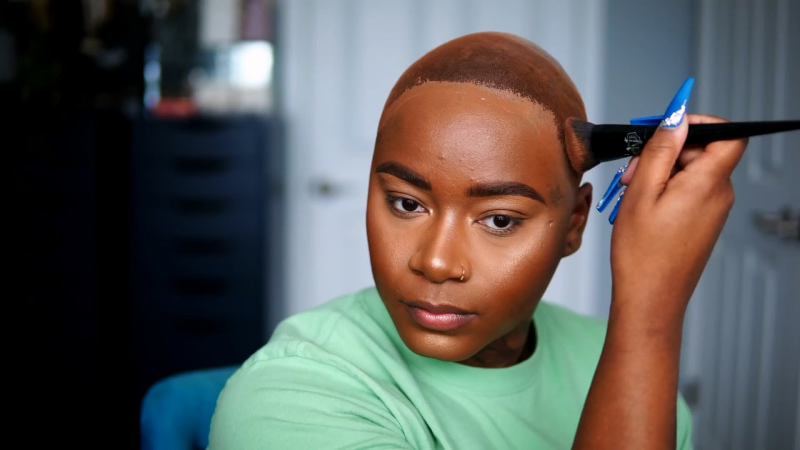 Achieving Seamless Blending: Applying A Skin-Matching Powder To Your Wig Cap
Achieving a Natural-Looking Part is another vital step in ensuring a realistic appearance when wearing a wig with a lace front parting. If you happen to select a wig cap that doesn't match your skin tone, this step becomes particularly important as suitable powder allows you to adjust the cap and create a seamless illusion of a scalp-like part.
Properly Placing The Wig On Your Head, Starting At The Front
I personally find this method to be the most straightforward for wig application, especially when your hair is braided, twisted, or molded. By starting at the front, you can effortlessly align the wig with the foundation you've prepared, ensuring a seamless transition without disturbing its placement.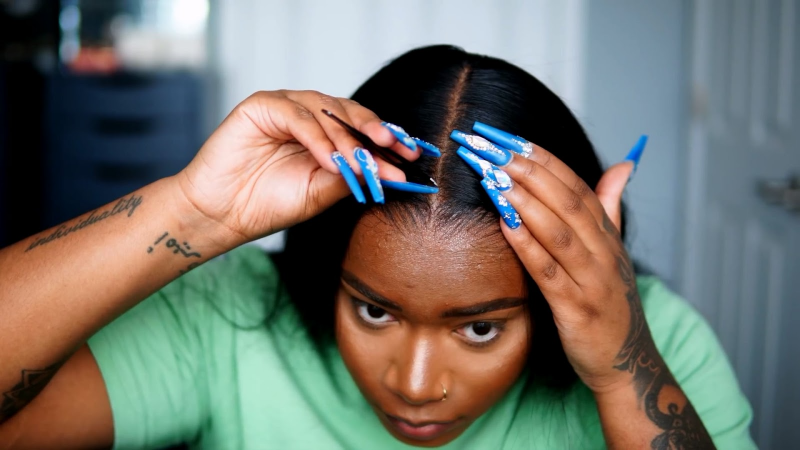 Tips For Ensuring A Snug Fit (Lace Front Or Lace Closure Wigs)
Depending on the type of wig you have, the process of securing it may vary. If you're wearing a wig with a lace closure or lace frontal, you have a few options to consider. One popular choice is using a heavy-duty hairspray like Got 2B Glued Blasting Freeze Spray or wig glue to ensure a firm hold. Personally, I find the Got 2B spray more user-friendly, forgiving, and gentle on the hairline, making it my preferred option as it can be easily removed without causing damage.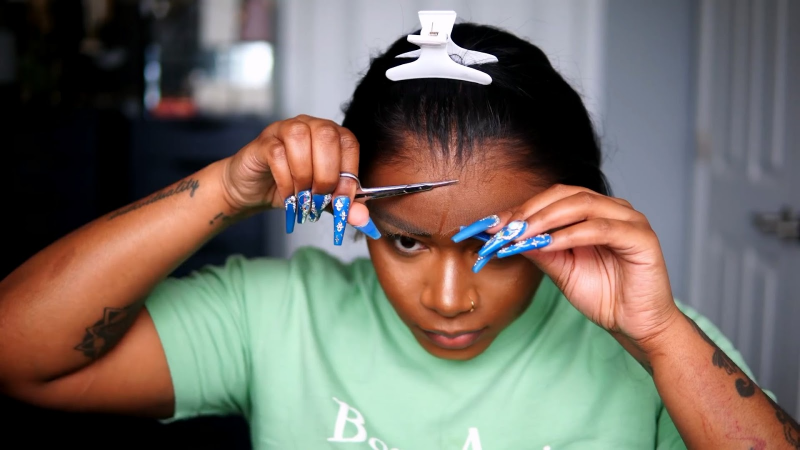 In the case of my purchased Wowangel 13x6 lace frontal and hd frontal wig, which are not full lace wigs, I've decided to forgo the use of spray or glue. Instead, I secure it by tucking the attached wig combs into my braids, providing a secure hold that suits my needs.
Polishing Your Wig Look: Styling The Baby Hairs (Optional)
Although not necessary, styling baby hairs on your wig can contribute to a more authentic and polished appearance. Personally, I prefer a more subtle approach to baby hairs, opting to brush a small swoop at the front of the part. To achieve this, I utilize the Baby Tress Edge Styler, a versatile tool designed for laying down natural baby hairs or those on a wig. This technique effectively conceals the lace's starting point, resulting in a wig that closely resembles natural hair or a well-executed sewn-in weave.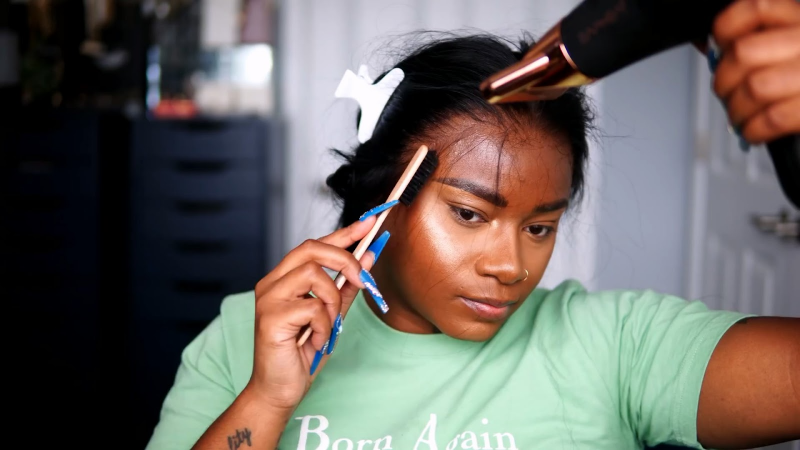 Applying Powder To The Wig Parting
Although it may seem like another step, trust me, it's well worth it to achieve an authentic-looking part. I'd like to apply some foundation power directly to the part space. This technique effectively conceals the knots that may be visible on the closure while subtly widening the part to enhance its realism. With the assistance of an angled brush, I gently press the powder into the part, ensuring a smooth and even layer for a flawless finish.
Reign As The Most Beautiful Queen In The Crowd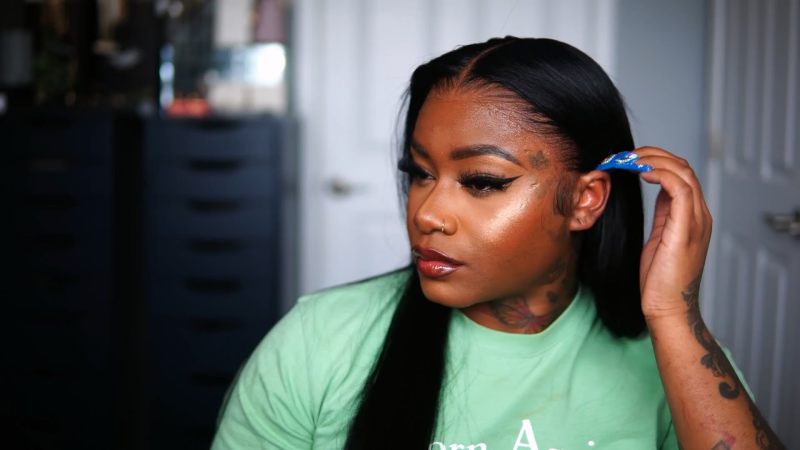 With your wig now flawlessly installed, it exudes a stunning natural appearance that can easily pass as your own hair. Remember, your wig doesn't have to resemble a wig at all! As you embark on your journey to becoming a wig master, I encourage you to explore these highly-rated units, like the Wowangel hd lace wigs to find the perfect choice for your new signature look.