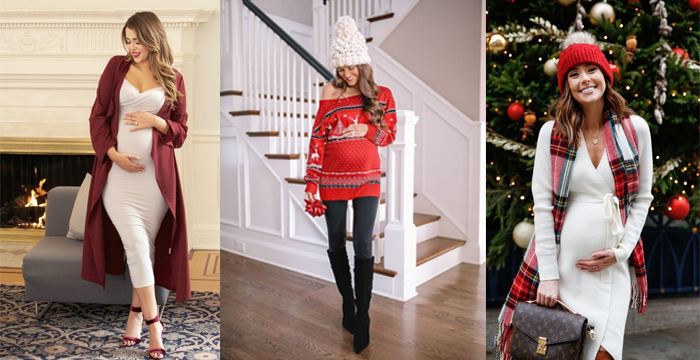 We all believe that Christmas is one of the happiest memories of the year, full of happiness, smiles, and family gatherings. We've already discussed Christmas party outfits, but these gatherings become even more extraordinary when a new and adorable guest is on the way to join your family.
If you're among these fortunate women, warm congratulations to you! They say expecting women need to adapt to several things, and dressing style is one of them.
While shopping for maternity fashion, it's true that you may feel emotional as your body curves undergo changes. Nonetheless, this is precisely why maternity fashion exists. Let me clarify that it's not solely about loose dresses and oversized clothing. In fact, dresses in this category are primarily designed with the goal of combining fashion and comfort
Tips for pregnancy and maternity styling: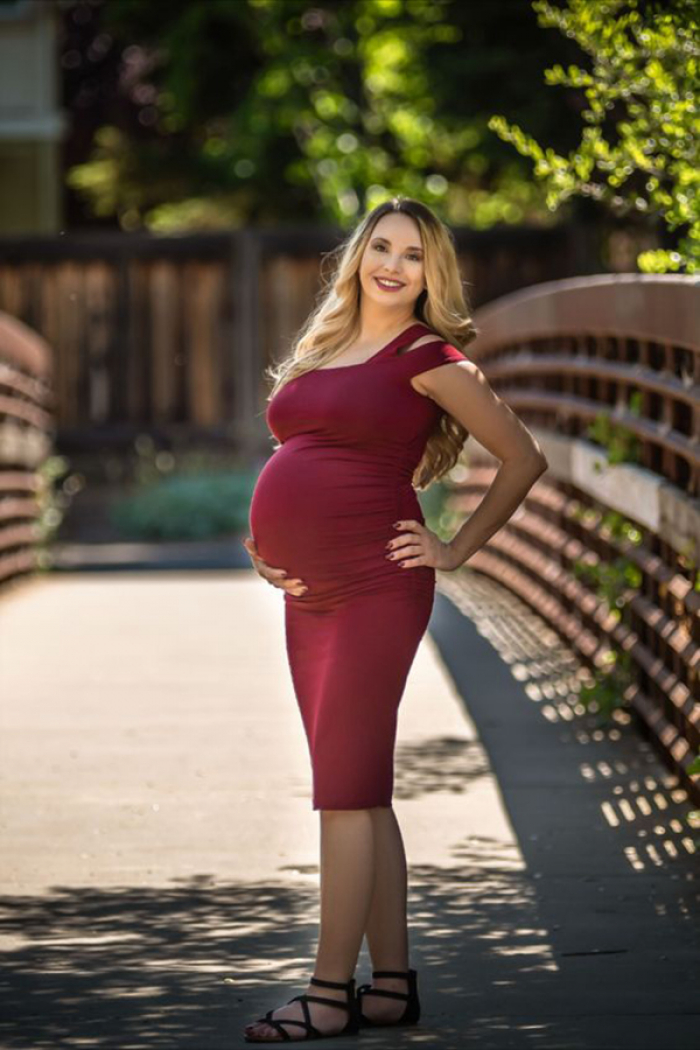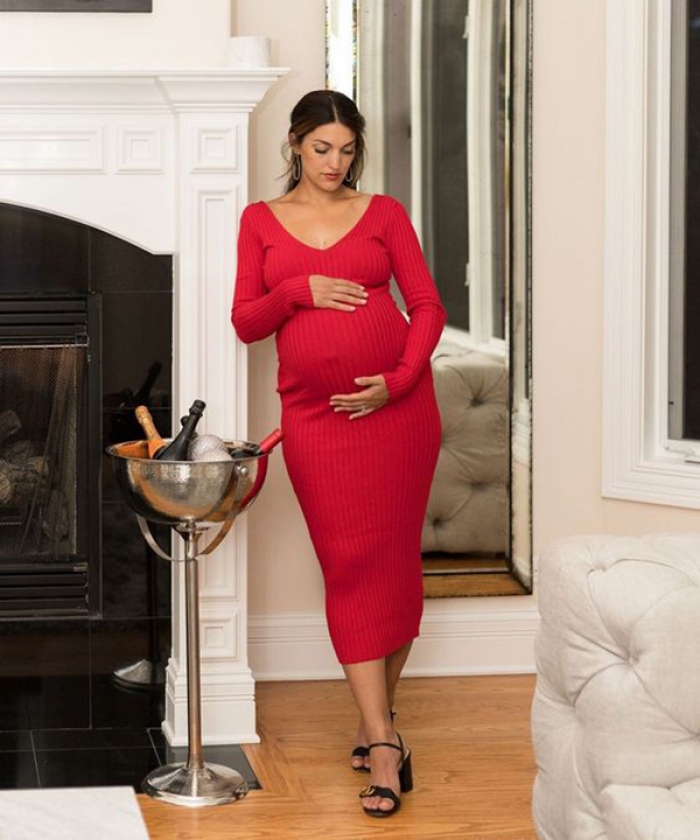 Build your maternity wardrobe with essential pieces like leggings, pants, and t-shirts in neutral colors that can be mixed and matched to create various outfit looks.
Wear your regular clothes as long as they remain comfortable until your third trimester.
Avoid constantly wearing oversized shirts in an attempt to hide your baby bump during the third trimester.
Avoid buying excessively baggy dresses, as they can make you appear larger, and the extra fabric may cause discomfort.
Opt for dresses made from breathable and lightweight fabrics to stay comfortable throughout your pregnancy.
Stick to your signature style and avoid experimenting with new styles or patterns in maternity outfits if they don't align with your usual preferences.
Don't shy away from wearing maternity clothes specifically designed to fit and accommodate your changing body.
Avoid underbelly belts, as they may not contribute to a flattering look during pregnancy.
Opt for comfortable wedges instead of high heels to stay stylish while prioritizing comfort.
Maternity Christmas Dress Plus Size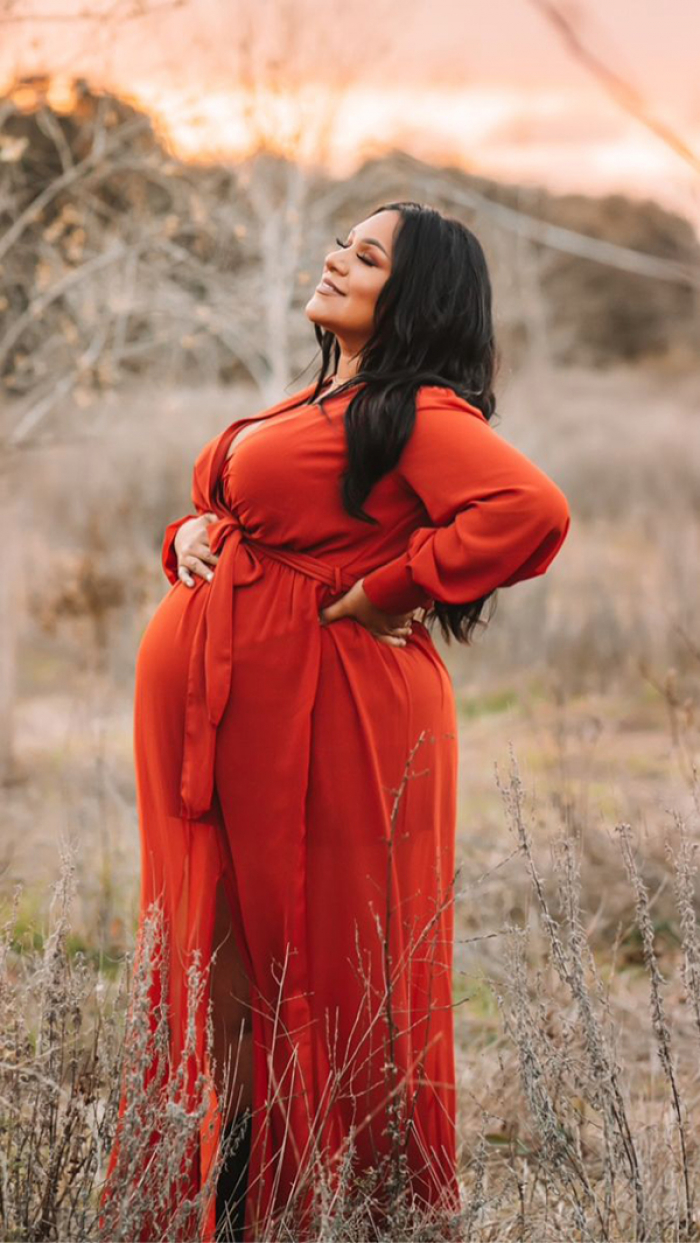 We understand that finding a cute and budget-friendly maternity Christmas dress can be challenging, especially if you're plus size. Don't worry—we'll help! We provide comfortable holiday outfits that make you feel gorgeous and merry.
From flowy maxi dresses to sparkling sequin dresses, there's a perfect option for everyone. And guess what? All these dresses come in plus sizes! We have the perfect dress for Christmas caroling or your business Christmas party.
Browse our collection to celebrate your pregnancy in style!
Cute Christmas Pregnancy outfits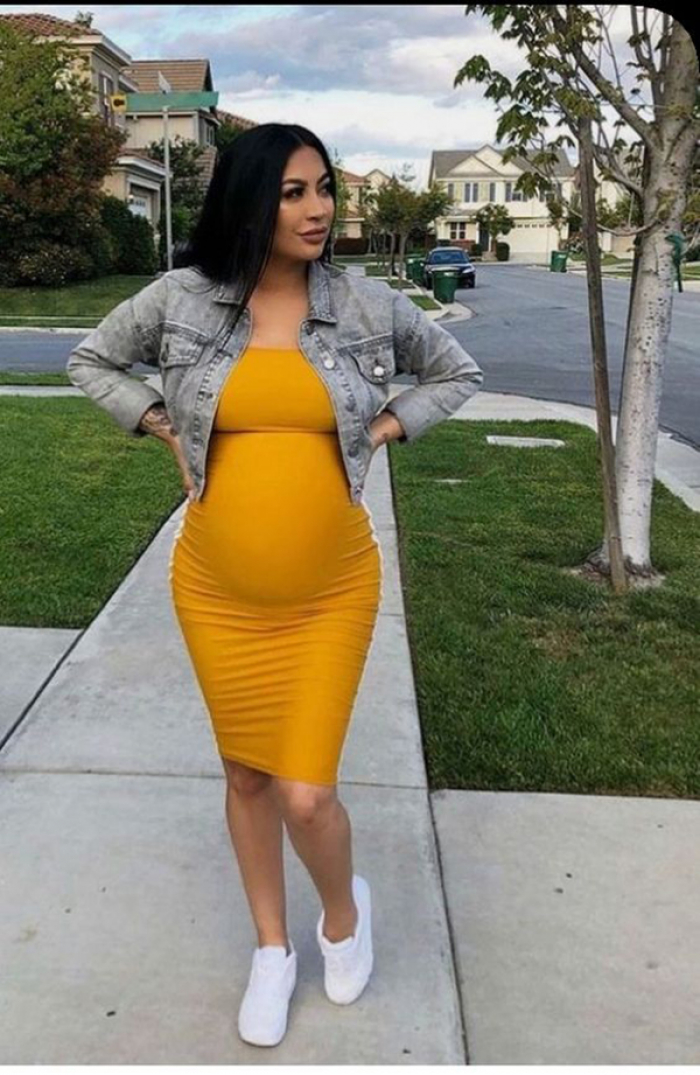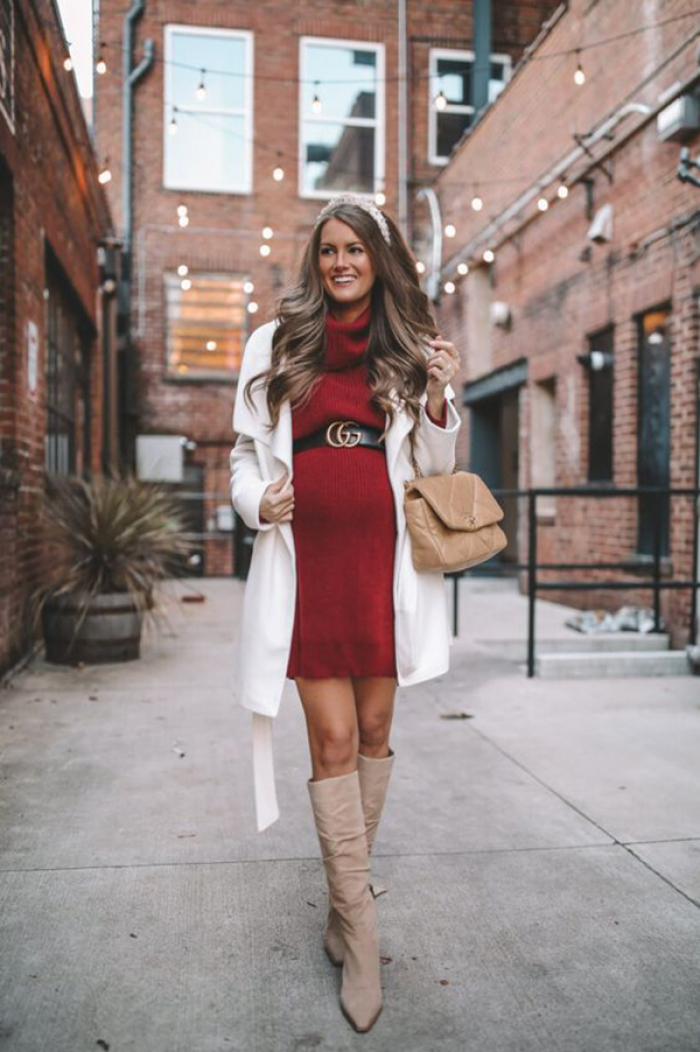 Pregnant women should dress well for Christmas gatherings and festivities. Thankfully, there's an abundance of adorable Christmas pregnancy outfits available!
To achieve a festive look, consider donning a red or green dress complemented by sparkly jewelry. Wear a jumper and jeans for a casual look. And don't overlook the importance of accessorizing with a cute pair of shoes and a festive bag!
Most Stylish Maternity Christmas Outfits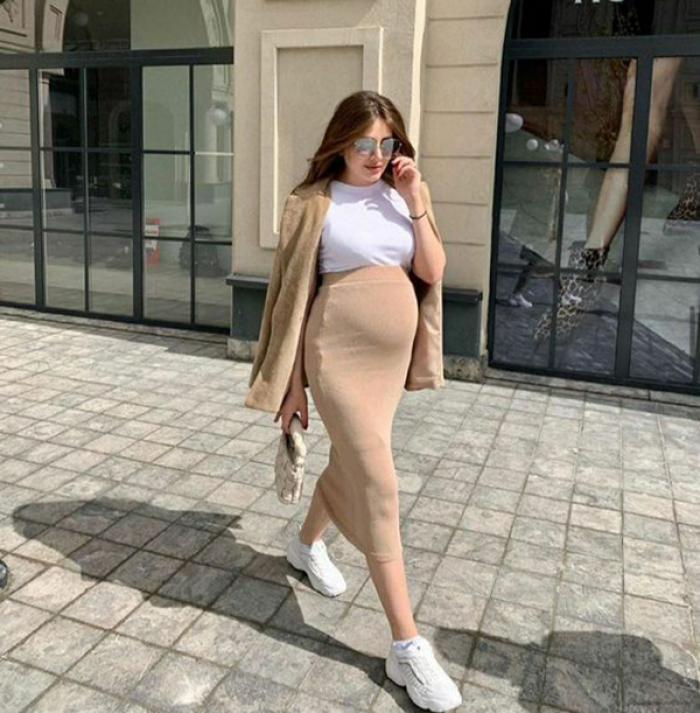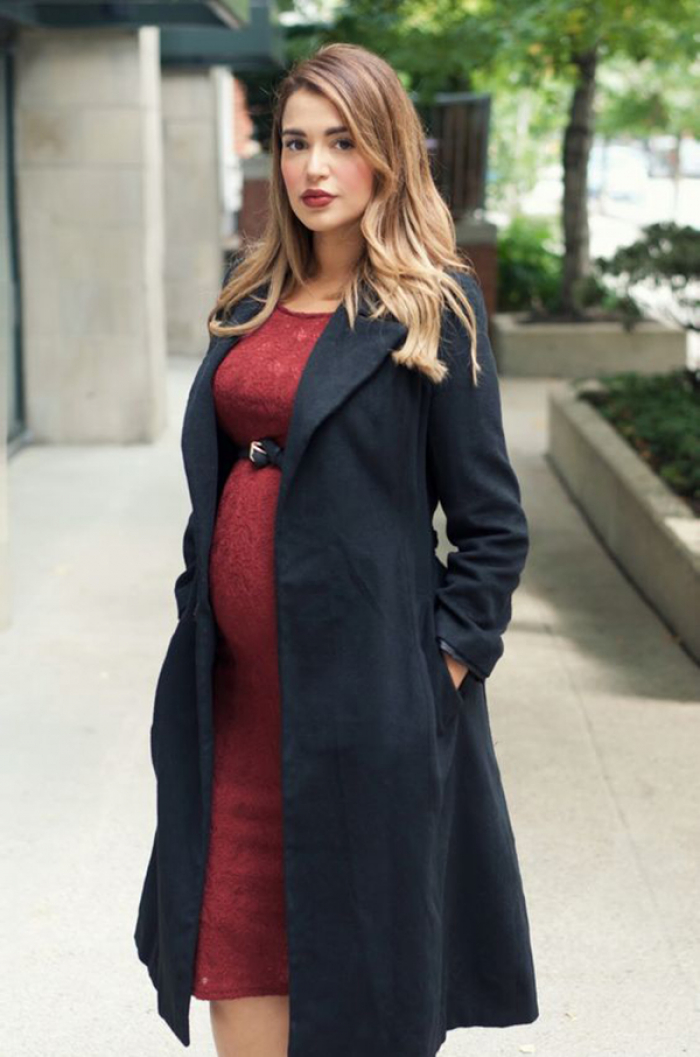 When it comes to Christmas dressing, the options are endless, but for pregnant women, finding the perfect outfit can be a little more challenging. Whether you're seeking something festive and fun or more traditional and elegant, we've curated a selection of the finest maternity Christmas outfits to ensure you enjoy the holiday season in style.
From cozy sweater dresses to chic red ensembles, our list has something for everyone. The best part is that these looks can easily be dressed up or down, depending on the type of Christmas celebration you'll be attending this year. Whether it's a laid-back family gathering or a formal party, rest assured, you'll discover an outfit that suits the occasion perfectly.
Maternity Christmas Sweaters And Tops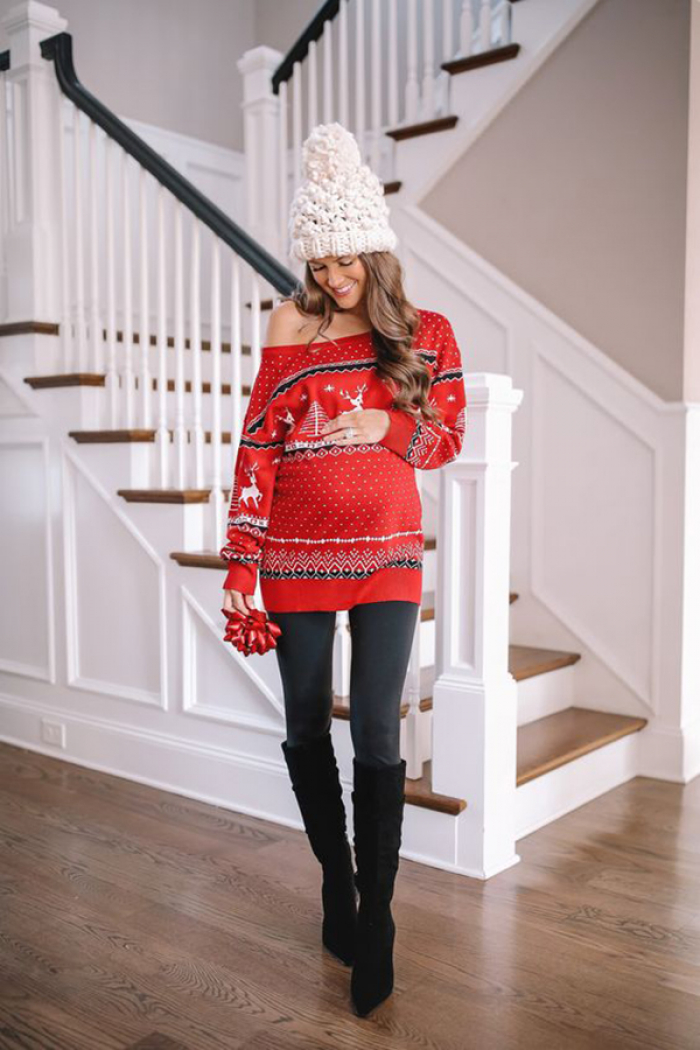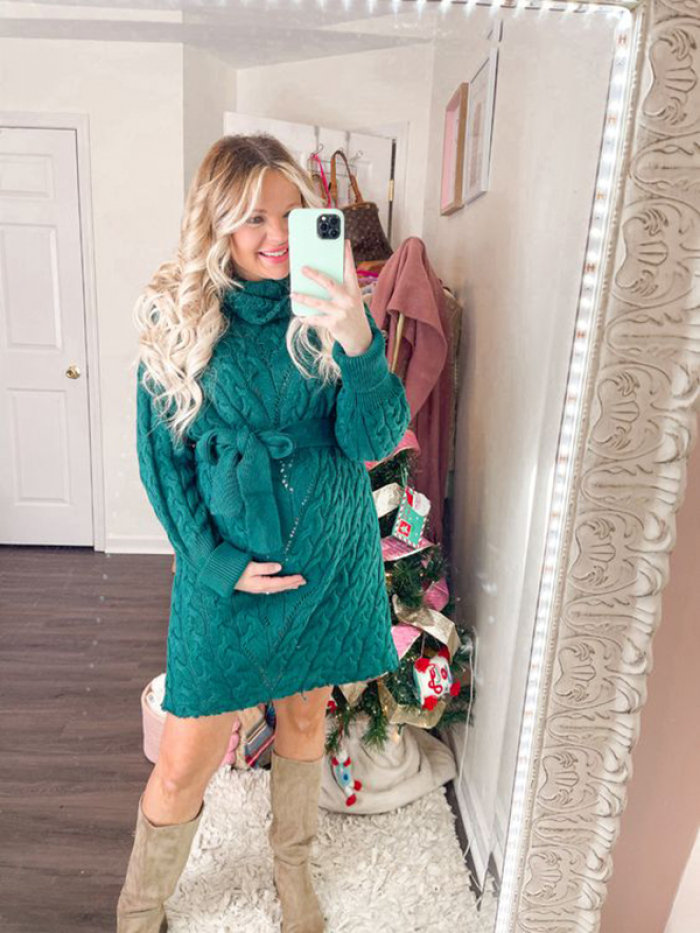 Maternity Christmas sweaters and tops are a great way to stay comfortable and festive during the holiday season. There are many different styles and designs to choose from, you can find the perfect one to match your personal style. If you want something that is unique, you can even find some handmade sweaters and tops.
When it comes to picking out the perfect maternity Christmas sweater or top, comfort is key. Choose something you can wear all day without discomfort. You don't want to continually adjusting or taking it off due to skin irritation. Another important factor to consider is the material. To pick something breathable so you don't get too hot when wearing it.
There are so many cute and festive maternity Christmas sweaters and tops available, so take your time in choosing the right one for you. Make sure it is comfortable, made of a breathable material, and most importantly – make sure you love it!
Ugly Christmas Sweaters For Pregnancy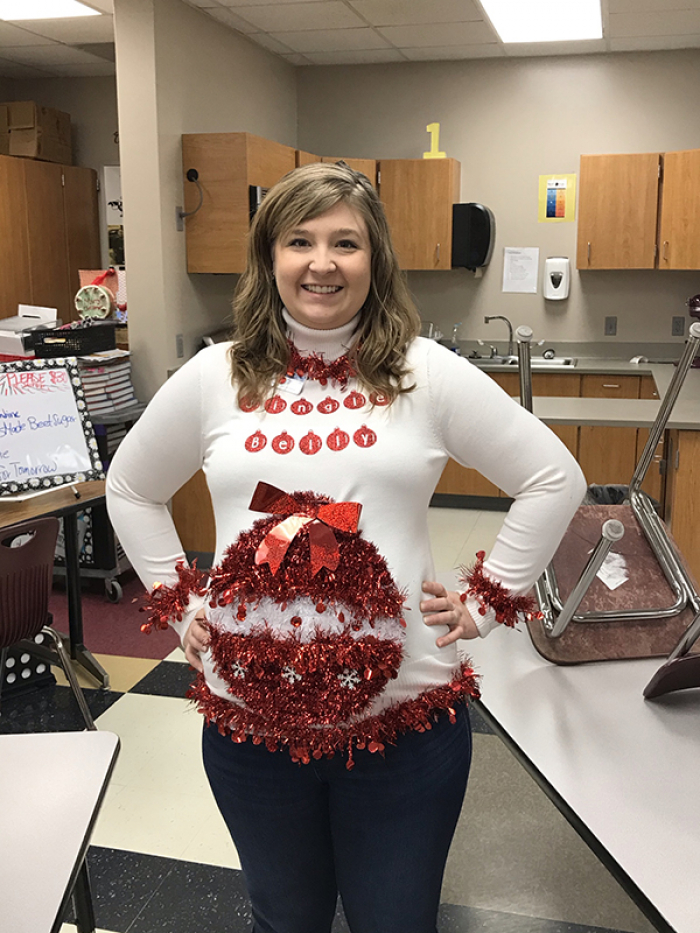 Finding ugly Christmas sweaters while pregnant isn't an easy task. These sweaters are typically not made with maternity in mind. My top suggestion, if you're in need of an ugly Christmas sweater for a party, is to search for a larger size that can accommodate your belly or opt for a cardigan or vest to layer over a maternity shirt you already own. Nevertheless, I managed to discover some enjoyable graphic sweatshirts, shirts, and other fun Christmas sweaters available in maternity styles.