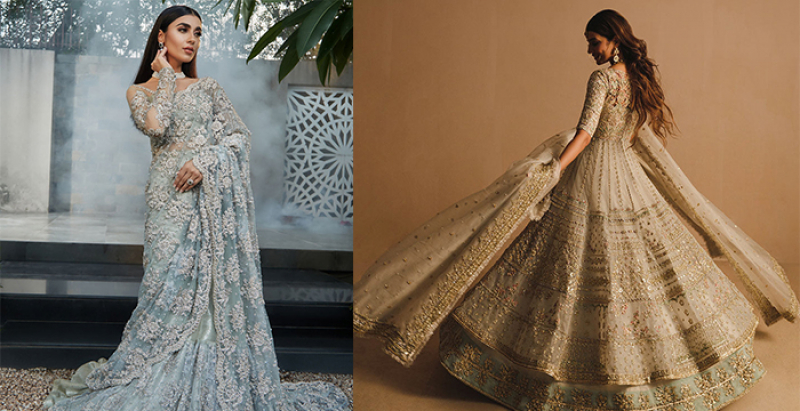 Historically, tradition has set some predefined options for brides for each of their event days.
• Traditional and simplistic outfit for Nikkah
• Jewel tones for Mehndi
• Reds or a similar color palette for Barat
• Pastels and gowns for Walima/reception.
And seeing these trends, luxury clothing brands in Asia have catered to the demand. While there is nothing wrong with following the tradition, there are brides who want to slightly break out of the mold and do something different.
A. Nikkah:
1. THE FUSION:
This bespoke version of IVY FORMAL SKIRT from Zuria Dor is the perfect example of a fusion Nikkah outfit. The skirt is made of organza having a hand painted print, further enhanced with hand embellishments in sequin and pearls.
The skirt is originally paired with a simple ruffled blouse but in order to make it more appropriate for Nikkah some readjustments were done. Instead the "Ivy formal Skirt" was paired with a heavily embellished dupatta and choli.
The dupatta, made on organza net, is detailed with heavy borders with a geometric motif embellishment throughout.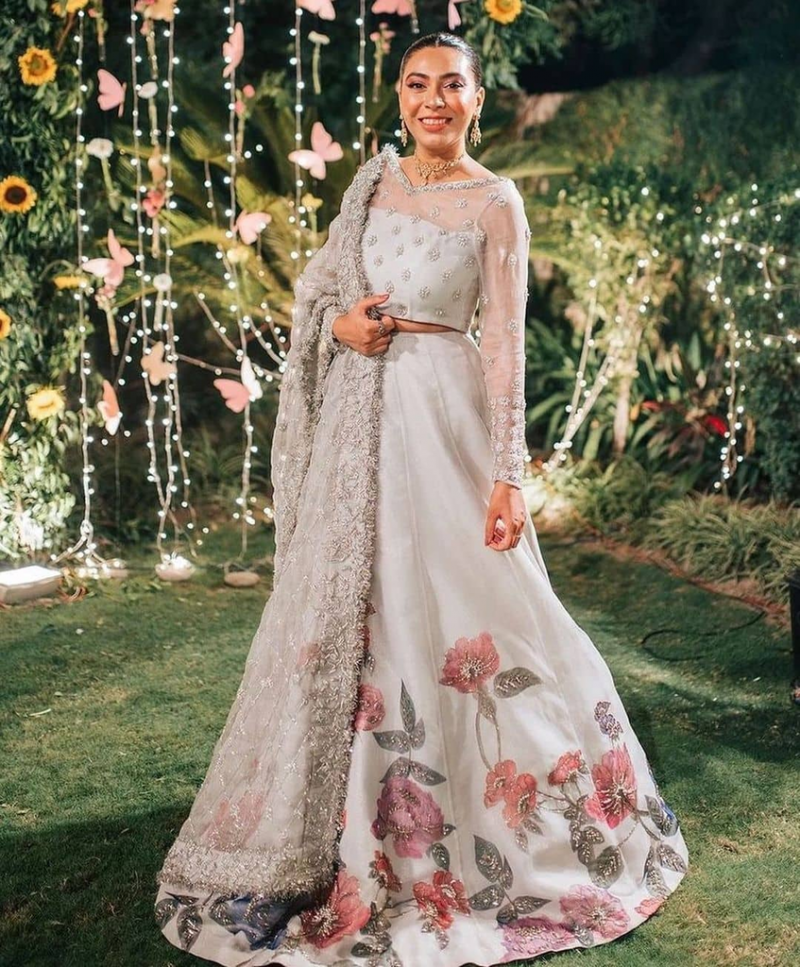 2. THE SLEEKER ROUTE: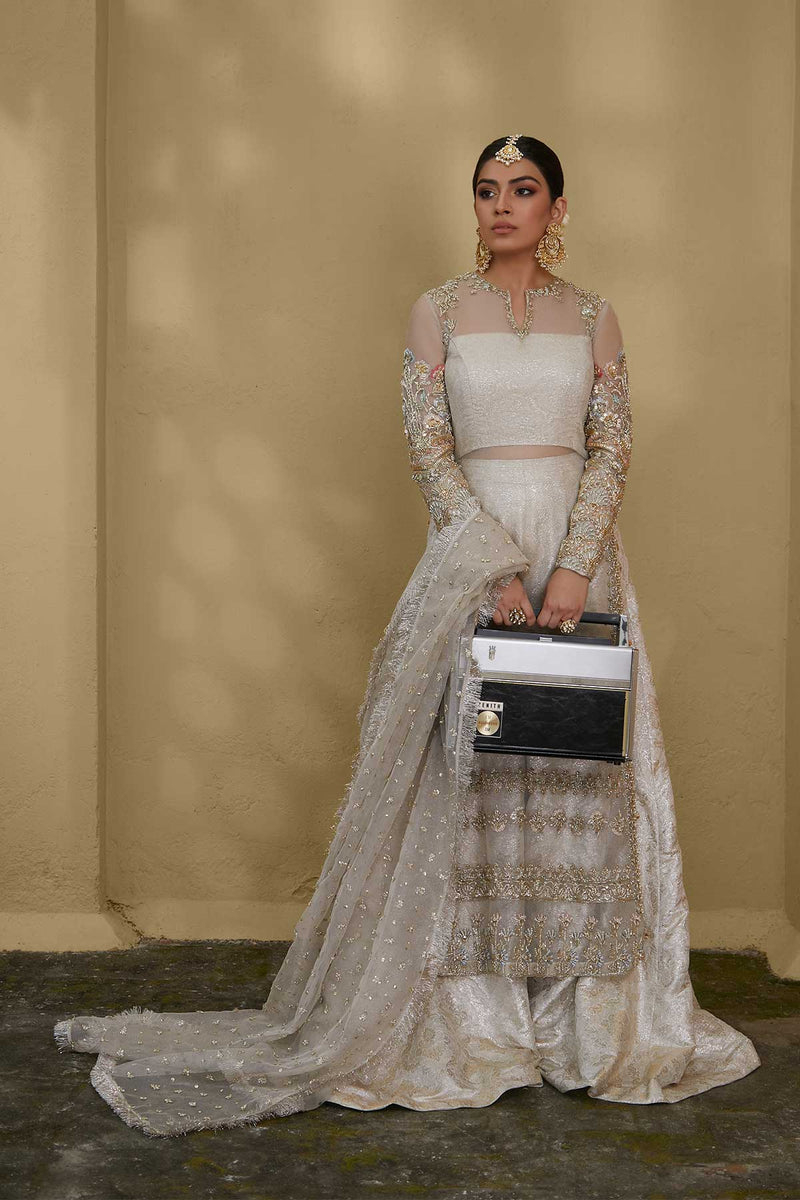 We have encountered some brides who want to go towards more of a sleeker and minimalistic look for their Nikkah since the events to follow normally consist of flared outfits. Izara formal dress is a high slit shirt with the front hem of the shirt and sleeves are embellished with zardozi work and accented with embroidery; the back is lighter with a small hem border. The look is completed with a dupatta having a heavy motif spray and kiran finishing.
This sort of a cut not only adds variety in the wardrobe but also sets apart from the traditional "Nikkah" look.
B. MEHNDI
It's the event where everyone, and most of the time the bride herself, wants to move around and have fun. If you are a bride who is dancing and giving the performance of a lifetime, then you would need something that is easy to move in.
Of course, which all the movement, you want there to be flare to add to the drama.
Since it's the only event where people can usually go all out with color, the majority try to go mix and match with the color wheel. While there is nothing wrong with that, we cannot help but wonder what our minimalistic brides are looking for?
1. MINIMAL YET COLORFUL: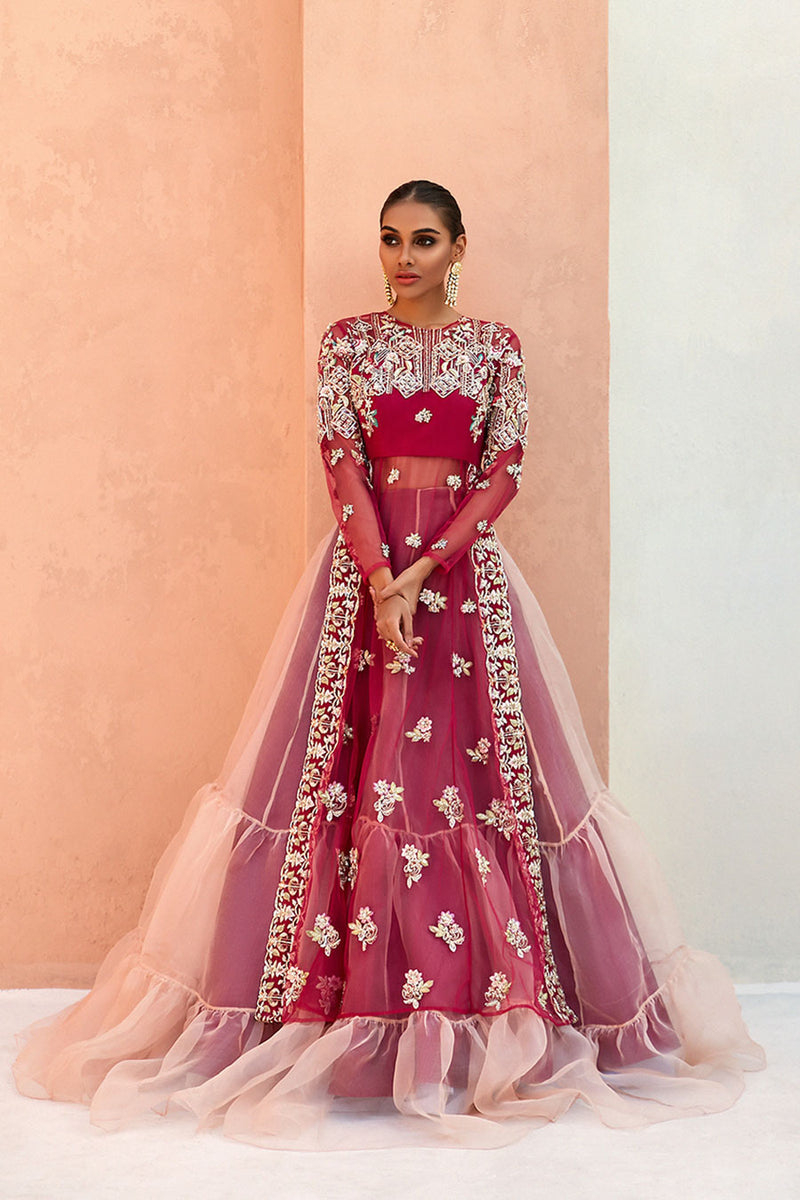 Keeping the idea of colors in mind, Narsis formal gown is the perfect example. Double toned silk kattan angrakha having a heavy floral pattern on the hem with embroidered in shades of greens, reds and pinks and hand embellished by sequins, pearls and zardozi. Paired with a Fuschia lehenga that peaks out upon movement.
Of course you can always tweak it to make it look more bridal but pairing it with a dupatta in a similar color palette is. Top it off with some nice jewelry and you will be good to go dancing the night out.
2. FUSION MEETS TRADITION: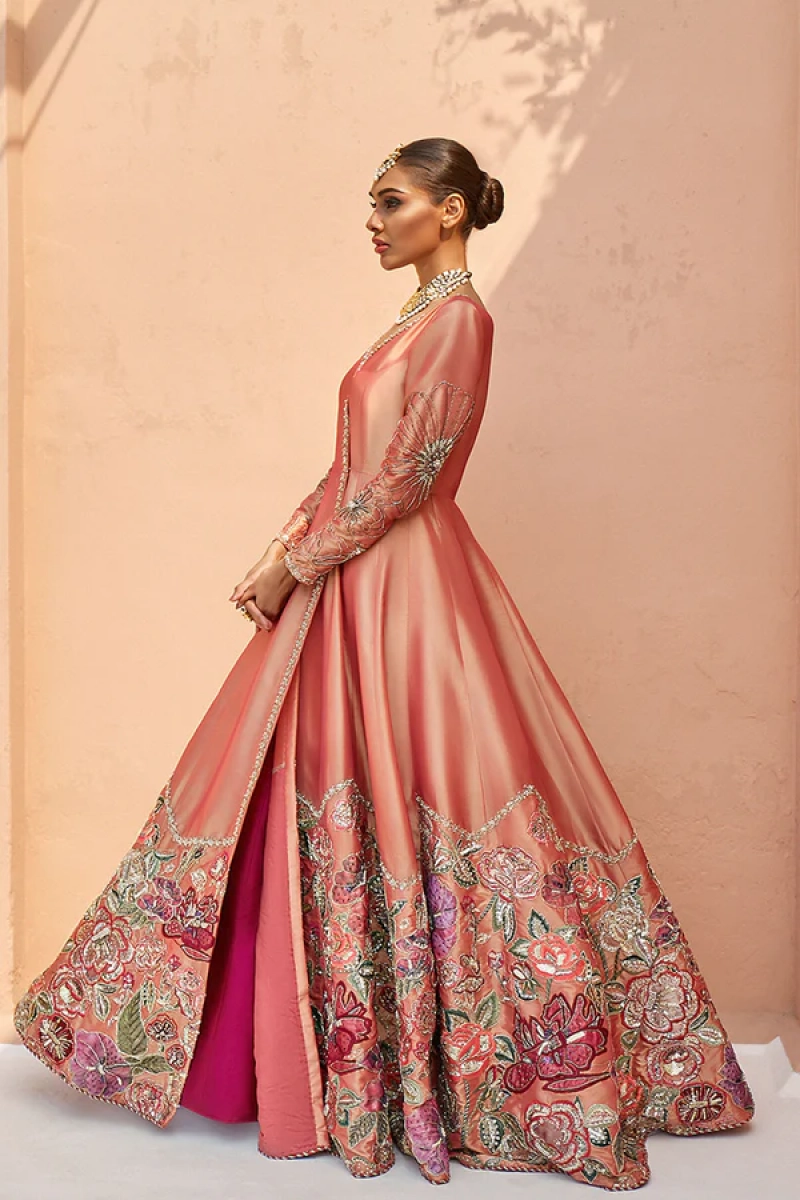 Keeping the element of "gota work on mehndi" alive, the Rosa formal dress perfectly incorporates the elements of fusion and tradition. The contemporary net long slit shirt is beautifully hand embroidered in subtle shades of pink, greens and blues and hand embellished with sequin, gota and pearls.
C. BARAT: THE BIG DAY
This is the day to which all the previous events have been leading up. As tradition holds, brides typically prefer deep colors such as maroons and reds on this day. Unlike the previous events discussed, deviating from the "usual" can be very overwhelming for the brides. All this time, they have seen brides wear different shades of red being worn on their barat, hence seeing themselves in a different color palette might be a little daunting.
But the year is 2022 and a little deviation might be needed. It all comes down to how you carry the look.
1. A STEP AWAY: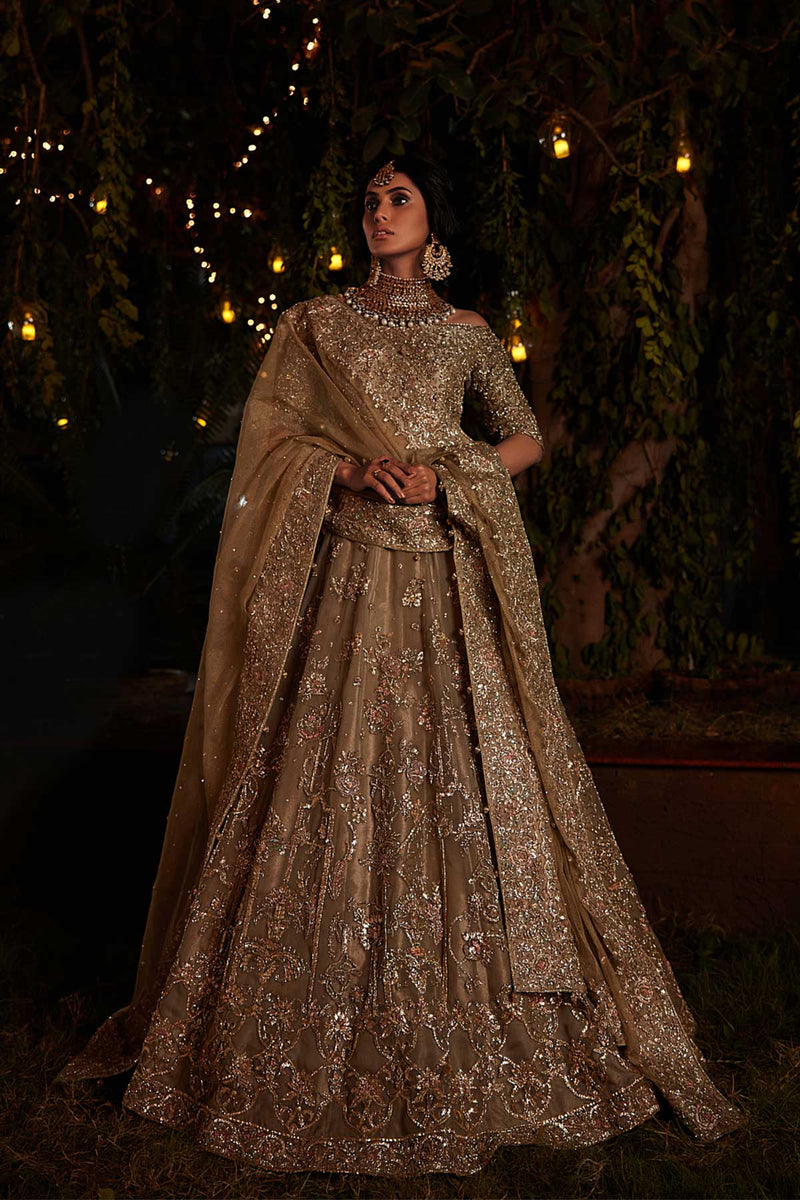 The Palmira Bridal is an olive green lehenga adorned with gota, silk thread, sequin and pearls. It is paired with an off-shoulder choli in subtle green tissue with delicate detailing's of zari and silk thread and a zari net dupatta with embellished borders, sequin and gota spray with embellished gold hangings.
This color palette is not foreign to the barat event. If we go back a few decades, shades of green was a very trending color for brides. Granted it was usually a deeper green color, but many of our mothers or even grandmothers deviated from the norm.
2. THE WHITE WEDDING DRESS:
Somehow wearing white on your barat is frowned upon, even though white symbolizes peace, which is why if you want to go to take a detour from the norm, Elora Bridal Lehenga is the perfect choice. With a huge flare heaving embellished linear and geometric patterns enhanced by pastel embroidery and zardozi and gota work, Elora encapsulates the essence of regal.
D. WALIMA/RECEPTION: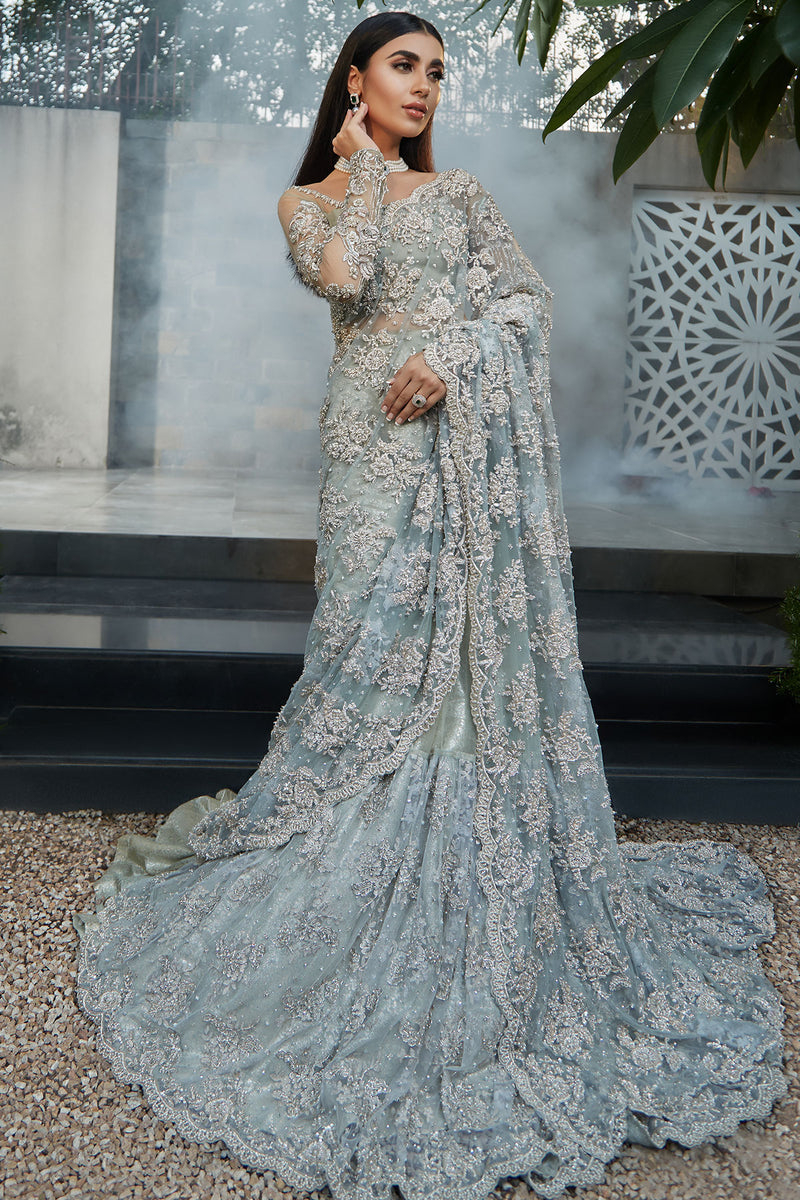 It is the event that seals in all the festivities and for this brides are willing to dive into the modern realm; hence they often opt for gowns.
Well, why not take it a step further? Why not a saree? We know that saree is not classified as bridal wear, especially in Pakistan, but if you want to go off the track then it is a good option. The maera bridal saree has a heavily embellished pallu and pleats with a delicately embellished blouse. The saree is a lehenga saree which adds to the bridal feel.
Pair it up with some simplistic jewelry and you have yourself a "not a typical" reception dress. And there you have it; some options to encourage you, as a bride, that there are others who are thinking a little differently, and that it is okay to deviate from the norm, if the norm does not suit you.