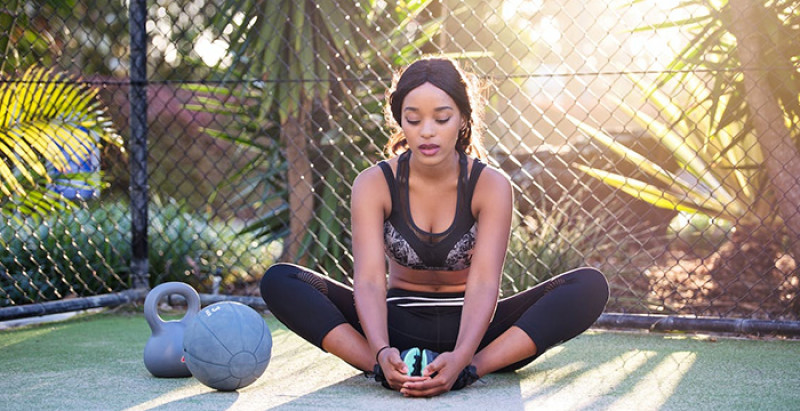 Fitting a workout into a busy schedule can be challenging. Yet, there's something invigorating about taking a break from work and sneaking in a quick workout. This routine allows women to prioritize their health and wellness without detracting from life's other responsibilities.
Hair and hygiene are significant deterrents for women who want to work out during the day. Fortunately, there are several hair care tricks to keep hair happy, healthy, and neat during and after a workout.
Here's the best hair care routine for active women.
1. Use A Coil Or Scrunchy
Ditch your tight elastics for something less damaging while working out. While throwing your hair up in a ponytail will keep your hair out of the way, traditional elastics can cause tension and breakage— they'll also leave you with an unflattering dent.
Instead, use a hair coil or scrunchy to put your hair up during a workout. If you use a hair tie, don't tighten it completely; leave the hair around your forehead and temples with some leeway to move.
2. Wear Protective Hairstyles
If you're sick of dealing with your hair while chasing fitness goals, there are several messy short hairstyles for women at hairdohairstyle.com that are perfect for a wash-and-go. Otherwise, swapping out your ponytail for a protective hairstyle is a must.
If you have curly or textured hair, put your hair in a pineapple bun or space bun. Women with straight or wavy hair can use a braid or braids to reduce sweat transfer and take advantage of the natural beach-wave effect of sweat.
3. Pack A Comb And Brush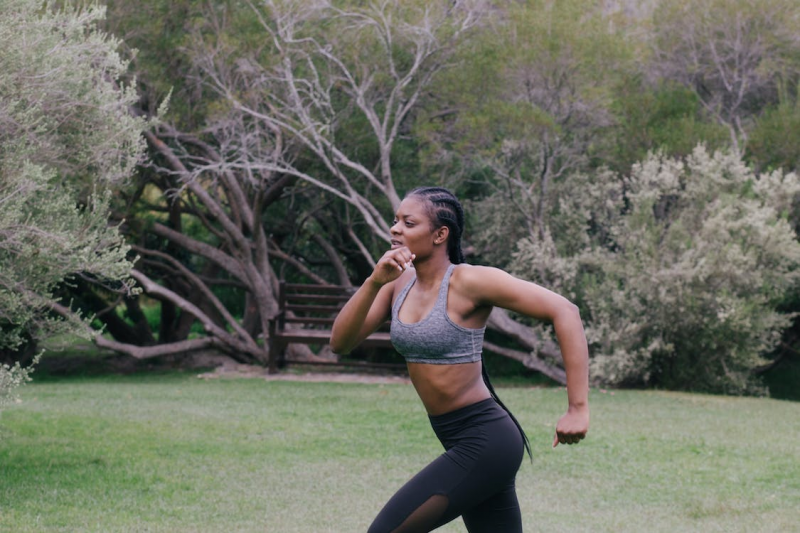 Pack a wide-tooth comb and brush in your gym bag to detangle your hair after working out. The wide-tooth comb will minimize breakage on damp hair and protect curls from extra frizz. Start from the ends and work your way up until you're brushing from the roots with no resistance.
4. Use Dry Shampoo
Dry shampoo is a lifesaver for active women. Add a can of dry shampoo spray to your gym bag to revitalize your roots when you train.
Consider adding dry shampoo to your hair before your workout; this gives it time to absorb the sweat and oil before it permeates your hair. The same approach works when going to bed at night. Let the dry shampoo soak in, and brush it out after your workout.
6. Create A Weekly Build-Up Routine
While dry shampoo can extend the timeline between washing, it isn't great for your scalp. Dry shampoo builds up on your scalp and blocks natural oil production. Prioritize your scalp and hair health with a weekly build-up routine.
Bounce Curl's Gentle Clarifying Shampoo will remove product build up without tripping your hair off natural hair oils. This product also contains a series of natural emollients that are added to nourish your scalp.
Invest in a simple scalp massager to stimulate your follicles before washing your hair. A scalp exfoliant will also help remove build-up and keep your hairline acne-free. Rinse with one part apple cider vinegar to two parts water once per week to eliminate build-up and nourish your locks.
Apple cider vinegar also helps minimize frizziness and define curls. As the natural oils from the scalp don't travel to the ends as easily in kinky or coily hair, curly-haired women should try this solution biweekly or monthly instead. Bounce Curl's Turmeric Hair Detox is an excellent choice to remove build-up and debris from your scalp and hair shaft.
7. Use Moisture-Wicking Headbands
Moisture-wicking headbands are a preventative measure to wick sweat away from the scalp and prevent it from permeating the hair. This is a must during intense workouts for women with curly hair.
Nike, Lululemon, and Under Armor all offer high-quality workout headbands to minimize sweat transfer. Wash these regularly to avoid bacteria growth and acne.
While headbands offer protection, hats can make the problem worse. Consider using a protective SPF spray instead of a hat during outdoor summer workouts.
8. Rinse And Condition With Cool Water
Washing your hair after every workout isn't feasible— especially if you have high-maintenance hair. Consider a post-workout rinse and condition with cool water instead. Work conditioner from the middle of the hair shaft to the ends, leaving the roots untouched.
Bounce Curl's Hydra Drench Cleansing Conditioner is perfect to use in between washes. This co-wash will clean and condition your hair simultaneously.
Alternatively, put your hair up while showering and scrub around your hairline to remove excess sweat. Let your hair down and dry the roots or apply texturizing spray and leave-in conditioner to let it dry naturally.
If you use a hairdryer after your workout, keep the setting on cool. Your hair is susceptible to heat after working out and using hot air or water could do serious damage.
These simple tricks will help you protect your hair and scalp while training. Don't let the fear of messy hair stop you from accomplishing your fitness goals.