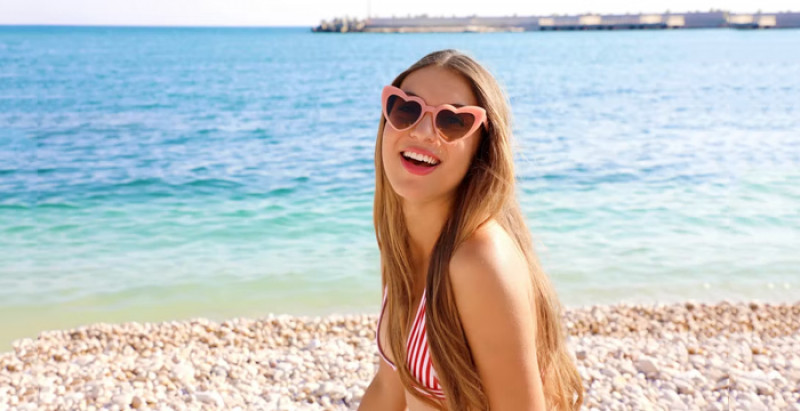 Are you thinking about updating your summer wardrobe? If so, picking out a pair (or two) of stylish shades is your most important task! But with so many options out there, selecting the best might seem like a challenge.
If you'd like to stand out from the crowd, we've got the sunglasses you need to consider. Below, you'll find our pick of the best unique-looking framed shades and the history behind their ongoing fashion fabulousness!
Heart-Shaped Sunglasses
These gorgeous specs add some sweet fun to your summer wardrobe! Celebs and the glitterati have regularly sported them since their appearance in films such as Stanley Kubrick's Lolita in the 1960s, and stars including Harry Styles, Lady Gaga, Taylor Swift, and Lana Del Rey have been spotted wearing these cute specs recently.
Most heart-shaped sunglasses from glassesusa.com feature lightweight frames and, although most often seen in red, come in all the colors under the rainbow! They usually incorporate black lenses, but if you fancy a different tint, go for it.
One of the best things about heart-shaped shades is that they suit virtually every face shape. Whereas other types of frames may look best on certain face shapes (for example, oblong frames tend to look best on those with round or oval-shaped faces), heart-shaped frames are universally flattering!
The History Of Heart-Shaped Sunglasses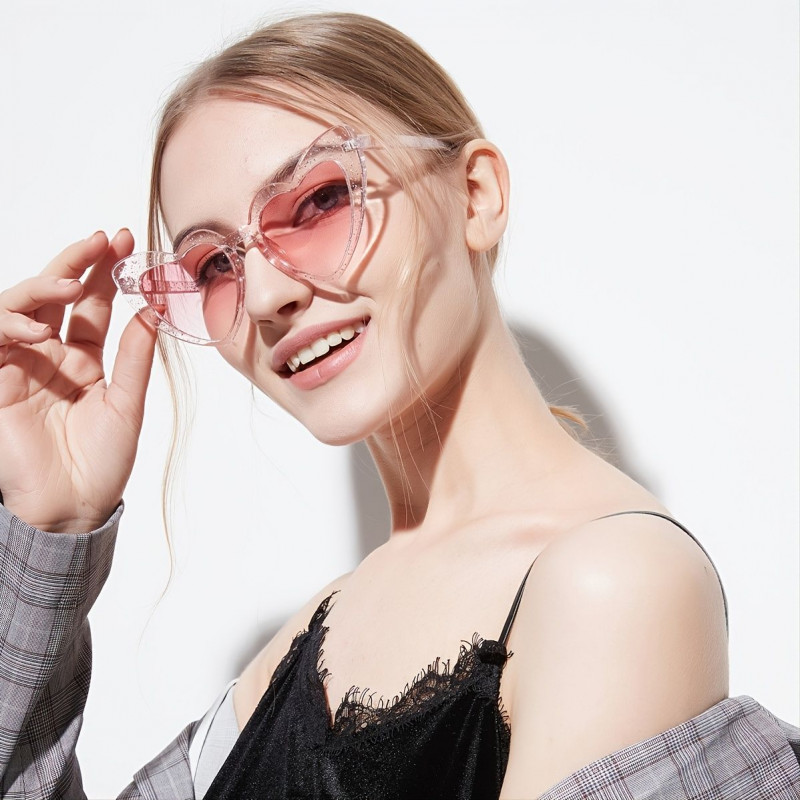 As we mentioned above, Lolita really kicked off the trend for this type of eyewear, and several sunglasses manufacturers mass-produced the style in the 1960s. The trend was helped along by the hippie and festival culture that took off during this decade, too.
In the 1970s, the Flower Power movement widely adopted the trend, and celebs, including the Beatles' George Harrison and Marianne Faithfull, were regularly seen sporting heart-shaped shades. Heart-shaped sunglasses were picked up by high-end fashion designers in the 1990s, appearing on catwalks and the pages of high-end mags such as Vogue throughout this decade and beyond.
Hexagonal Shaped Sunglasses
Fancy adding a fun edge to your summer aesthetic? Shades incorporating hexagonal-shaped frames could be the way to go! Hexagonal frames create a bold look that can work well with both casual and formal attire.
You've got lots of options with these frames. Choose an oversized frame for retro styling or a chunky frame with an exaggerated brow line to make a statement! Alternatively, for an understated, chic look, consider lightweight, thin-rimmed hexagonal frames in silver.
And for an on-trend, contemporary aesthetic, how about hexagon-shaped shades incorporating clear frames? Clear frames are extremely hot right now and are a great way to try out bolder styles of specs, as they offer a subtler look.
The History Of Hexagonal-Shaped Shades
Hexagonal-shaped frames first hit the fashion headlines all the way back in the 1940s when they were widely taken up by the glamorous jet set of the time. They re-emerged in the 1970s, becoming a key component of the decade's summer styling.
They're a great fusion of round and square frames, meaning that they suit most face shapes, which is a key reason that they've been a recurring fashion hit over the years.
Exaggerated Cat's Eye Framed Sunglasses
The cat's eye frame has been popular since the 1960s, embodying old-school glamour and chic. Today, you can opt for a pair of shades that incorporate an exaggerated version of this classic frame for an ultra-elegant, bold look.
The style is timeless, and these frames have never been far from the fashion spotlight since Jackie O sported them in the 1960s. Like the above styles, they're easy to wear no matter what your face shape and look particularly glam when worn as shades.
The History Of Cat's Eye Sunglasses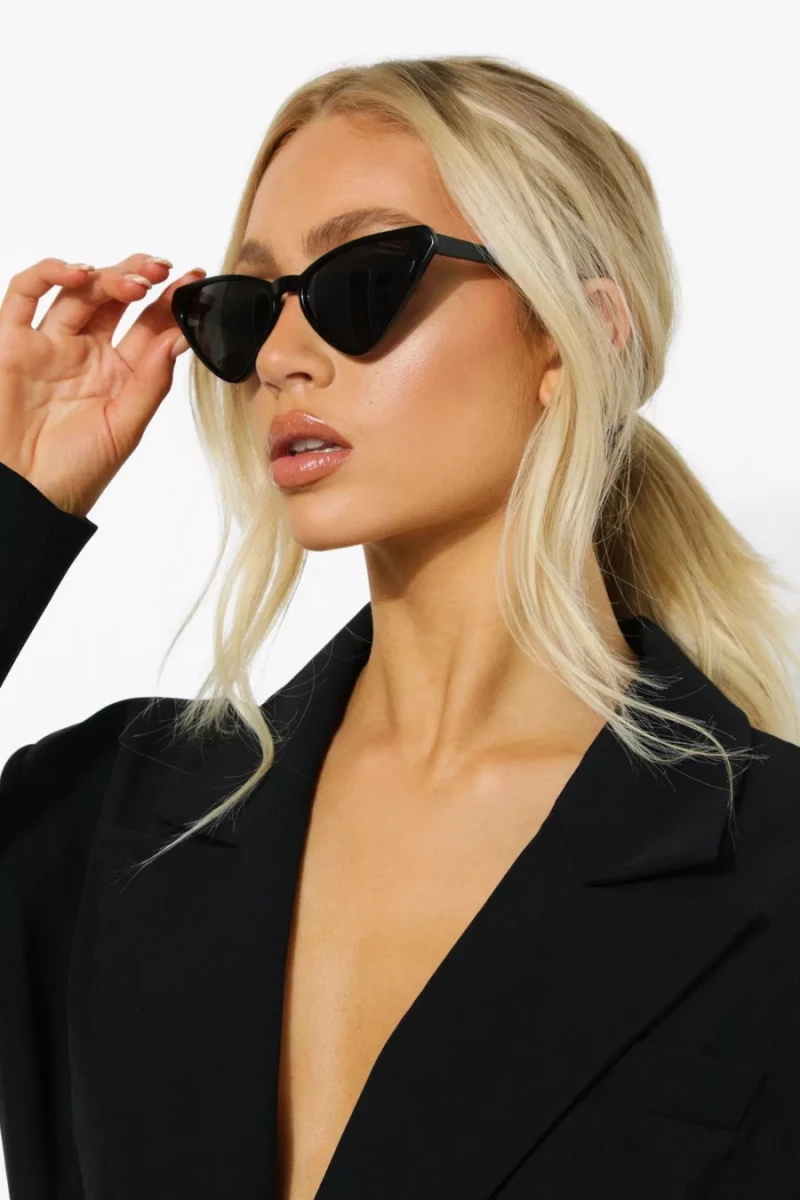 Although they began being mass-produced in the 1930s, Audrey Hepburn helped to make this style of shades popular when she wore them in the classic movie, Breakfast at Tiffany's. Since then, they've been a perennial feature of the fashion world and have been worn by icons including Marilyn Monroe and Barbie!
Novelty Shaped Sunglasses
And there's no need to stop at heart and hexagon-shaped sunglasses! There are loads of shades now available featuring novelty frames, so whether you need an unusual pair of sunglasses for a party, a fancy-dress do, or simply to make a statement, then you're spoiled for choice!
Star-shaped sunglasses (popularized by superstar Elton John since the 1970s) make for a fun, bold look, or how about pineapple-framed shades if you need a novelty look for a party? There are virtually endless options out there: cloud-shaped, extra oversized beer tankards, unicorns, dates, and flamingo frames are just a small selection of your options!
Fabulous-Framed Sunglass: The Takeaway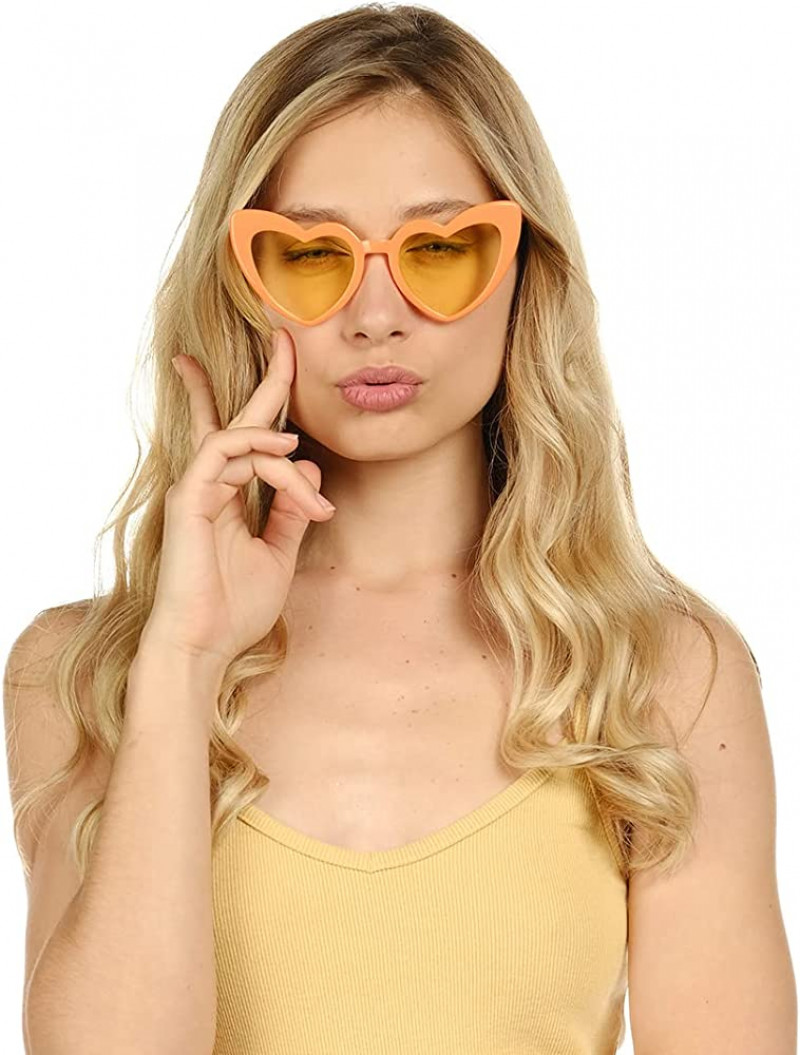 If you'd like a standout style of sunglasses, then any of the above options will fit the bill perfectly! When choosing a new pair of shades, it's important to consider your face shape to ensure the style will look as flattering as possible. If you plan on wearing them every day rather than occasionally, think about the clothes you like to wear to ensure your sunglasses will work well with the rest of your wardrobe.
Hexagon-shaped, heart-shaped, cat's eyes, or even pineapple frames - whatever you're dreaming of for your summer style, it's out there!