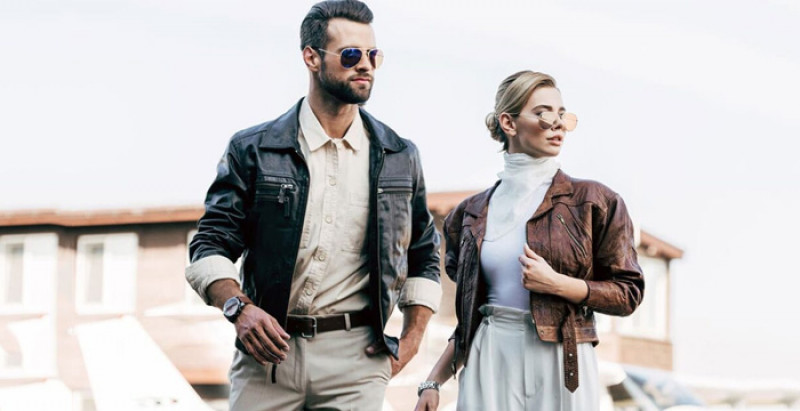 Are you thinking of adding a jacket to your apparel collection? Leather jackets are in fashion these days. But before you buy your jacket, there are some things you should know. In this article, we'll cover everything you need to consider about how, which, and when you should buy a leather jacket to make the best investment possible. We've got you covered from fabric type to fit and care tips! So let's get started!
Definition Of Leather Jacket
A leather jacket is an outerwear garment that protects the wearer from cold and wind. It usually features a zipper closure and can be made from multiple types of leather, including cowhide, lambskin, and horsehide. Leather jackets are typically made with hand-sewn details such as lining, cuffs, or pockets, which add to their longevity.
The style of a leather jacket can vary greatly; they come in many shapes and sizes, including long coats, biker jackets, aviator jackets, bomber jackets, and cropped models. No matter the leather jacket style, they all feature durable zippers that keep the wind out and insulation from temperature drops.
Leather jackets make great investments due to their durability and timelessness; they can last several years if properly cared for.
Varieties Available
Classic Biker Jacket
That is the most popular jacket since the 1920s. This style typically features an asymmetrical zipper closure and buckles or snaps on the lapels. It usually comes in dark colours, such as black or brown.
Flight Jacket
That is similar to the biker jacket but made with a more lightweight material such as sheepskin or lambskin. This type of jacket usually has additional pockets and zippers for added convenience and protection from the elements.
Distressed Leather Jacket
They have an intentionally worn-in look and feel that can be perfect for a casual look. No matter what variety you choose, find according to your body shape and size for maximum comfort and style!
Quality Of Leather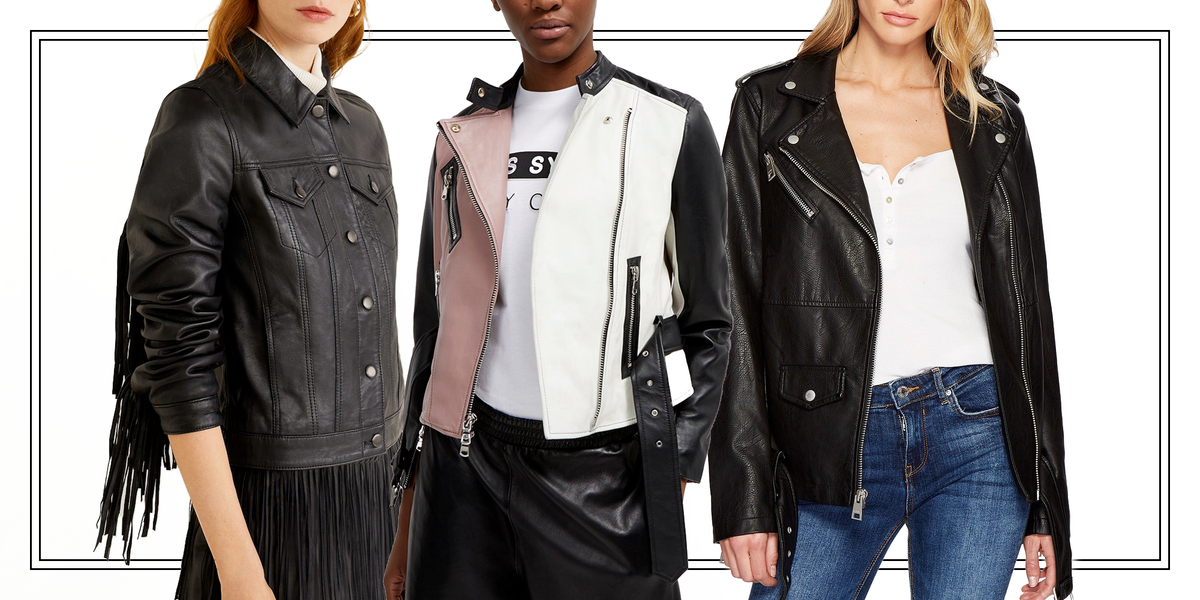 It's important to inspect the material and leather quality of the jacket before purchasing. Pay attention to these factors:
The thickness of the leather depends upon the durability
Finishing of the seams with no loose threads or stitching errors
Quality of zippers and buttons
Softness (not too soft) and easily bendable material
Quality linings like cotton or polyester should be used inside, which gives extra comfort when wearing the jacket.
Trends In The Market
The most popular style among consumers are:
Classic biker jacket
Bomber jackets with a fur lining.
Distressed leather jackets with patches sewn onto them.
Cropped jacket
Always choose according to your style and body size, and remember to purchase quality over quantity, no matter what trend catches your eye. Also, research before making any purchases to ensure you get exactly what you're looking for at an affordable price.
Types Of Collars And Cuffs
3 important things to consider when choosing collars and cuffs:
Collar Style: Collar styles depend upon every leather jacket. Some have higher collars, while others are more open with lower lapels.
Closure: The closure of a collar can be a buttoned placket, zippers, or snaps. Choose one that is comfortable and secure for you.
Cuff Detail: Cuffs come in different styles, such as snap buttons, zippers, or ribbed knit trimming. Pick one that best suits your style.
When selecting the right type of collar and cuff for your leather jacket, it's important to think about what will look best on you and feel comfortable wearing it. Pay attention to the details like closure type, fabric quality, color and texture - these will make all the difference!
Body Measurement Requirements
Taking accurate body measurements is the key to getting the best fit. To start, measure your chest size by wrapping a measuring tape through your armpits around your chest and for waist size, wrap your measuring tape around your waist(tummy). After that, your full sleeve length can be taken from the exact location of your shoulder seam to the bottom of your wrist.
Before making a purchase for leather coats or jackets, follow these points:
Consider closure options.
Think about different style options.
Always choose quality over quantity.
Fitting Tips
Before purchasing the jacket, wear it and check for a comfortable fit. Check that you can move your arms around easily or not and that the shoulder seams don't ride up too high when you reach forward.
The length of the jacket should be at or slightly below your waistline so that it doesn't look too long or short.
Check for enough space in the chest to comfortably button up without feeling restricted or too tight when sitting down.
Look for zippered pockets and other features such as zippers, snaps, buckles, epaulettes, and adjustable cuffs, which can add style and functionality to the garment.
When trying on a leather jacket, it's important to inspect every part of it until you find one that fits perfectly. The right jacket should feel like an extension of yourself – snug yet comfortable – so take a few extra minutes with each option until you find your perfect match!
Cost-Benefit Analysis
Leather jackets are not cheap, and the price range varies depending on the quality. It's worth considering whether to spend a lot of money on a leather jacket when cheaper alternatives are available. It's important to cover all aspects during analysis before purchasing a leather jacket. Think about it before purchasing something that makes you happy with and will get plenty of use out of it, whether it is an expensive luxury item or an affordable bargain buy.
Maintenance And Care Guide
Proper maintenance is essential in ensuring the jacket remains in its prime condition for as long as possible. Here are some tips on how to care for a leather jacket:
Cleaning: Use a damp cloth or soft brush regularly to remove dirt and dust from the surface of the leather. Also, you can use a pH-neutral cleaner designed specifically for leather.
Conditioning: Apply a conditioner specifically designed for leather jackets at least once every 6 months to keep it soft and flexible.
Storage: Store the leather jacket in a cool, dry place with enough space for air circulation around it.
Repairs: If any damage occurs, hire a professional for repairs.
Durability Considerations
The type of leather used can have a significant impact on the longevity of the garment. Leather can be either full-grain or top-grain.
Full-grain leather is durable because it contains all the grain of the hide and is thicker than top-grain leather.
Top-grain leather has been treated to remove imperfections, making it less durable than full-grain leather. Some finishes, like wax or oil, are more resistant to wear and tear than others.
Take into consideration how much you will be wearing your jacket and which type of finish is best for you. Quality stitching will help ensure your jacket lasts through numerous wears without problems. Look for double stitching at all seams to indicate quality construction and longevity. Lastly, many jackets have features like pockets or zippers that may require extra care to ensure continued performance. Be sure to inspect these details carefully before purchasing a leather jacket to make sure they are up to your standards for durability.
How To Style It With Different Outfits?
Leather jackets are versatile, stylish and can be dressed up or down for any occasion. But there can be some confusion when styling them with different outfits. Here are some suggestions about how you can pair up your outfit with the leather jacket.
Pair your leather jacket with a collared shirt and slim-fit trousers.
Add a stylish belt and classic shoes to complete the look.
Opt for distressed leather jackets paired with jeans, t-shirts, or tank tops for an edgier style. For extra texture, add accessories like hats or scarves.
For a casual look:
Pairing your leather jacket with joggers or leggings and a basic top.
Finish off the outfit with sneakers and statement jewelry for a cool vibe.
Experimenting with colors and accessories is key to creating unique looks that'll set you apart from the crowd.
Whatever style you choose, owning a leather jacket is an investment you won't regret.
Where To Buy It?
Many stores carry leather jackets, both in person and online.
If buying in person, visiting a store known for its quality products is wise. Look for store reviews online and see what other customer's comments about their experience with the store. Inspecting the jacket in person is also helpful to ensure you get the same thing you want.
During online shopping, be sure to read customer reviews before making your purchase. Consider the website's return policy and ensure it meets your needs. Additionally, compare prices across different sites to ensure you get the best deal possible.
Return And Exchange Policy
Many stores will only accept returns or exchanges if the item has not been worn and is still in its original packaging with tags attached. Sometimes store offers refunds or store credit, and sometimes doesn't, as this could impact your decision when making an exchange.
Some stores may charge a restocking fee for returned items and may limit how long you have to return or exchange an item. If that's the case, be sure to familiarize yourself with these guidelines before making your purchase. Ask any questions about returns and exchanges before buying. Know your options if there is an issue with your leather jacket. Also, check if purchasing extra warranty coverage is an option that is available for the product you're considering buying. That will cover the cost associated with repairs or replacements should something happen.
Alternatives To Leather Jackets
One type of jacket is synthetic fleece. This type of garment is typically made from recycled polyester materials. It can provide warmth in cold weather without using animal products or resources. Fleece jackets are lightweight and water-resistant, which makes them best for outdoor activities such as camping, hiking, or skiing. They come in different colors and styles, so they can easily be combined with any outfit.Another option is a down jacket filled with feathers from ducks or geese ethically sourced from farms. It makes them perfect for winter or colder climates. Down jackets usually last much longer than traditional leather jackets. They also come in various colors and styles, so you can find one according to your style. There are plenty of alternatives to leather jackets available that will keep you warm without harming the environment. With a bit of research, you can find a jacket that fits your needs perfectly.
Frequently Asked Questions
What Type Of Leather Is Most Suitable For A Leather Jacket?
Various types of leather are available, each with unique properties like durability, comfortability, style preferences, cost, and care requirements that make them suitable for different purposes. Take consideration the type of leather before making a purchase, as it can affect the look and feel of the jacket and how long it will last.
Does the Leather Jacket Needs To BeCleaned And Conditioned?
Cleaning the jacket regularly and conditioning it at least once every 6 months will help preserve the material's texture, color, and integrity.
Are Every Leather Durable?
Different types of leather vary in strength and quality. Still, full-grain leather is incredibly durable and resistant to wear and tear, making it perfect for those who need something that will last them for years.
Are Leather Jackets Water-Resistant?
Most standard leathers aren't waterproof. However, various treatments can be applied to make them more water-resistant. For example, waxes, oils or waterproofing agents can create a protective layer that repels moisture. The effectiveness of these treatments will depend on the quality of the leather and how often they're applied.
Can A Leather Jacket Be Altered To Fit Better?
The good news is that a leather jacket can be altered. You can tailor it like any other garment. That means you don't have to worry about the fit of your jacket when you buy it. You can always make adjustments later on. I'll prefer alterations done by professionals.
A tailored leather jacket provides a perfect fit, making it look stylish and sophisticated. It also allows for adjustability so that you can make changes as needed over time, such as if your body shape or style preferences change.
Conclusion
Before buying a leather jacket, it's important to consider the right type of leather for your needs according to the budget and how often it needs to be cleaned and conditioned. You can alter a leather jacket to fit better if needed. So when shopping for a new leather jacket, remember these points. You'll have an item that looks great for many years with proper care!