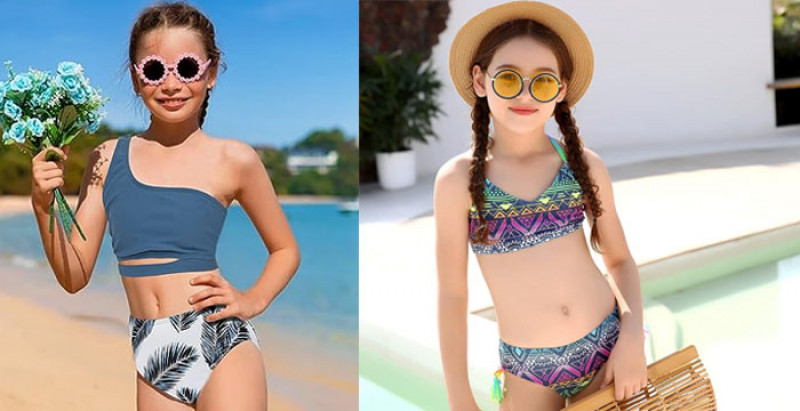 Swimming is a beloved American pastime, especially for kids. In the U.S., about 10.4 million homeowners have pools, making daily swimming possible when the weather permits. Families without personal pools can still get in on the fun, as 42% of Americans can access this amenity through communal facilities.
Of course, to enjoy the water, kids need the proper apparel. Fortunately, there are plenty of options, including stylish two-pieces. Your kiddos are sure to find something fun and fresh with these latest kids bikini trends from pqswim.com.
Patterns
Patterns are all the rage, especially when paired with bright colors. Tropical prints remain a classic with several recurring themes:
Stripes and polka dots are also going strong. Contrasting colors make a good showing here, as they emphasize the pattern.
Finally, animal print is shaking up the beach with rainbow shades that would make Lisa Frank proud. Imaginative and vibrant, these patterns are great for all ages.
Kids are also experimenting with their personal styles by mixing and matching tops and bottoms. If your young fashionistas are interested in this approach, try these tips for a chic effect:
Choose patterns of different sizes.
Coordinate colors.
Incorporate solid or neutral colors in accessories.
Embellishments
Embellishments are looming large in kids bikini trends. Little details can make a big difference to a swimsuit's fit and appearance, transforming an otherwise plain bikini into a fairytale-esque outfit.
Textured borders are a prime example. Raised stitches in a variety of colors add dimension to solid-color bikinis, creating a unique pattern. Contrasting waistbands and hems are a cute alternative if your kiddos dislike the sensation of raised stitches.
Belts and buckles are a low-key way of dressing up bikini bottoms and adding sparkle to solid-color swimsuits. Puka shells are another fun embellishment, though they're somewhat fragile, so make sure your little one keeps this in mind while playing.
If your child likes the look of dangling details but needs something sturdier than shells, consider pom-poms. These embellishments add pops of color to solid suits and don't weigh as much as puka shells.
Finally, if your kiddo is drawn to dainty clothes, consider kids bikinis with frills, laces or ruching. You can even find options combining these embellishments, creating a super-femme effect.
Colors
Recent color trends fall into two extremes: neutrals and bolds. Neutrals are always an excellent option, as they match everything. If your little one wants something more subdued this swimming season, consider the following colors:
On the other end of the spectrum, kids are embracing the rainbow. Neons are a hot topic and are often paired together for a bright, summer-inspired effect. Warm shades, such as yellow, orange, pink and red, dominate the fashion scene.
Purples, teals and blues are also quite popular, perhaps due to the rise in mermaidcore. However, experts recommend steering away from blues since they're difficult to see underwater.
Do your kids need new swimsuits? The new kids' bikini trends are all the rage! You can even look into matching swimsuits for you and your family.