You might have heard and seen people wearing turtleneck outfits but still, it feels like turtlenecks have not received their well-deserved recognition and acceptance by men. But honestly, they are the best piece of cloth that one man can have in their wardrobe. It is easy to carry, warm, and versatile. However, it's sad that very few understand the good qualities of turtlenecks and the rest of the men avoid buying them.
If you look at the old fashion magazines you will definitely find someone wearing a turtleneck. To date, turtlenecks have continued to be an important piece. You must have seen celebrities like Will Smith, Drake, Zayn Malik, and Tom Holland wearing turtlenecks.
So, you should also not hesitate to wear turtleneck clothes and it's time for you to know how to style Turtlenecks.
How to wear Turtlenecks?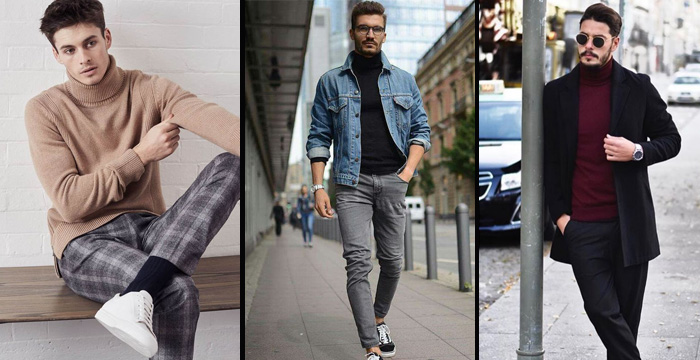 Some of you may be thinking that turtlenecks are limited to a few outfit ideas which are not true. If you want, you can wear it as both formal and informal. In fact, one can wear turtlenecks anywhere including at college and big events. So, now you know how versatile it is.
However, if you have never tried wearing turtlenecks then you must try neutral colors at first and then move towards fancy ones.
Here are some suggested clothing pieces which you should have in your closet to try out different outfit ideas with turtlenecks:
Blazers
Overcoat
Cardigans
Denim Jackets
Suede Jackets
Suits
Buttoned
Flannels
Only turtleneck
So, to provide you with a clear understanding of how you can wear a turtleneck by pairing it with the above-mentioned items. Here's a list of 20 turtleneck outfit ideas for men to wear.
1. Turtlenecks with check pants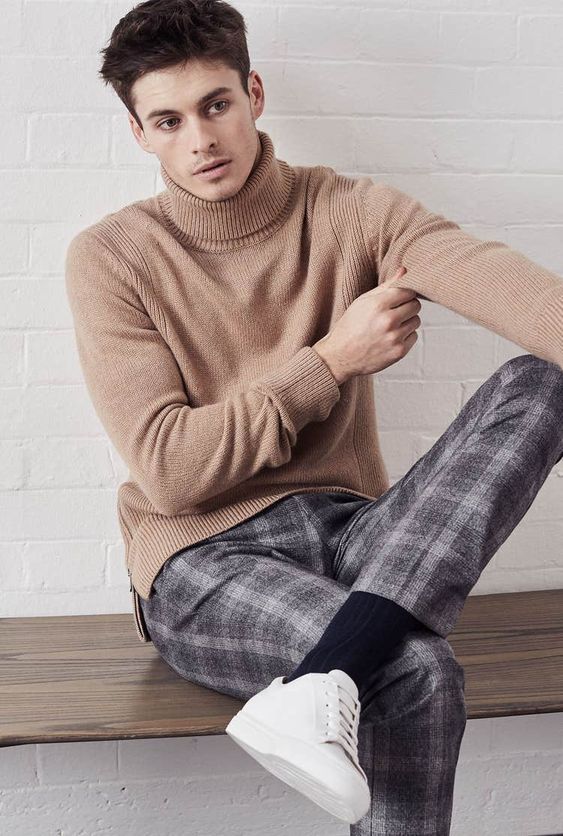 If you are someone who loves wearing check pants, then here's your new add-on to your look. Wear turtlenecks with checked pants and see how cool your outfit will look. And the best part of this outfit is you can wear it at work as well.
2. Oversized turtleneck is your new outfit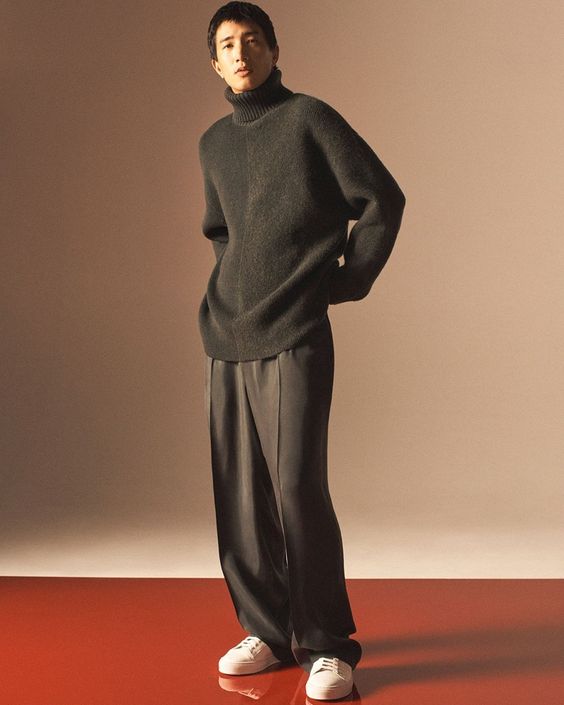 There is a trend of wearing oversized clothes which actually look cool and reflect a different vibe. Turtlenecks can also participate in this trending game. During winters you can wear an oversized turtleneck with wide-leg pants or trousers.
3. Grey blazer with a turtleneck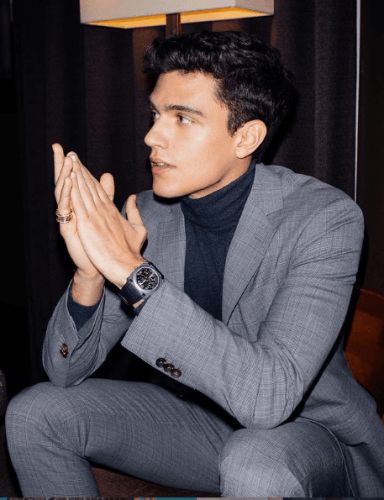 This one is a decent outfit idea to style your turtleneck with. Play with one palette color, go for a dark shade of grey turtleneck and layer it with a light shade of grey. This outfit goes very well for business events, small parties, etc.
4. Business casual style idea with a turtleneck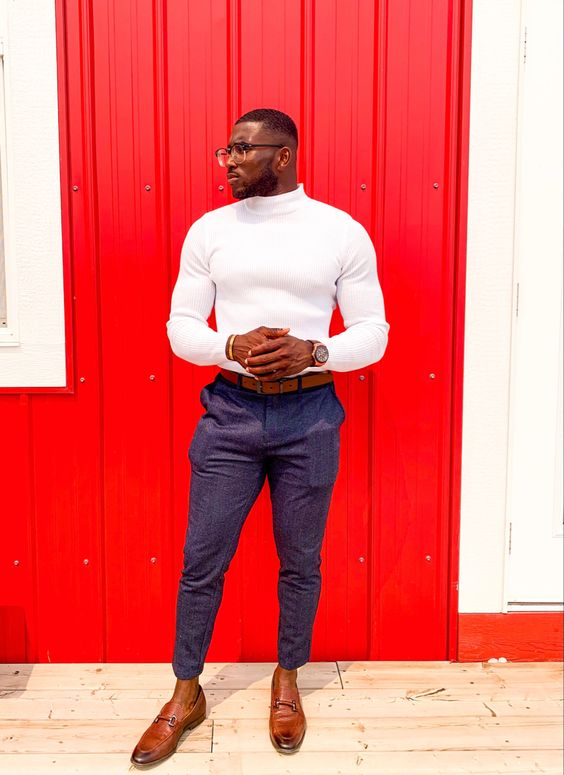 During the winter and fall seasons, you can go for a white color turtleneck without any other layering. Pair it with pants and formal shoes or boots. The entire look is good for formal events and workplaces.
5. Black turtleneck with a denim jacket
Black is a color which almost everyone loves and we all have worn black clothes with denim jackets. Similarly, you can do it with a black turtleneck. Layer it with denim and complementing jeans.
6. Long overcoat with a turtleneck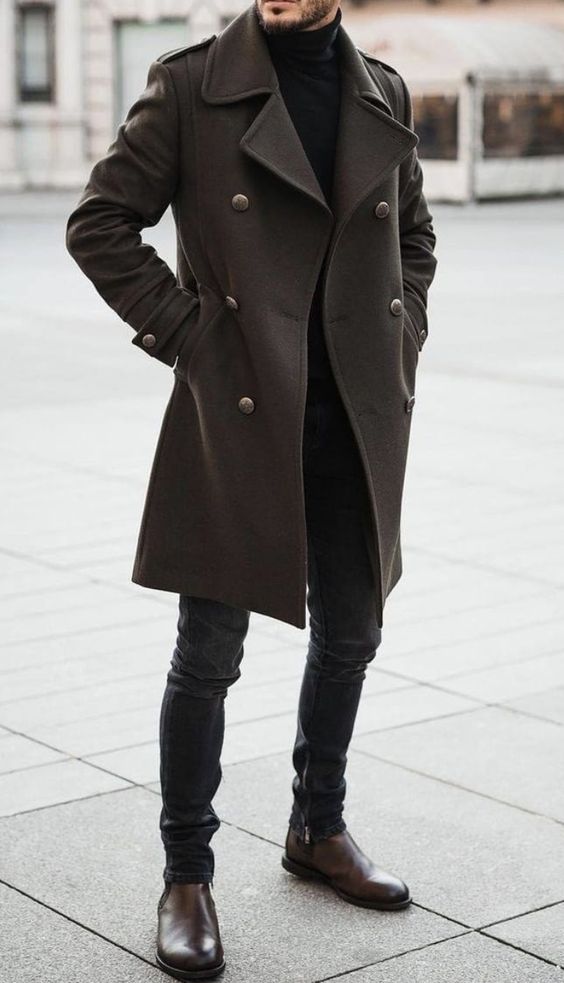 During cold winter nights, you can style your black or grey turtleneck with a long overcoat to look classy and gentlemen. It's one of the perfect winter outfits to go for.
7. Turtleneck with formal suits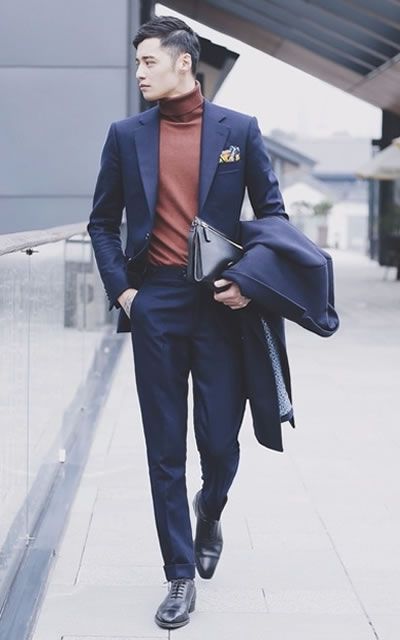 Try a turtleneck next time to look different and classy. Instead of the usual white and black shirt, go for a black turtleneck. Avoid design suits and go for minimal. Make sure to select a matching belt.
8. Turtleneck with checked suits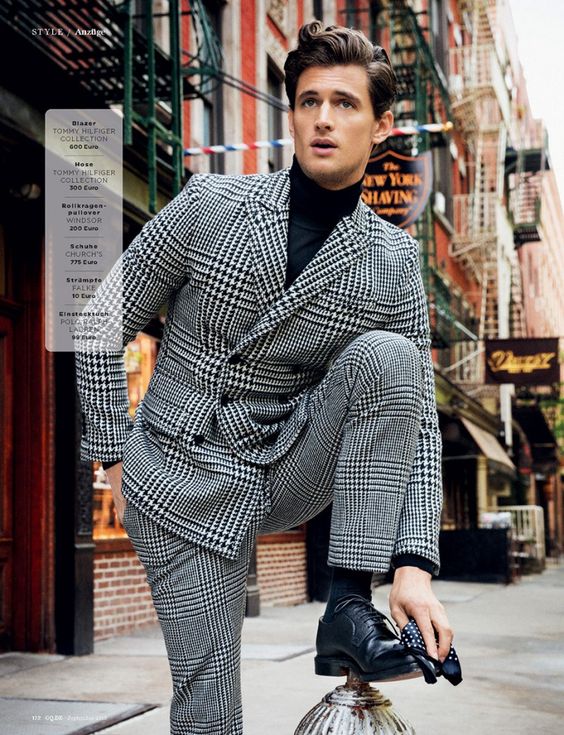 Turtleneck pieces literally go well in every outfit. You must agree that this suit looks amazing with a black turtleneck. So, if you have a checked suit like this, go for a roll-neck item.
9. Spring season style idea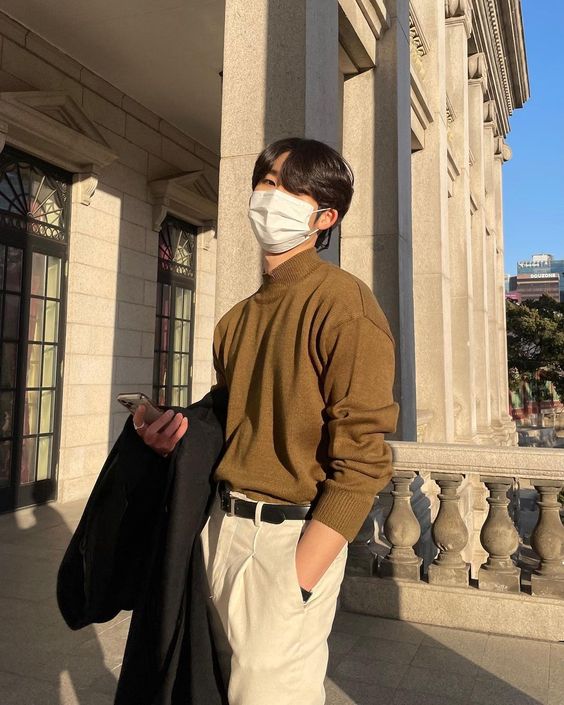 Turtleneck can also go well without layering it with a jacket or blazer. Apart from neutral colors go for light colors like this one and pair them with khaki pants.
10. Turtleneck with ripped denim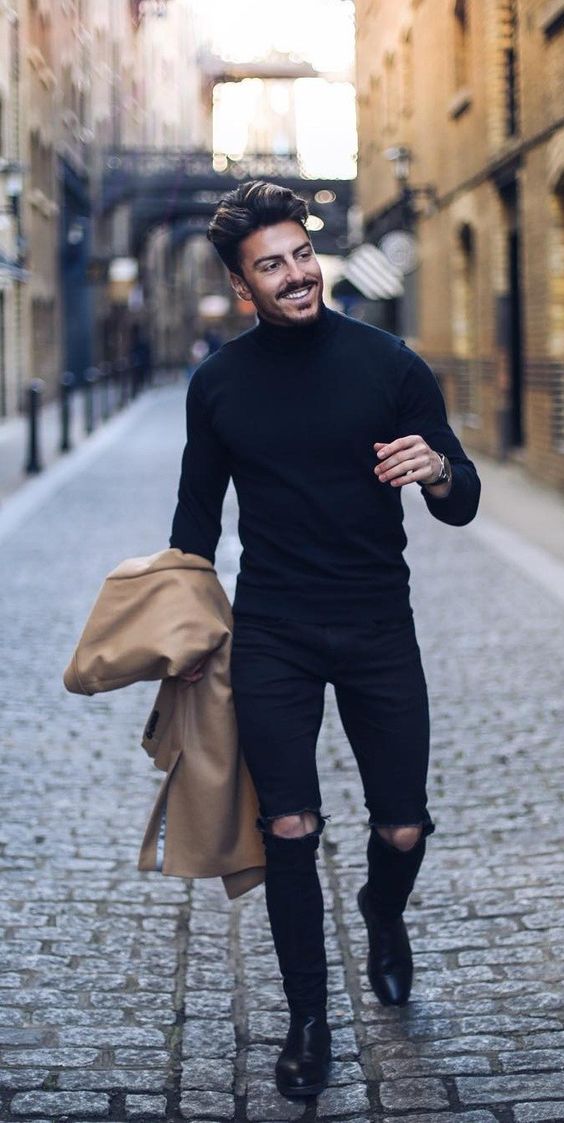 Ripped jeans go well in almost every shirt and t-shirt. If you want to wear ripped jeans in winter, try the new combination, the turtleneck. To accessorize your outfit you can carry a jacket.
11. All black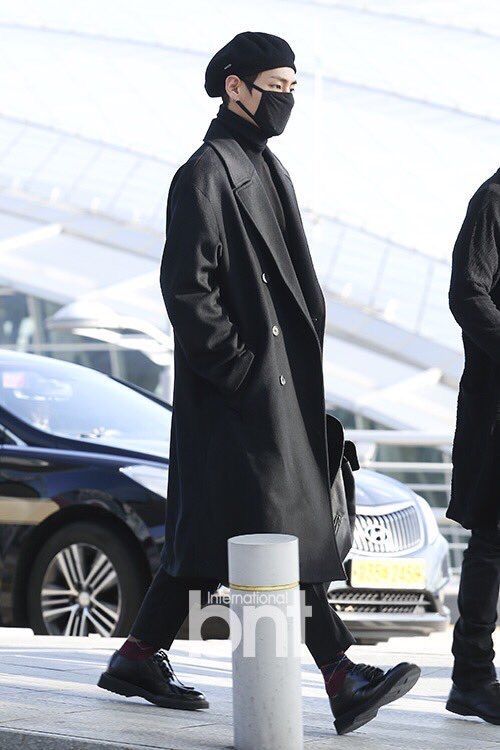 There is nothing wrong if you want to wear black head to toe. Pair your black turtleneck with black pants, jacket, or blazer with matching shoes.
12. Woolen turtleneck style for winters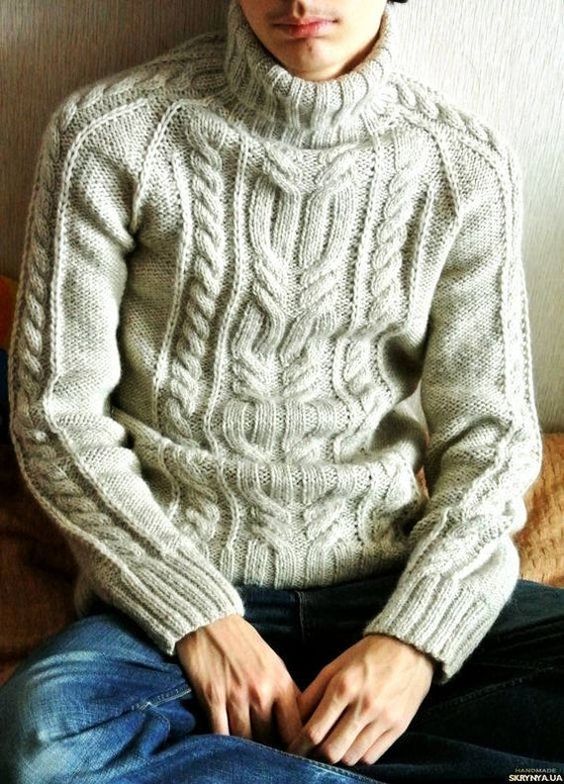 As mentioned, turtlenecks are warm, versatile, and best for winters. To keep yourself warm from the cold you can wear a woolen roll neck with black pants.
13. Turtleneck outfit ideas with accessories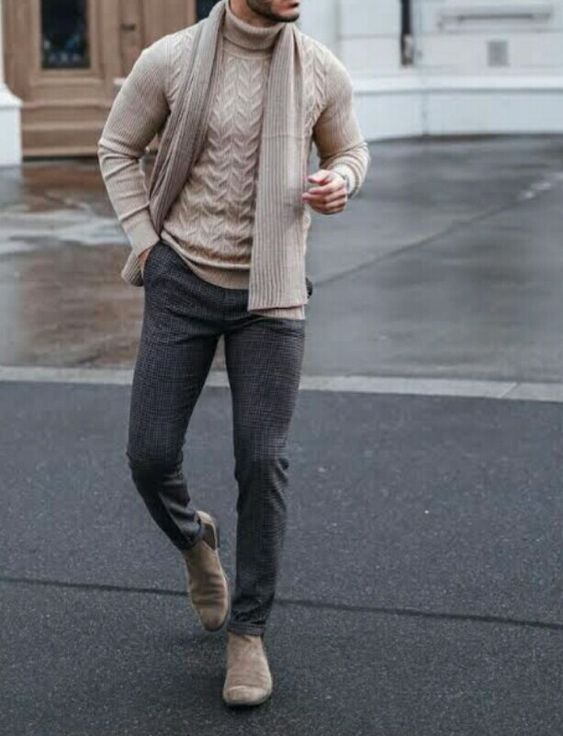 Turtleneck can be accessorized with a lot of things. It depends on you to decide which one you can pull over. For example, a muffler, scarves, shades, lockets, and so on.
14. Turtleneck with a bomber jacket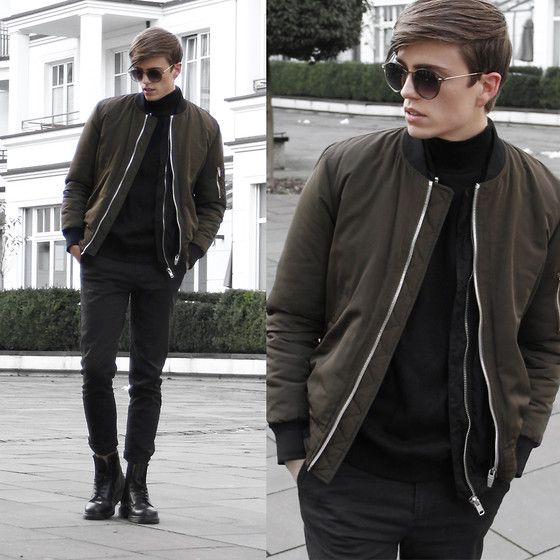 You must agree that you love your bomber jacket. Try to pair it with your neutral color turtleneck. Don't forget to match the color combination.
15. Fancy turtleneck items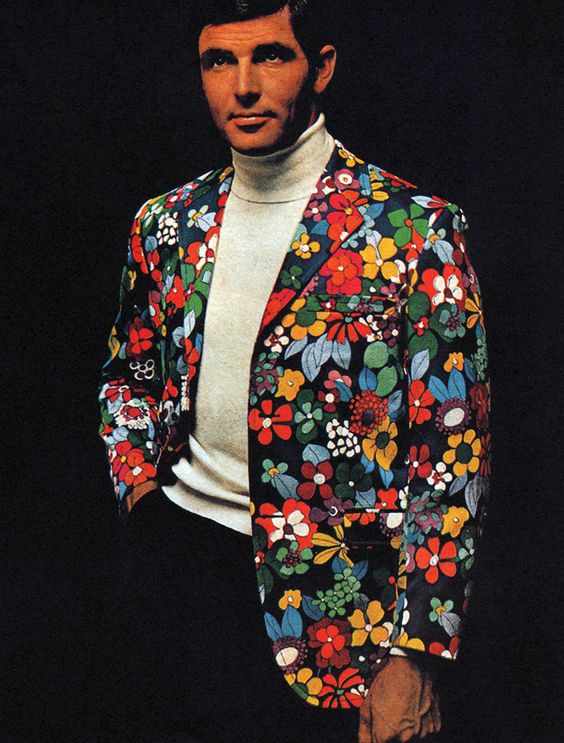 Turtlenecks are not only available in one solid color but also in designs and patterns. You can pick your preferred patterned roll-neck and pair it with black jeans and matching shoes or boots.
16. Aesthetic turtleneck outfit ideas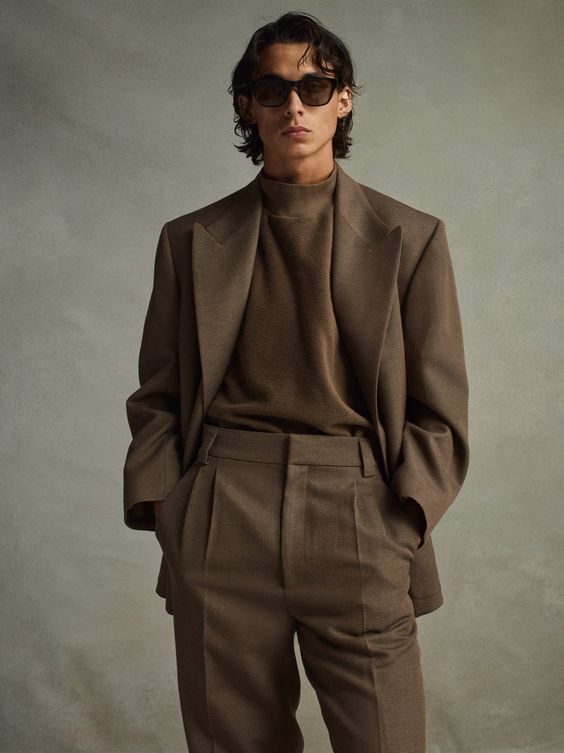 Turtlenecks can reflect aesthetic, vintage, and retro vibes which almost everyone loves. It makes us feel like a part of some fashion industry. Accessorize your retro outfit with matching shades, watch, and shoes.
17. Woolen turtleneck with a black overcoat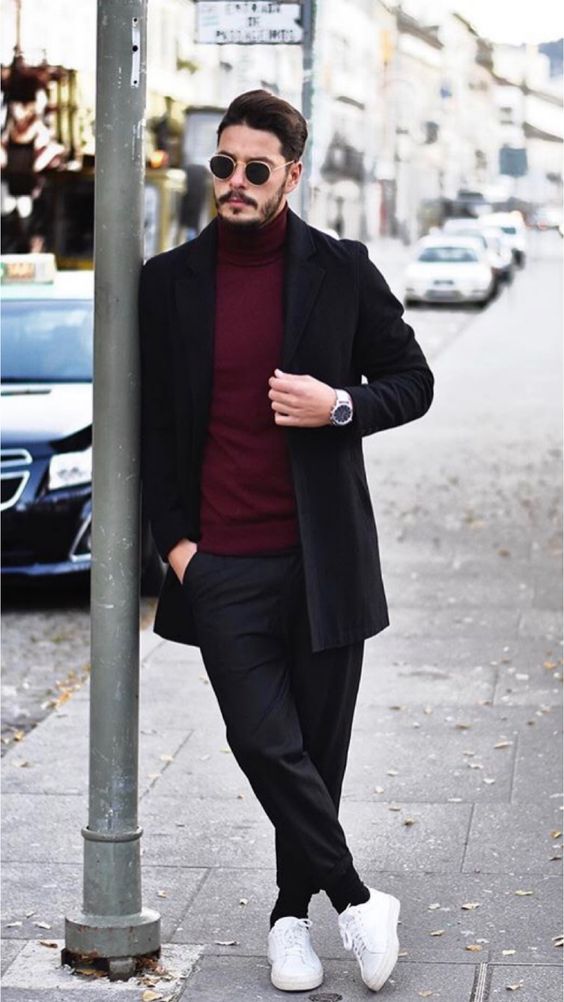 Woolen roll-neck can go well on its own, but layering it with a black overcoat does next-level magic. Try to keep a light color roll-neck when layering it with a black overcoat.
18. Fancy outfit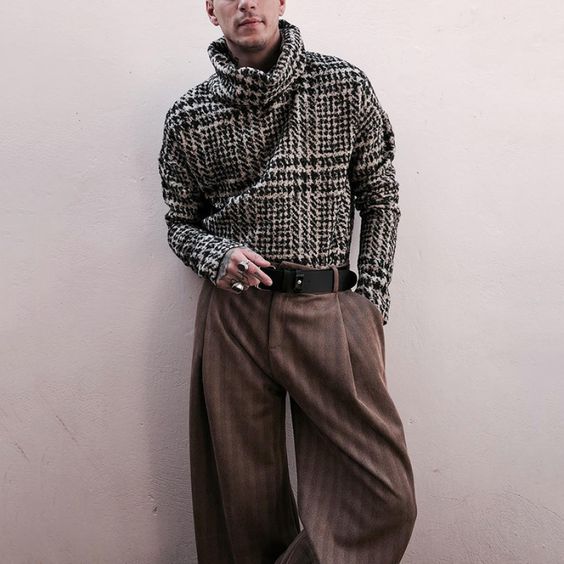 Turtlenecks can go great not only in formal events but also at fancy parties. You can wear it with fancy designed jackets.
19. Leather jacket and turtleneck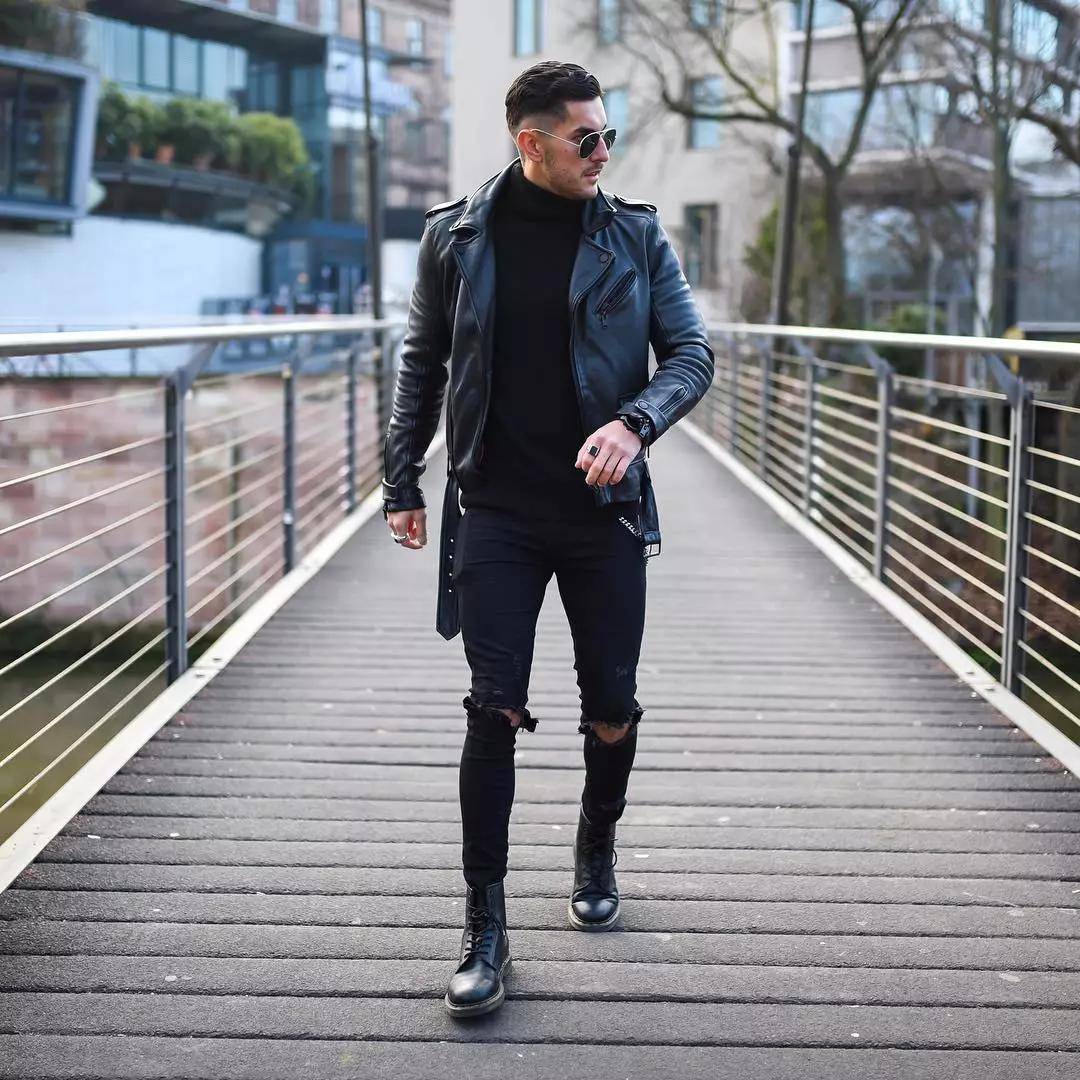 Light/dark shade turtlenecks can also create a cool look when paired with leather jackets.
20. Turtleneck for plus-sized men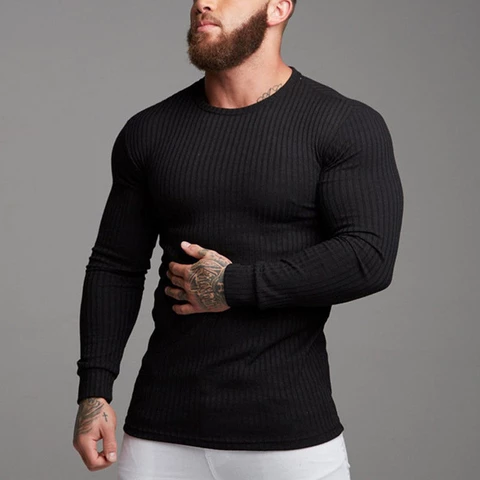 Turtlenecks are pieces that everyone can wear men, teens, women, and even men with larger bodies. Basically, the roll-neck looks great on everyone.