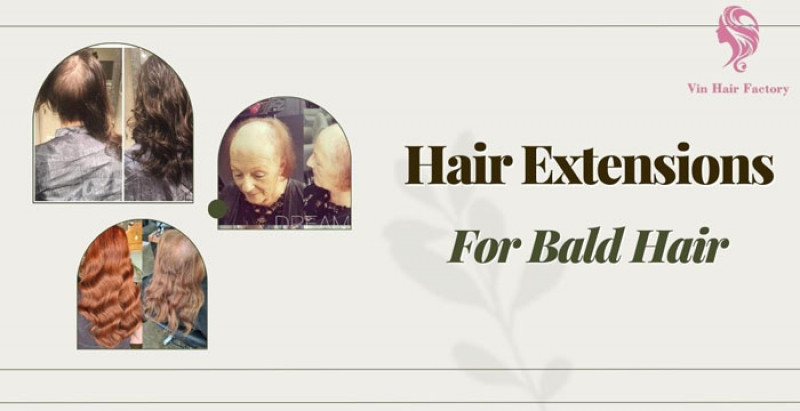 Baldness is a phenomenon in which hair falls out or is extremely sparse in one or more areas of the head in both men and women. To improve this problem, many people have turned to hair extensions for bald hair. This is a popular solution thanks to the convenience and efficiency it brings. In this article, let's learn about hair extensions products that are most suitable for bald people and reputable places where you can buy these products.
1. The Best Hair Extensions For Bald Hair
Some hair extensions products are very popular today that you can refer to if you need to cover up your bald areas.
1.1. Closure
Closure hair is a portion of the wig that is attached to the occipital bone or the crown of the head. Its purpose is to increase hair thickness and volume while also covering the scalp. Closure hair, constructed from natural hair fibers and designed to mimic the scalp, provides a natural and comfortable appearance.
There are numerous varieties of closures, including three-part, middle-part, and free-part. Three-part closures enable for three distinct hair parting options. Middle part closures offer only one grooming option, as the hair can only be parted in the middle. Free-part closures allow you to part your hair however you choose and this variety is frequently preferred due to its adaptability.
Although closures typically appear in a 4x4-inch size, there are 5x5-inch and 6x6-inch closure wigs that cover a larger portion of the head. You can select the most appropriate option based on your head size, so it is essential to measure your cranium before making a purchase. Occasionally, larger sizes are slightly more expensive.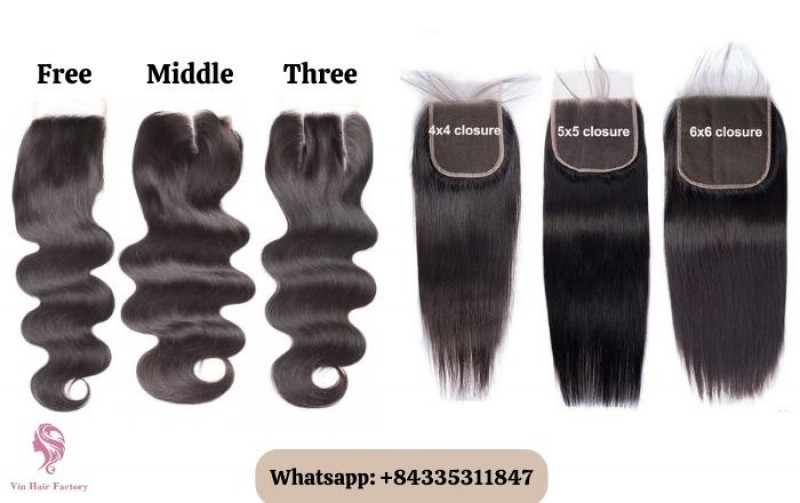 Closure hair is a useful solution for bald hair
1.2. Wigs
Wigs have been a common solution for centuries, and modern wigs are extremely versatile and natural-looking. They are available in a variety of styles, lengths, and textures to accommodate various tastes. Wigs provide a realistic hairline, which makes them ideal hair extensions for bald hair. Wigs are a fast and easy way to change one's appearance, providing a full head of hair and boosting one's self-confidence.
Som popular types of hair wigs:
Full lace wigs: Full lace wigs are meticulously crafted with a base made wholly of lace, including the front, sides, and back of the wig cap. Individual hair strands are affixed to the lace cap of this type of wig, allowing for a natural-looking hairline and the ability to part the hair in any location on the scalp.
Lace front wigs: Lace front wigs feature a lace cap that extends from ear to ear along the front hairline. The back and sides are frequently constructed from a different material to reduce costs while ensuring maximum comfort and a cool, dry sensation.
360 lace wigs: 360 lace wigs have a lace cap that encompasses the entire circumference of the scalp except for the crown. Typically, the top is constructed from a breathable fabric material for comfort. It combines the versatility of styling found in full lace wigs with the affordability of lace front wigs.
Each wig style will have different characteristics, ensuring to meet all customer needs regarding the hair that needs to be covered due to baldness.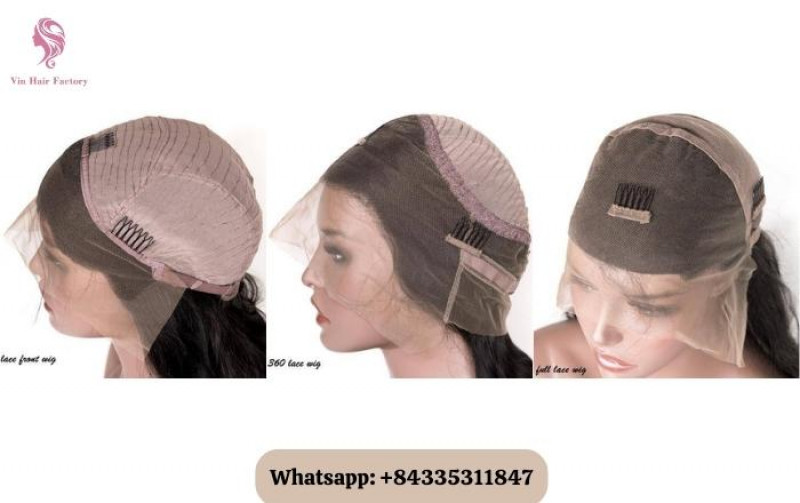 The 3 most popular types of hair wigs
1.3. Hair Toppers
A hair topper is a small hairpiece that is attached to the scalp to conceal thinning areas or baldness, add volume, and create the appearance of healthy hair. Hand-sewn hair strands are attached to a head-fitting monofilament cap made of a breathable mesh-like material to create a hair topper. Hair extensions are available in a variety of designs, lengths, and colors to accommodate any head shape.
Hair topper is suitable for balding hair on the top of your head or the front area of your head. This type of hair does not have a large coverage area like hair wigs but they are lighter and less bulky. Hair topper is also quite easy to care for and you can use it from 6 months to 1 year. Hair toppers cannot be missed if you are looking for hair extensions for bald hair.
2. Top most reputable hair extensions for bald hair suppliers
In the world of hair extensions, finding a reputable supplier is a crucial step to ensure product quality and reliability. With a range of options, let's explore the most famous and reputable suppliers of hair extensions today
2.1. Vin Hair Factory
Vin Hair stands out as one of the most reputable hair extensions manufacturer located in Vietnam. Renowned for their hair extensions and top-tier customer support, they have solidified their position in the industry.
Product range: Vin Hair boasts a wide selection covering a wide range of hair extensions for bald hair including hair wigs, closure, frontal, toppers, tip-ins, tape-ins, clip-ins,,... with a variety of lengths , size, style and color. This supplier also has a product customization service, ensuring to meet all customer needs no matter where your bald hair is.
Hair quality: Vin Hair is known as a reputable hair manufacturer whose hair sources are obtained directly from donors who are Vietnamese women. With a commitment to 100% virgin human hair and a rigorous dedication to quality, Vin Hair ensures that each strand embodies the pinnacle of beauty and durability, leaving customers with an unparalleled sense of satisfaction and confidence.
Pricing: Starting $8 per 8" 100g hair bundle
Customer support: Striving for excellence, Vin Hair is committed to delivering impeccable customer service, punctual shipments, and responsive communication.
Vin Hair's years of experience in the industry reflect their commitment to quality and customer satisfaction. Customers can trust in choosing Vietnamese hair extensions from this supplier to ensure their confidence and natural beauty.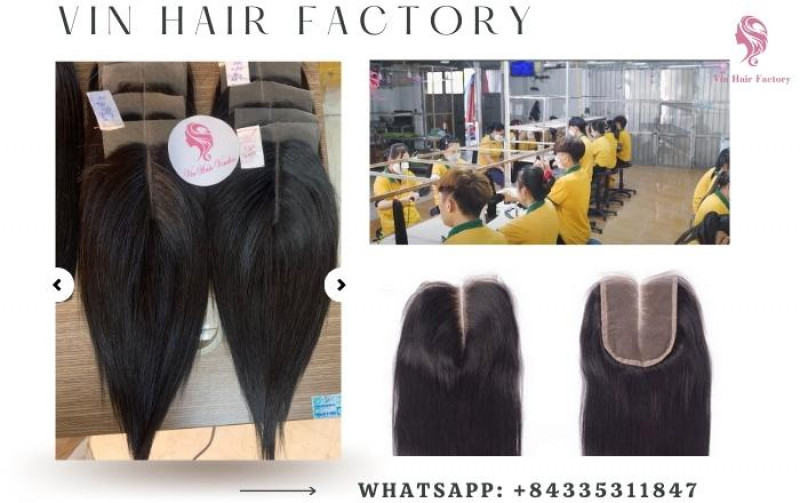 Vin Hair stands out as one of the most reputable hair extensions manufacturers located in Vietnam
2.2. King Hair Extensions
King Hair Extensions is a good choice for those who are looking for diverse and high quality hair extensions for bald hair
Product range: Closure & frontal, hair wigs, raw hair bundles, ….
Hair quality: Renowned for their commitment to quality, King Hair Extensions uses 100% Vietnamese raw hair. Their extensions are known for their natural luster, minimal shedding, and longevity.
Pricing: Starting $50/per product
Customer support: King Hair Extensions excels in customer service, offering personalized consultations to help clients choose the best extensions. They also have a quite flexible return & refund policy to help you buy with confidence.
With a reputation for quality products and good customer service, this supplier deserves to be a reliable choice for hair extensions.
2.3. K-Hair Vietnam
K-Hair Vietnam has created a great reputation in the hair extension industry with many diverse hair textures and styles, especially suitable for those who are looking for hair extensions for bald hair.
Product range: K-Hair Vietnam is a supplier that focuses mainly on hair closures, frontal and wigs.
Hair quality: K-Hair Vietnam is dedicated to providing premium-grade Vietnamese hair extensions, ensuring that each strand is carefully selected and processed to maintain its natural characteristics.
Pricing: starting from $32/per hair closures
Customer support: This supplier places a strong emphasis on customer satisfaction. They offer a user-friendly website, clear product information, and a responsive support team to address customer inquiries.
With many years of experience in the industry, K-Hair Vietnam has built a reputation for prestige and quality. Customers can rely on their products to alter their hairstyles with sophistication and confidence.
Conclusion
Hair extensions serve as a game-changer for individuals dealing with baldness, providing a boost in confidence and a natural-looking solution. Choosing the right hair extensions is essential, especially for those with bald spots. Consider the hair extensions for bald hair options and reputable suppliers we have listed to make the decision that is best for you.