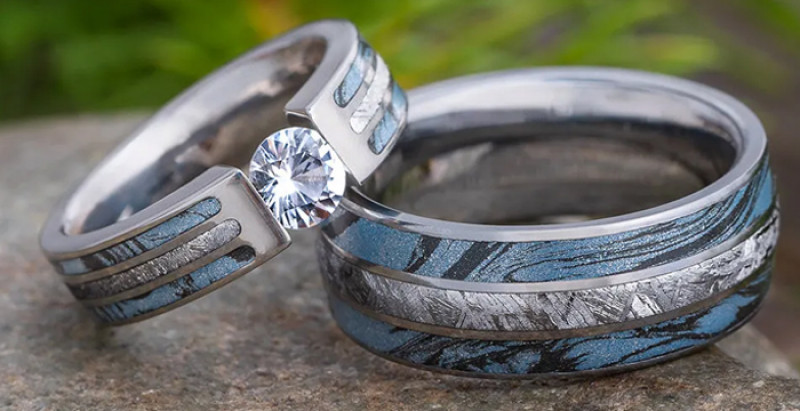 In 1651, Suzuki Shigeyoshi was born in the Dewa province of Japan. He showed a talent for craftsmanship and at the age of 17, he moved to Tokyo to train under a master craftsman in a Shoami school.
His Shoami master gave him the name Denbei, and he was also allowed to take the name of the school too. Denbei Shoami invented Mokume Gane which was used to create unique sword guards for katana.
His style became famous, and some of his important pieces from the Edo period have been sold at auctions such as Christie's in London. One set realized a sale value of £18,800 or $22,638 at the time of writing.
Now, you are more likely to see Mokume Gane used for pieces of jewelry such as wedding rings than on sword guards, but Denbei Shoami's style lives on.
What actually Is Mokume Gane?
Mokume Gane is a process where different metals can be forged together. To create true Mokume Gane, you need at least two different types of metal to be stacked and heated to a very high temperature to fuse them.
Generally, precious metals are used, and the sheets must be scrupulously cleaned first. The sheets of metal are stacked, compressed very tightly, and placed into a kiln. The temperatures must be almost hot enough to melt the metal, but not quite. The metals then mix to a degree and cause other layers to form. The result is a bonded billet that once shaped and forged will reveal a wood-grain effect, and this gives Mokume Gane its unique appearance.
Mokume Gane jewelry is a direct result of Shoami's original invention for creating decorative sword fittings.
What Is It Made From?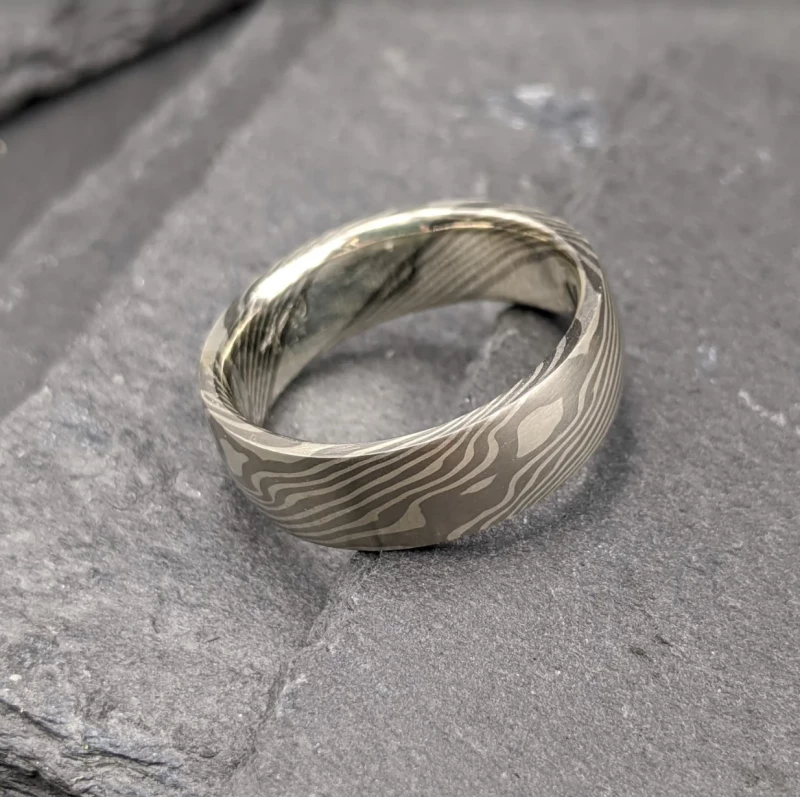 To create the wood-grain effect, at least two different types of metal are needed. These can be alternately stacked to create the bond in the kiln and the desired effect.
Typically, only precious metals are used for Mokume Gane, although other metals such as copper and bronze are sometimes used also. Traditionally, silver and gold would be used along with certain copper alloys such as shakudo and nickel silver.
So, silver, copper, and gold alloys are all used in Mokume Gane, but you could expect to see platinum and palladium used also.
Many jewelry designers are using Makume Gane to create pieces today, and museums across the world hold some of the most interesting pieces from the past. Tiffany & Co. are one jeweler who has created Makume Gane, and some of their pieces are on display in the Metropolitan Museum of Art, New York.
How Is Mokume Gane Jewelry Used?
Mokume Gane can be used to create many objects such as the Tiffany cigarette case at The Met. And with the jewelry, you can expect to find Mokume Gane used in a variety of ways including brooches, earrings, necklaces, and rings.
Indeed, Mokume engagement rings from jaumelabro.com are becoming something of a trend for those looking for something truly unique. Due to the manufacturing process involved, no Mokume Gane ring will match any other.
It is strange to think that something that was invented to help decorate samurai swords or katana, would end up being used for jewelry in modern times.
Certainly, if you are looking to level up your jewelry collection, adding a piece of Mokume Gane would help.
Is Mokum Gane jewelry Exclusive?
The process to create Mokum Gane can easily go wrong. The conditions have to be perfect, the metals thoroughly clean and dry, the temperature right and luck might play a part too.
This makes the jewelry very special, but not completely exclusive. Many online jewelry vendors specialize in Mokum Gane, and you can find brick-and-mortar jewelers selling pieces too.
If you are into Japanese clothing, fashion, and style, then Mokum Gane may be of interest to you, but you may have to pay a little more than regular jewelry.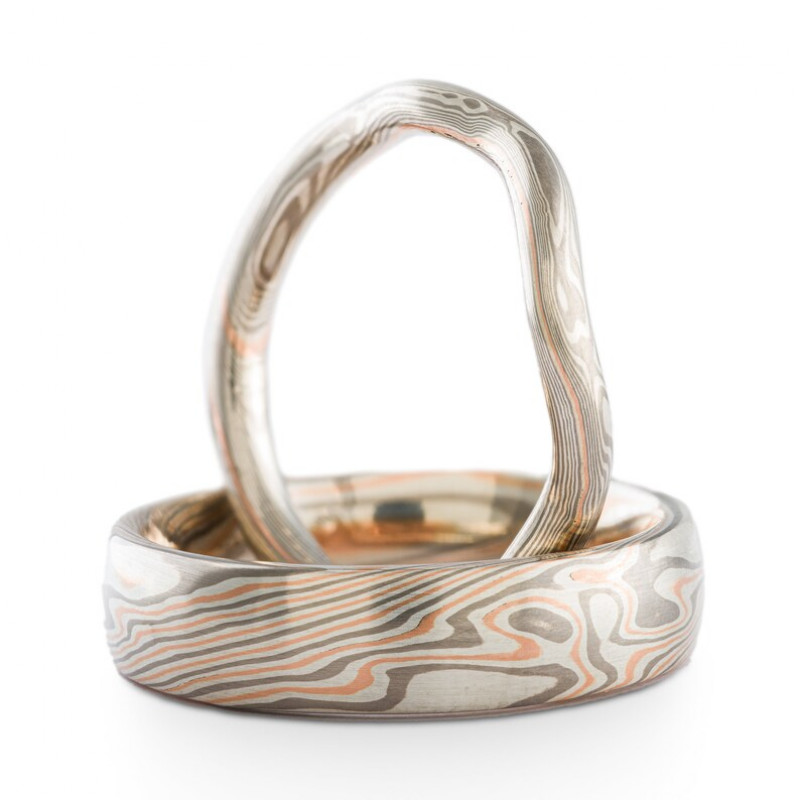 Is Mokum Gane Expensive?
The process involved in creating this wood-grain metal effect makes Mokum Gane a little more expensive than your standard rings and brooches. The skill involved plays a part too, as does how the Mokum Gane is created.
If your Mokum ring is solid it will be worth more than one with a liner. And a point to remember is that Mokum can be resized, but only if it doesn't have an inlay.
Summary
You may have to pay a little more for the uniqueness of Mokum Gane, but now might be the time to invest in some.
There is a definite trend growing for Mokum Gane in engagement and wedding rings, and fortunately, the price of gold may be dropping. The World Bank has predicted that gold will keep dropping in price during 2023. So, that Mokum wedding band you have in mind, might be a realistic option after all.