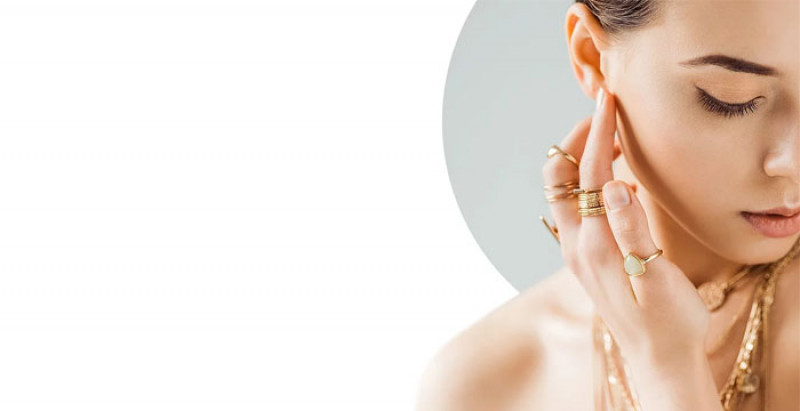 Every year we find ourselves, several times, in the situation of having to choose a gift for a special person, whether for their birthday, Christmas, Mother's Day, anniversary, etc. Therefore, it is normal that we have a hard time choosing the perfect gift or we simply have no idea what to give.
In these situations, an ideal option is to give a piece of jewelry that symbolizes everything that person means to you. But what jewel do I give her? In this post we will answer that question and give you a series of recommendations on what type of jewelry to give a woman depending on your relationship with her and her personality.
Also remember that nowadays design and elegance are valued more than the material with which it is made. Don't rely only on the exclusiveness of certain materials or gems.
Before moving on to the recommendations, we would like to delve a little deeper into the reasons for giving a piece of jewelry.
Why Give A Jewel?
In every gift, the goal is to generate a positive impact on the person who receives it. A gift is a gesture made to express to a special person how important they are to us. For this reason, a piece of jewelry is an ideal gift, because they are accessories that are part of our life to the point of becoming part of our identity, in the same way that an important person would.
That being said, now is the time to move on to the recommendations.
Depending On Your Relationship
Golden Jewelry For Your Partner
Whether you opt for earrings or rings, golden are an exceptional way to express the love you feel for your partner. An example of this type of jewelry could be a white gold promise ring with diamonds also, a gift that will undoubtedly leave any woman speechless.
For Your Lovely Sister
If the woman you are looking to surprise is your sister, you can choose to give her a pendant or earrings with gems such as topaz or quartz. The important thing here is that you know her style, if she doesn't usually wear a pendant, some earrings according to her tastes, whether small or hoops are a great option. On the contrary, if she usually wears a pendant, we recommend that option, since it is more difficult to make a mistake if you give one as a gift.
For A Friend, The Best Thing Is Something Simple
In this case we are looking for a casual accessory, not too flashy and as practical as possible. The idea is that you can wear it every day. Many times it is difficult to know exactly what a friend likes, no matter how close she is to her. Therefore, we recommend opting for a minimalist design, without combinations of colors or materials.
Special For Mother
A mother will always be a special person for any of us and that has to be reflected in her gift. In this case we want to leave aside what we said about design and exclusivity a little, look for a beautiful piece of jewelry, yes, but we recommend that you also go for something a little more exclusive.
Depending On Your Way Of Being
For the most classic ones, it is advisable to give jewelry with simple, elegant and simple lines. This type of jewelry is easy to combine and surprisingly versatile.
If you like minimalism, it is obvious that you should opt for jewelry of this style. If you are interested in this type, in this post we talked about minimalist jewelry for weddings, but it will surely also help you to get a general idea.
Think about it, is the person you are going to give a gift to always the funniest person in the room? If the answer is yes, you should give her a piece of jewelry that represents that. For this work you can choose jewelry with unusual and dynamic shapes.
If it is not how fun she can be, but her bravery that sets her apart from the rest, a piece of jewelry that represents this attitude to the world can be the most beautiful gift you can give her. A pendant with a powerful symbolic charge like a laurel, for example, representing value, honor and greatness.
For the more mystical people, you could leave Western jewelry aside a little and look for a piece inspired by traditional Indian or Arab jewelry, two styles that surely fit all women with this trait.
Finally, if that special person is defined by her strong personality, you should probably opt to give some jewelry with her initials, such as a pendant or golden bracelet.
Bonus tip: Think About Your Profession
If after the advice seen above you are still not sure what jewelry you should give him, we want to leave you some advice that can make your gift the most special. If the person you want to gift likes her profession, her jewelry could be linked to her. Think about what you do and look for typical elements in your profession. For example, if she is a hairdresser, you could give her a bracelet adorned with small silver scissors, a gold hair dryer, etc.
Furthermore, these types of gifts are ideal not only for birthdays or anniversaries, but also when you want to celebrate some professional merit or on such special occasions as your retirement, or even your graduation.
Conclusions On What Type Of Jewelry To Give A Woman
As you can see, although the jewelry options are very wide, if we carefully analyze the person we want to surprise and our relationship with them, the possibilities are significantly reduced, leaving us with a few styles, among which now we must choose confidently. Although if you really know the person you want to give the gift to well, we are sure that they will love your decision.