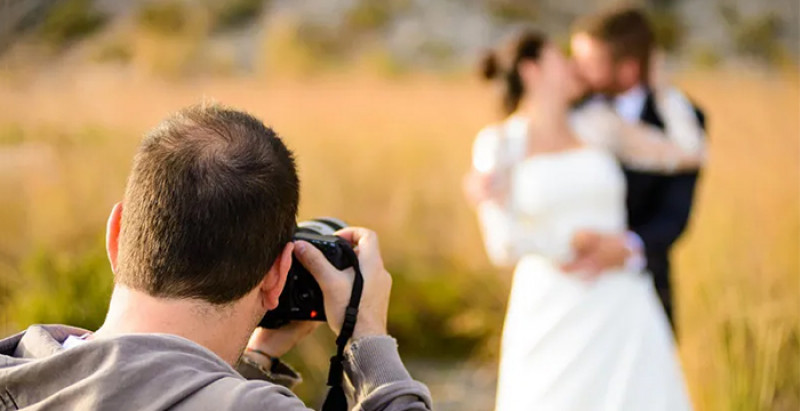 Every business owner wonders where to find clients who will be using their services or products. Wedding photographers are no exception. So, today, we'll discuss different ways for you to promote yourself so that brides-to-be can simply find you!
Referrals From Past Clients
Here's one of the most efficient strategies to get clients as a photographer (also known as word-of-mouth marketing). Positive feedback about the services offered has the greatest impact on the professional's reputation. It should be agreed upon in advance for your clients to give recommendations. You should also decide how many recommendations you want to obtain and discuss this with the client.
These recommendations fall into three categories:
Your clients refer to you as a professional. This is the most common, but not so effective, method since there is always a human aspect in any circumstance - the customer can promise, then fail to follow through.
Your customers refer new clients to you. This is the most effective kind, but it is less common. People are not always eager to providecontact info of their friends and acquaintances so that the photographer might contact them and offer his services.
Referral recommendations - this form entails awarding the client for suggesting the photographer's services to their friends and acquaintances, who will then be more likely to follow the recommendation. A free photo session, free retouching, or a master class might be used as a reward. The reward needs to be discussed in advance as well.
All of these tactics are helpful, but keep in mind that you CANNOT demand those references from a client!
Social Media (Instagram / Facebook / Pinterest / TikTok)
This technique is quite effective nowadays; the main thing is to correctly manage your social media page or group. Essentially, SMM is the key to success for a photographer. In reality, this is the simplest, cheapest, and quickest approach to get clients as a wedding photographer. You boost your personal brand, establish yourself as an interesting specialist, and people employ you, that's it. With the appropriate technique, this can be accomplished with no investments, albeit it will most certainly take more time than well-designed advertising.
They can learn about your services and explore your online portfolio by using Facebook, Instagram, and Pinterest. The important principle is to post on a regular basis in order to not disappear from the feeds of your potential clients. This will also get you promoted and attract new followers. TikTok is a newer platform on the market, but businesses are successfully using it to promote their services or products. TikTok is distinct from the previous three social media platforms described because it primarily focuses on short videos (3 minutes maximum).
Wezoree
Here's one of the most amazing platforms we've ever seen. Wezoree is essentially a wedding community that features wedding vendors from across the United States. It's also a user-friendly website where customers can quickly and easily find the professional, they want. As newlyweds visit the website, they are given the option of choosing what they are looking for: photographers, videographers, planners, venues, bridal salons, and so on. Also, it is a great chance for promoting your portfolio. Their main advantage is that not every photographer can be among the Wezoree community members. So, your works should reflect their aesthetics.
Customers will be able to discover where you are located, whether you are working outside of the city, how much you charge on average, and leave a review after working with you. In general, Wezoree is an incredible place for professionals wondering how to get wedding clients for photography. Moreover, their Inspiration blog will be useful during your wedding preparation.
Referrals From Wedding Vendors
If you know any wedding vendors, this is an excellent opportunity to receive referrals from them. Collaboration with other photographers can also be advantageous (yes, other photographers are not your enemies). In fact, the United States has so many weddings each year that there is plenty of work for everybody. There is a tendency for clients to be passed between photographers. For example, if your colleague is asked about shooting a wedding on a day that he has already booked, he suggests you as an excellent option. As a result, you now have a new customer.
The same is applicable to other vendors and event venues. First and foremost, newlyweds look for a venue, and once that is secured, the quest for other vendors begins. Here, a venue (with which you have already agreed to collaborate) refers to you as a fantastic specialist. Anybody you've worked with (and were pleased with the communication) could become a future partner in the mutual promotion. This way, finding clients as a photographer becomes pretty much easier.
Tips To Get Photography Clients In 2023
The first step toward gaining clients is to create an appealing portfolio. This allows you to show potential clients your work and exhibit your talents and value as a professional. Here are a few more suggestions on how to get clients as a photographer:
Shoot more.
Determine your niche. Practice shows that the narrower the scope of work, the better.
Improve the quality of your work by attending workshops and taking classes.
Work along with other wedding vendors.
Begin working with a website that provides a list of wedding services, such as Wezoree.
Request references from previous clients.
Sum it all up and see how fast you're being booked!