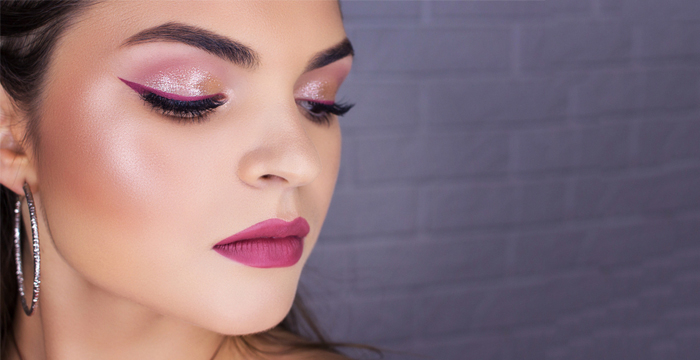 Eyeliners are every girl's go-to makeup product to accentuate their eyes. Be it a day party or an evening one, one cannot do away without applying a stroke of eyeliner. This is because they help define your eyes further letting your eyes do the talking.
Winged eyeliner is the talk of the town in the contemporary era. Winged eyeliners made their debut in the 50s and with every passing decade, they became more dramatic. Today winged eyeliner is back in town and is all set to slay your look again. It is symbolic of power and confidence which paves the way for most women wanting to master this.
From Pinterest to Instagram, every second girl is struggling to nail the art of winged eyeliner. This blog aims at helping a budding makeup enthusiast to understand the maths behind applying winged eyeliner. We will also befriend you with some tips and tricks to prevent the process from becomingqueerer.
Things to consider before applying eyeliner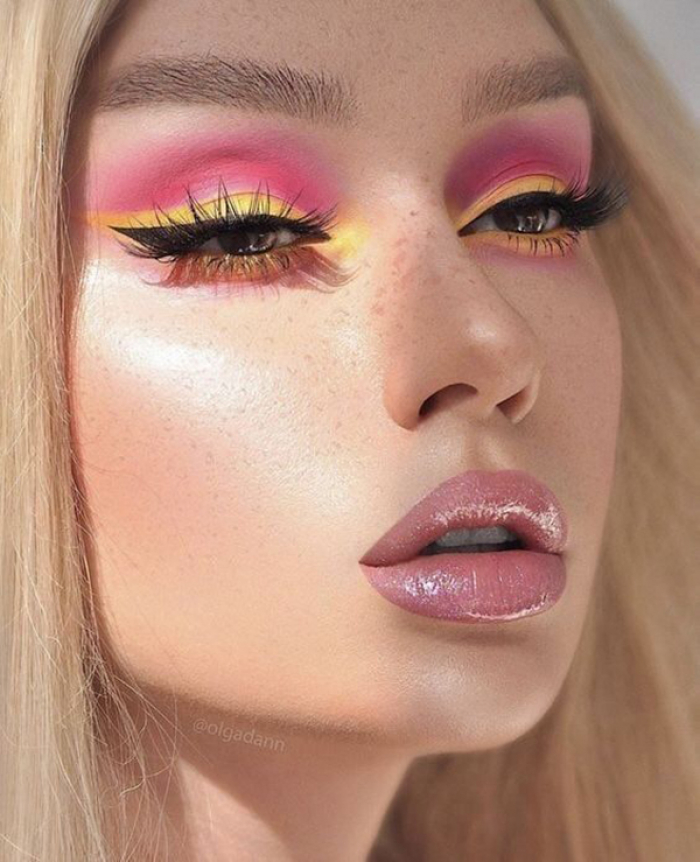 Getting hands-on winged eyeliner application could be time-consuming but once you are through the achievement is surreal. With this motivation, we are quickly jumping onto the things to consider before applying eyeliner. If you take care of these points, the application of winged eyeliner will be a cakewalk for you.
Prep your eyes: Preparing the eyes would include thorough cleaning of the eyes so that no residue is there from the previous makeup. Then, set the base by applying eye primer or loose powder as it may please you. Follow it with your favorite liner and you are good to go.
Type of eyeliner: From quick drying to waterproof, there is a vast variety of eyeliners available out there. Choosing the type of eyeliner may require evaluating the finish a liner offers, how pigmented it is, and above all the color of the liner. Other than that, also consider the formula like pencil, gel, or liquid, whichever you are the most comfortable with.
Placement of eyeliner: The shape of your eyes has much to do with the placement of eyeliner. Some people have hooded eyes, they must begin the application from close to the lower lash.
This would create an illusion near your eyes and make them appear bigger.
The skin near your eyes: More often than not, we witness that the skin near our eyes has got fine lines. These creases near your eyes could prove to be a real hurdle when applying the liner. So, the key is to stretch your eyes and create larger strokes for a perfect eyeliner look.
Step-by-Step Guide to Apply Winged Eyeliner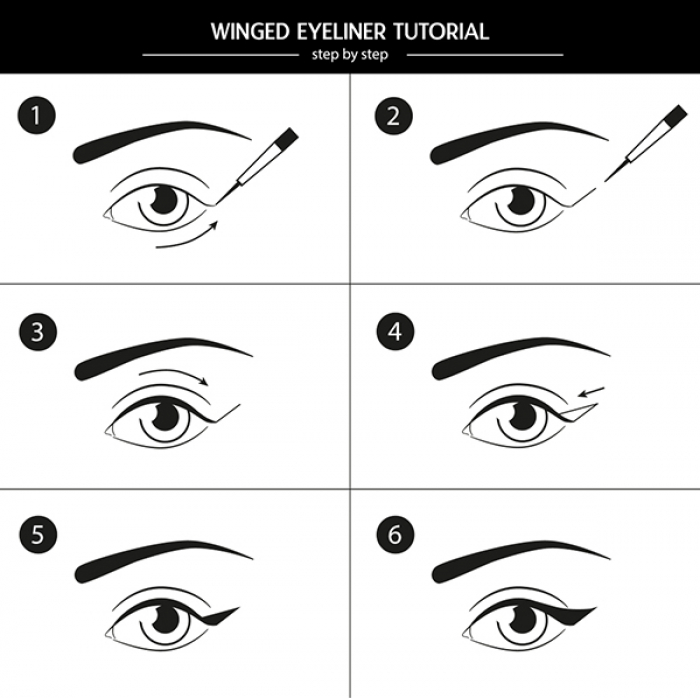 Without much ado, we are guiding you through the process of applying winged eyeliner. Here it goes:
Thorough cleaning: Either wash your face or wipe the eyelids to clean the residues that exist from the previously put makeup.
Cleaning thoroughly will provide a neat base for applying eyeliner.
Base makeup: Once you have cleaned the eyes, this is your time to prepare your eyes. Before applying the eyeliner, prepare your eyes with the base makeup. Use eye primer, concealer, and loose powder to set the base so that you get budge-free eye makeup. The purpose of base makeup is to prevent eye cosmetic products from melting and to keep them intact.
Draw the wing: After you have applied the base makeup, this is the time to use eyeliner. You can opt for an eyeliner pencil or your regular liner to draw the outlined structure for winged eyeliner. Using a pen to create an outline will help in enhancing the shape of your eyeliner. Additionally, it will be easier for the user to have a direction to follow.
Fill in: Creating the eyeliner outline provides a sketched structure where you can fill in the pigment. You can select from a variety of colors to apply eyeliner that matches your attire or your mood. Ensure that you fill it neatly for a professional look that makes it appear on fleek.
Above all, the more you fill the better it will look.
Reapply: Reapplying the eyeliner is an individual choice. If you feel that you need to create a bolder statement look, go for another stroke of eyeliner. Play with different colors to enhance the pigment content.
Concluding Words:
Winged eyeliners own a special place in the heart of every person putting on makeup. Perfecting winged eyeliner could be mathematical but the one who masters it steals the show. You can either use gel eyeliner or waterproof eyeliner to draw it. However, the key to making it appear on point is simply the right placement. Hope the tips and tricks provided will help you create an unbeatable winged eyeliner.