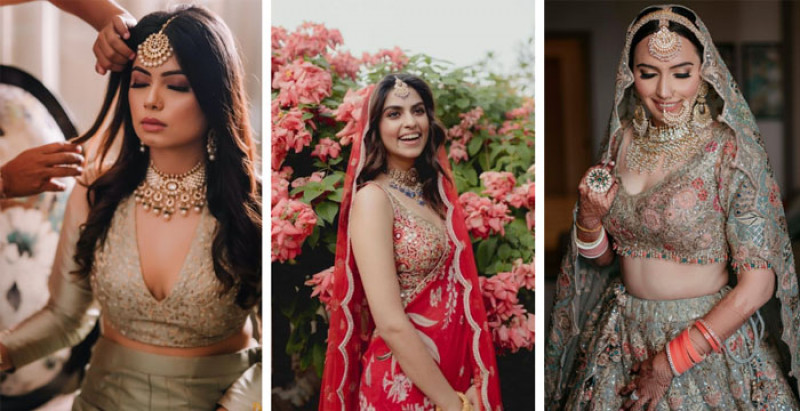 There are many things to take care of when planning a wedding. From the venue to the guest list and favours, your outfits can slip your mind. Even though we are sure you make your outfit choices well in advance, their styling is often left to the last minute. You might have the best makeup artist and hairstylist, even top designers. But, all these are working towards failure if your styling is not planned well in advance and shared with the team. We get why this is an issue for you, of course. Planning a wedding is no small feat. Add to this the demands of your day job! The dress fittings, accessory selection and other basics are forgotten easily. This just leads to major styling mistakes brides make rather often.
But, if you are a bride wishing to look her best on the big day, wedding stylists are your best bet. For instance, at Styl Inc., we make sure these hassles are off your to-do list and added to ours! The expert wedding stylists provide you assistance in not only outfit selection. We also do quality checks, schedule all appointments and most importantly, provide styling inputs so that you look your best. But we know that you still want to be aware of the precautions to take. So, we have curated a list of some of the most common styling mistakes brides make. Now, you can read this blog and know what to avoid.
Bridal Styling Mistakes To Avoid On Your Big Day
1. Copying A Celebrity
We all love a celebrity wedding. The glitz and glamour of the starlets is a marvel to gaze at. Celebrities in India have been doing a phenomenal job at setting wedding trends. From Anushka Sharma's pink lehenga to Alia Bhatt's saree, everyone follows what the Bollywood divas do. However, taking inspiration and outright copying are different things. We recommend that you just feel energized by a couple of things that the Bollywood brides do. However, it is inadvisable to outright copy them to avoid one of the biggest styling mistakes brides make. Your wedding outfit must be a representation of you. No celebrity's style can be yours from head to toe. So, take inspiration from Alia's minimal mehendi and Anushka's blush pink lehengaa. However, make sure that the outfit is still yours, not anyone else's.
2. Buying Uncomfortable Shoes Is A Major Bridal Styling Mistake
What is an oft-forgotten aspect of any bridal outfit? The shoes! We often forget about our footwear for the wedding festivities because they are not really visible in our outfits. However, your footwear is one of the most important things about your look. It is the foundation on which you are going to be standing for around ten hours. So, do not make the mistake of buying uncomfortable and expensive shoes. Opt for shoes that are comfortable and will not have you writing in pain. If you want heels, opt for three-inch block heels rather than high stilettos. Wedges are your best option if you want the comfort of flat shoes with the height of heels.
3. Biggest Styling Mistakes Brides Make: Focusing On Looking "Different"
We often see this styling mistake brides make. Everyone wants to be a trendsetter and has a desire to look "different" on their wedding day. Well, let us tell you that your wedding is not the time to experiment with your style. Not only can this go horribly wrong, it can also make you feel like a fish out of water. As we said, your outfit needs to be a reflection of you. If your style is dramatic, do not go for a minimalist saree. The opposite also holds true. However, if you want to experiment a little without going too hard, wedding stylists are there to help you. At Styl Inc., our stylists can give fresh and experimental recommendations to take your look to the next level. With our expertise, you can rest assured that you will not look odd or out of place despite the guided experimentation.
4. Bridal Styling Mistakes: Leaving Makeup And Hair Till The Last Second
Makeup and hair are essential for any outfit to have a finished look. They are what provide an unmatched level of sophistication and primness required of every bride. So, we recommend you forgo these styling mistakes brides make. Make a Pinterest board of hair and makeup inspiration and send it to your team. Better yet, ask your wedding stylist to coordinate the finer things with the rest of the styling team. Most importantly, however, make sure you do a trial run with the makeup artist a couple of months before your wedding. This way, you will know what to expect and so will they. You can also use this opportunity to clearly communicate your goals and how they can help with them. Sometimes, makeup artists and hair stylists have fresh recommendations for experimental brides. They can discuss these and try them out at the meeting.
Styl Tip: Make sure one of your bridesmaids is aware of the hair and makeup selections. She can help keep an eye on what the makeup artist is doing to avoid last-minute disasters.
5. Getting Weighed Down With Too Many Heavy Layers
What is one of the biggest styling mistakes brides make? They get weighed down by too many layers. A bridal lehenga is already an extremely heavy piece of clothing. Add to that your layers of hefty jewellery, bulky extensions and burdensome shoes. Not to forget, the heavy dupatta! Your body needs to have some sort of break from all the maximalism. So, we suggest that you keep a light element or two in your outfit. That can be your minimal blouse or a simple long dupatta. Have a trial run with your jewellery and outfit. Ensure that you have enough breathing space around your neck. If you don't, consider letting go of one necklace.
6. Styling Mistakes Brides Make: Forgetting About The Weather And Location
Wedding venues are chosen well before you give your bridal look any thought. It is the backdrop of your wedding day. So, when styling your outfit, you must not forget about this important aspect. Each location comes with its own vibe and challenges. A destination wedding in Goa will have different requirements than a destination wedding in Udaipur. Additionally, the season will change your outfit too. Summers require lighter outfits than winters. For humid weather, you might need more setting spray and lighter makeup. So, to have the best styling you possibly can, ensure you keep the location and weather in mind.
And that's it! This was our list of the biggest styling mistakes brides make. Don't forget that we can help you avoid these, we are but a call away. For any assistance regarding wedding or personal styling, contact us at Styl-Inc and our team of expert stylists will get in touch with you.
Stay tuned to Styl-Inc blogs for more wedding styling tips and tricks.