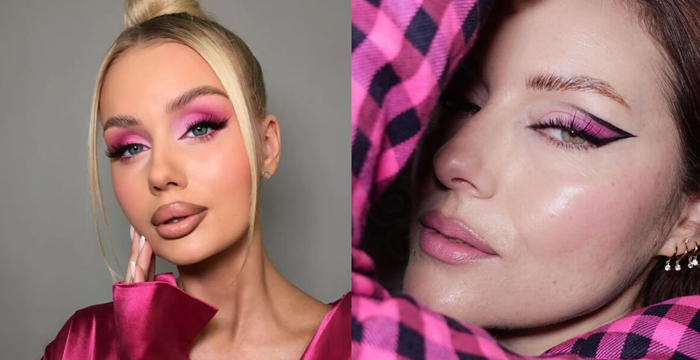 According to Vicki Morgenstern, wedding makeup is trending toward the following palette that is well suited for a white wedding gown and bridesmaids' dresses. Barbie has conquered many professions now she can add a movie star career to her credentials. Draped in her signature pink dresses, Barbie has brought LA style to her makeup and hair. Her long light blonde hair matches beautifully with a pink shimmer makeup palette.
Major cosmetic brands like MAC and Dior have created pink eyeshadow collections with tones of matte hot pink eyeshadow for contour. Pale pink shimmer shadow on her lids and icy cream shimmer highlight the brow bone with a sexy black eyeliner finished by voluminous false lashes pulls the look together. Blush for cheeks continues the tonal version of pink by Dior. A beautiful highlighter brings glamour to Barbie's cheeks. Glossy hot pink lips pull the Barbie style together.
The feature film coming in 2023 stars Margot Robbie, whose appearance and acting prowess give life to Barbie. Ms. Robbie has brought Sharon Tate to life among many other characters. Paris Hilton, the living embodiment of Barbie wears her long pink gown with this palette in a beautifully shot ad for Hilton Hotels.
Here's what Dior and MAC produced to bring Barbie's look to street style. I've already seen modifications to this style in Beverly Hills. Boston Makeup Artist Vicki Morgenstern has created this mood board on Pinterest. Check this Board out on Pinterest! Barbie's makeup is sure to be seen on the faces of brides and bridal parties in the Spring and Summer 2023 wedding season.