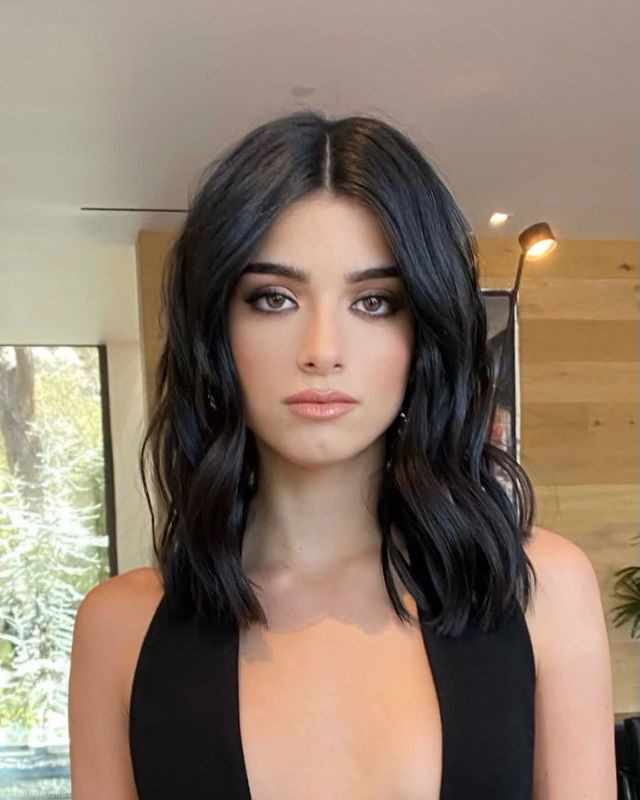 Dixie D'Amelio
Actress, Singer, TikTok Star
Birth Date
12 August 2001
Birth Place
Norwalk, Connecticut
Dixie Jane D'Amelio is an American artist as well as a social media influencer who is known for her music and videos mostly on the video-sharing website TikTok.
Dixie D'Amelio Personal Details
Dixie is the oldest one of her sisters. She is an extremely well-known online influencer on social media. In the year 2020, she was a star in the YouTube web-based program Attaway General. She hosts an online talk show on YouTube named The Early Late Night Show. In the year 2020, she signed a record contract with HitCo Entertainment and that kickstarted her career in music.
She has accumulated over 57 million followers through her TikTok account, where her content is mostly focused on lip sync and dance videos. Often, she is paired with other influencers such as Bryce Hall, Daisy Keech as well as her sibling Charli D'Amelio. She was a part of the collegian TikTok The Hype House group, from late 2019 to May 2020. Her debut single was released "Be Happy" in June of 2020. She worked on the track with rapper Wiz Khalifa for the track "One All Day", and was included in the Liam Payne song "Naughty List."
| | |
| --- | --- |
| Full Name | Dixie D'Amelio |
| Gender | Female |
| Nick Name | Dixie |
| Date of Birth | 12 August 2001 |
| Place of Birth | Norwalk, Connecticut |
| Hometown | Norwalk, Connecticut |
| Marital Status | Single |
| Affair/Relationship | Noah Beck (Ex- Griffin Johnson) |
| Spouse | Not Available |
| Children | Not Available |
| Zodiac SIgn | Leo |
| Religion | Christian |
| Birth City | Norwalk, Connecticut |
| Birth State | Connecticut |
| Birth Country | United States |
| Nationality | American |
Dixie D'Amelio Family Details
Dixie D'Amelio is a famous celebrity, born on 12th August 2001 in Norwalk, USA. The name of her father is Marc D'Amelio, a businessman and Republican, and her mother's name is Heidi D'Amelio, a professional photographer. She has a sister known as Charli D'Amelio. She is a citizen of America. Since her early years, she has displayed immense interest in the career of social media influencer.
| | |
| --- | --- |
| Father Name | Marc D'Amelio |
| Mother Name | Heidi D'Amelio |
| Brother Name | Not Available |
| Sister Name | Charlie D'Amelio |
| Husband | Not Available |
| Children | Not Available |
Dixie D'Amelio Educational Qualifications
She completed her education through King School in Stamford, Connecticut. She was a brilliant student who was involved in numerous extracurricular activities, apart from academics.
| | |
| --- | --- |
| School | King School, Stamford, Connecticut |
| College | University of Alabama |
| Educational Qualification | Graduate |
Dixie D'Amelio Profession Details
D'Amelio became famous following the fact that her sister, Charli D'Amelio began to gain recognition on TikTok, and, shortly afterward, Dixie also started posting on TikTok. As she gained a lot of attention In January 2020 D'Amelio joined the U.S. Talent Agency. In May 2020 she and her sister announced a new contract for podcasts in partnership with Ramble Podcast Network, which gives viewers a "behind-the-scenes glimpse into their lives and the subjects in their minds. D'Amelio's acting work includes appearing in the YouTube series that airs on Brat TV titled Attaway General. In June of 2020 D'Amelio released her debut song, "Be Happy" and in August 2021, her song had been able to accumulate over 86.1 million streams through Spotify.
On August 7, 2020, she signed an agreement with L.A. Reid's label HitCo Entertainment. A Forbes review from August of 2020 showed that D'Amelio had earned $2.9 million between 2019 and 2020, through a variety of sponsorship deals and other merchandise she sold, making her the third-highest-earning TikTok artist that year.
In December of 2020, D'Amelio released her singles "One All Day" featuring Wiz Khalifa and "Roommates" composed by Demi Lovato. The second song, "Psycho", with Kentucky rapper Rubi Rose, came out in 2021, and peaked at 25, on US pop charts. D'Amelio later went on to launch the album she titled her debut "A Letter To Me" in June 2022. She is scheduled to be among the openers for"Forever Tour "Forever tour" with the American boy group "Big Time Rush" to promote her debut album.
| | |
| --- | --- |
| Profession | Actress, Singer, TikTok Star |
| Present Year | 2015 |
| Net Worth | $10 Million |
| Source of Income | Advertisements and Sponsorship |
| Movies | Not Available |
| TV Shows | Attaway General |
| Advertisement | Not Available |
| Awards | iHeartRadio Music Awards, People's Choice Awards 2020 |
Dixie D'Amelio Physical Stats
Everybody knows that Dixie D'Amelio is a well-known Tik Tok celebrity in the United States. Dixie D'Amelio stands 5'5' tall and weighs around 58 pounds. Dixie D'Amelio is a young woman aged 20. Her brown-colored eyes and black hair match her skin tone. Her measurements are 34-26-30, and she's a slim girl.
Height
171 Centimeters
5 Feet 7 Inches
67.32 Inches
1.71 Meters
Weight
121 lbs.
54.88 kg.
Body Measurements
32-24-33
Shoe Size
6 (US)
Eye Color
Brown
Hair Color
Black
Birth Mark
Not Available
Tattoo
Not Available
Dixie D'Amelio has always wanted to be a model and has been interested in the industry from the time she was a young girl.
Her sister Charli has a strong resemblance to her.
Dixie has a TikTok fan base of nearly 35 million users.
She is a gifted professional dancer, who's been dancing ever since she was just a kid Her dancing videos can be seen on the TikTok page.
She has nearly 7.5 million users on her YouTube channel, which she calls her own. A video from her trip in 2017 to Italy can be seen on the channel.
Dixie is a fitness enthusiast and is known to spend a lot of time in the gym. This is how she stays in great form.
She is part of The Hype House, a TikTok creative collective that is based in Los Angeles.
Then, in January 2019, she signed an agreement with the UTA entertainment agency.
Dixie has collaborated on video clips alongside other famous social media stars including Bryce Hall, Daisy Keech, and many more.
In regards to the personal side of her life, Dixie D'Amelio is dating TikTok celebrity, Noah Beck. They first made their relationship public during the Billboard Music Awards in 2021.
She had previously been in an intimate relationship and Matt Garavel, who she had a relationship with during high school. They both attended an identical high school and have an interest in sports. He's a promising football player who is on growing. She posted numerous pictures of him on Instagram however, she hasn't had him on her account since August of 2019. This has meant that there's been plenty of discussion on her Instagram comments section, though the majority of her followers believe that she's no longer dating her. But, there is no way to be verified as she hasn't given an update.
Her net worth is estimated to rise to 3.5 million dollars by 2022 according to reports. The majority of her wealth is, as it turns out, from partnerships and endorsements. The D'Amelio sisters organized an event themed around Christmas, greet and meet event, dubbed "Mistle Tok" in Greenwich, Connecticut, in December 2019. In exchange, they cost $25 for the privilege of meeting them and getting to know her. They donated the entire sum to charities.
Dixie was the third-highest-paid TikTok player in 2020 according to Forbes with earnings of $2.9 million through sponsorship deals and merchandise between June 2019 and June 2020.
Frequently Asked Questions about Dixie D'Amelio:
1. Who is Dixie D'Amelio?
Ans. Dixie D'Amelio is Actress, Singer, TikTok Star.
2. How old is Dixie D'Amelio now?
Ans. As of Sep 2023, Dixie D'Amelio's age is 22 years.
3. Height & weight of Dixie D'Amelio?
Ans. Dixie D'Amelio's height is approximately 171 cm. and her weight is approx 121 pounds.
4. What is Dixie D'Amelio famous for?
Ans. Actress, Singer, TikTok Star.
5. Who is Dixie D'Amelio's boyfriend?
Ans. Dixie D'Amelio's boyfriend's name is Noah Beck (Ex- Griffin Johnson).